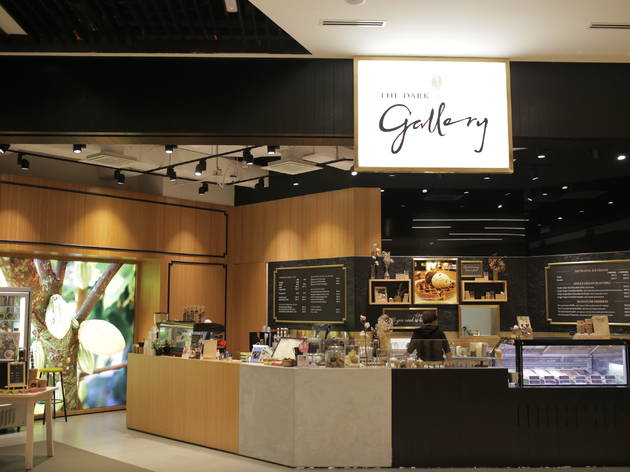 1/9
Photo: Bryan Ong
2/9
Photo: Bryan Ong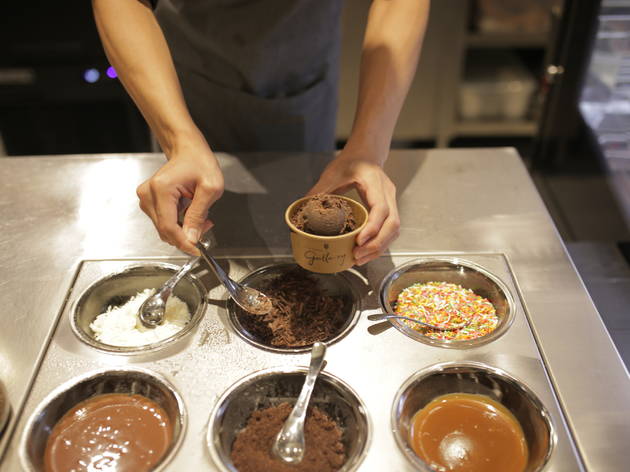 3/9
Photo: Bryan Ong
4/9
Photo: Bryan Ong
5/9
Photo: Bryan Ong
6/9
Photo: Bryan Ong
7/9
Photo: Bryan Ong
8/9
Photo: Bryan Ong
9/9
Photo: Bryan Ong
Time Out says
Located inside MyTOWN Shopping Centre is The Dark Gallery, a chocolate boutique and café specialising in artisanal dark chocolate desserts. The decor here is simple but chic – thanks to a warm brown palette accented with hints of gold – and you'll also find an informative plaque with illustrations of the chocolate making process along one of the walls.
The Dark Gallery is the place to be if you love chocolate, dark chocolate especially. The selection here includes an enviable collection of single origin variants sourced from different countries such as Madagascar, Ecuador, Venezuela and more – think a 64 percent Madagascan, 66 percent Ecuadorian, 70 percent Dominican, and 72 percent Venezuelan.
To get a taste of how each variant differs from the other, get a single origin platter. Each tasting platter consists of at least three items of varying cacao percentages, and you can choose either the platter of hot chocolate shots, chocolate pastries, dark chocolate ice cream, or if you want to try everything, the chocolate medley (which has a scoop of ice cream, a hot chocolate shot and a pastry). A handy infographic describing the origins and flavour profiles of the chocolate used in each item accompanies the platter.
After you're done familiarising yourself with the intricacies of dark chocolate, get one of The Dark Gallery's signature desserts. The Chocolate Rhapsody – three scoops of signature dark, milk and white ice cream on a bed of chocolate soil surrounded by chocolate mousse, topped with chocolate meringue and cacao tuile – is a blend of different textures which balance out the bitter and sweet flavours of the ice cream. For something a little more indulgent, The Chocolate Brownie Mess is a rich dark chocolate brownie topped with your choice of ice cream flavour and finished off with almond tuile and chocolate sauce.
Wash everything down with a Chocolate Cube Hazelnut Latte – frozen cubes of Ariaga Noire chocolate served with warm milk and espresso. And if you still have room for even more dessert, check out the ice cream counter where there are ten flavours on offer, all of which are freshly churned every day. Good to note: More ice cream flavours and chocolate items are in the pipeline, so (again) if you love chocolate, definitely keep an eye on The Dark Gallery.
Details