The dish: Ayam buah keluak at The Tranquerah
Truffle-like and (possibly) deadly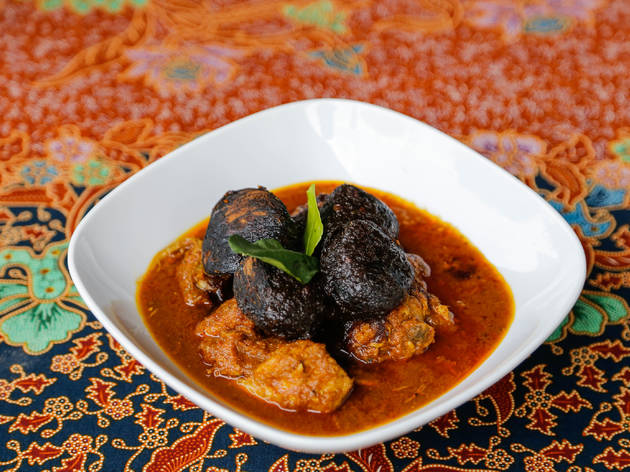 What it is
Malaysia's answer to the fugu fish, buah keluak (also known as pangium edule) is a deadly ingredient that's used in Malaccan Peranakan cooking, with the most notable usage being in the ayam buah keluak dish. The unassuming large brown nuts (the seeds of the Kepayang tree found in the swamps of Southeast Asia) contain hydrogen cyanide, which can be lethal if ingested in large amounts. In Indonesia, the buah keluak is prepared by boiling the seeds, then burying them in sand (which is then burned) and left to ferment for 40 days before it's deemed suitable for consumption.

Preparation
According to Stephanie Chan, owner of The Tranquerah, the keluak seeds are further soaked for an additional ten days (with a daily change of water) as a precaution to ensure all the poison is removed. The soaking process also does double duty to soften a small part of the seed, which the chef can then crack open with the corner edge of a chopper's knife. To make ayam buah keluak, the keluak seeds are cooked with chicken and The Tranquerah's own recipe of an assam gerang base (a sweet and lightly spicy concoction consisting of lemongrass, limau purut leaves, red chillies, dried chillies and more) for three to four hours.

Taste
The process of eating buah keluak bears a certain resemblance to the experience of eating crab. Pick a wrinkled dark brown nut, insert the handle of a teaspoon (all the better to scoop it with) into the opening and scoop out the earthy, tar-like flesh. Taste-wise, this is certainly a tough nut to crack. Leaning on the mild side of spiciness, the classic Peranakan dish is enriched with the creamy flesh of the buah keluak. Keluak aficionados have compared it to the taste of truffles , and there's a certain hint of fermented black bean about it. Anyway, you'd be nuts not to try it.

Regular, RM33; large, RM53.
Eat it at
One of the best, but little known, Nyonya restaurants around. Always go for: sambal udang with petai, ayam buah keluak, kerabu bendi and cendol.