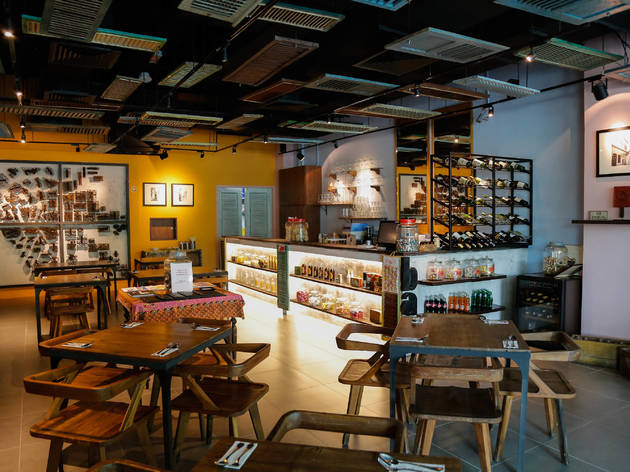 Note: The Tranquerah is now closed.
This is a review of The Tranquerah's previous location at Encorp Strand Mall
The Tranquerah is a restaurant that should get more credit than it does. Maybe it's the location at Encorp Strand Mall (what people do there is a mystery to me) that pushes it out of the periphery of tourists, or basically anyone. Or maybe it's that it's gone largely unpublicised despite the fact that Malaysia's pioneering queen of Nyonya cuisine, Florence Tan, had a heavy hand in developing the menu. Whatever it is, it's a darn impressive restaurant.
When I lunched at Amy's Heritage Nyonya Cuisine in Malacca (the best Nyonya meal I've had the privilege to eat), head chef, co-owner and Florence's cousin Amy Koh came about to our table to plug this little operation in Kota Damansara. 'The touch is in the family,' I recall Amy saying. As I find out, she speaks nothing but truth.

The Tranquerah is a bit romantic when you go at dinnertime. The space permeates in yellow light and is filled with striking paraphernalia like old cigarette tins, kuih moulds and weighing scales. Some of the furniture – an antique cabinet with maroon borders in particular – is so stunning, I find myself staring a bit rudely. You could compare it to Limapulo's blast-from-the-past influence, but without the clutter.

The owner, an affable young lady, rushes to us to present the recommendations from the menu. The food arrives a brisk eight minutes later without awkward gaps in between each main. The sambal udang petai is one of the best versions of the dish you'll get in the Klang Valley – the prawns are plump and fresh, and the beans firm and bitter. From this dish alone, it's apparent that The Tranquerah is selective about produce.

The ayam buah keluak too is an absolute must. Nyonya cooks are measured using this dish as a yardstick – it's a painstakingly tedious dish to prepare if you're not armed with the spirit of a warrior. The keluak – poisonous in its raw fruit form – must be buried underground, soaked and rinsed before being cooked, a process that can take up to two weeks. The shelled fruits – each the size of a ping pong ball – contain a grainy black paste similar to black sesame and are traditionally left whole in the curry. If you're unsure about how to fish the paste out with a spoon, the owner will happily demonstrate. In taste, the paste is bitter and slightly metallic, with a hint of raw almond.

Out of good virtue, I also order the kerabu bendi. It's a dish of steamed bendi, something that most people wouldn't eat even if paid to. But here, the vegetables are remarkably bright and fresh, and topped with a spicy paste of belacan, bunga kantan and daun limau purut. The spiciness really creeps on you, but all is cured with a bowl of Nyonya-style cendol. I've always been partial to this type of cendol simply because of the quality of palm sugar, and here, you can tell they've trekked into the nether regions of Malacca for the real thing. The cendol is both salty and milky – an unexceptional yet grand reminder of the artistry of Malaysian cooking.
Venue name:
The Tranquerah
Contact:
Address:
Lower Ground Floor
GLO Damansara
669 Jalan Damansara
Petaling Jaya
60000

Opening hours:
Mon-Fri, 10am-3pm, 6pm-10pm; Sat-Sun, 10am-10pm
You may be interested in:
Average User Rating
1.7 / 5
Rating Breakdown
5 star:

0

4 star:

0

3 star:

1

2 star:

0

1 star:

2
Ordered the dinner set for 2. Chicken curry came with 4 miserable pieces from a chicken breast and the curry was cold. Had to send it in to be reheated. The curry even tasted slightly off. This is my first and last visit.
Visited this restaurant with my family due to popular ratings online but didn't enjoy any of the dishes.
Food was generally pricey and small portioned. Pie tee was not crunchy and tasted bland, nyonya chicken curry was flat and the asam fish was a huge let down. Fish wasn't fresh from the taste and texture of it so we complained and got a new one instead.
This restaurant should try to buck up on the flavours before having the nerve to charge high prices.
We don't agree with the 4 star rating.
It didn't have the oomph when compared to the nyonya food we frequent at Malacca. The cincaluk sotong barely had any cincaluk and the sotong was rubbery. The chap choy was passable but salty.
Prawns were fresh, but the sambal was flat. The best dish & dessert were ayam pongteh & bubur cha cha. We couldn't help but think Penang Teochew Cendol was superior.
For the prices charged, we did expect a larger servings.
When it came to asking for more cutlery, plates and bowls, we had to repeatedly ask.
Not on our recommendation list.