The dish: Chermoula Chicken
Forget about black pepper, teriyaki and honey. Chermoula is the marinade that you should be using right now
The marinade
Forget about black pepper, teriyaki and honey. Chermoula is the marinade that you should be using right now. The chermoula is a flavourful Moroccan marinade that's mainly used to brighten the taste of seafood and meat. In this case, Fuego uses it with chicken. According to Chef James at Fuego, Fuego's version of the chermoula is made with a potent mix of cayenne, smoked paprika, fresh lime juice, olive oil and a generous helping of coriander. For a more nuanced note, the kitchen uses French grey salt (a coarse granular sea salt that's less overpowering) in the marinade.

Preparation
The Chermoula Chicken sells out quickly, but that's because they don't make many in the first place (30 to 40 chickens daily). The reason being, it takes at least 48 hours to prep the bird. First, the free-range chicken (1.5kg only) is brined for 24 hours. Then, the chicken is marinated in chermoula for another 24 hours. After marination, they use the sous vide method (vacuum packing and then cooking in water with a controlled temperature) to cook it so as not to dry the bird out. Next, the chicken is expertly butterflied (to make it cook quicker), rubbed with an extra layer of chermoula spice for extra flavourful char, and then laid out on the charcoal grill. As the last step, the bird is popped into a salamander grill to give it the final golden-brown crisp.

Taste
Halfway through the photo shoot, dark golden fat sexily oozed from the chicken, which we had to frantically wipe off the table. This beautiful fragrant liquid is a mark of what makes the chicken extra good. Surprisingly juicy, succulent and tender, the Chermoula Chicken is everything you'd want in a barbecued chicken. The pot of bright orange diablo (Spanish for 'devil') sauce served on the side kicked things into high gear. This spicy, creamy lemon-habanero-garlic concoction with a hint of smokiness and freshly chopped coriander was the reason we couldn't stop until the whole bird was gone. Now this is what a real barbecue party should be.

Available daily for RM120.
Eat it at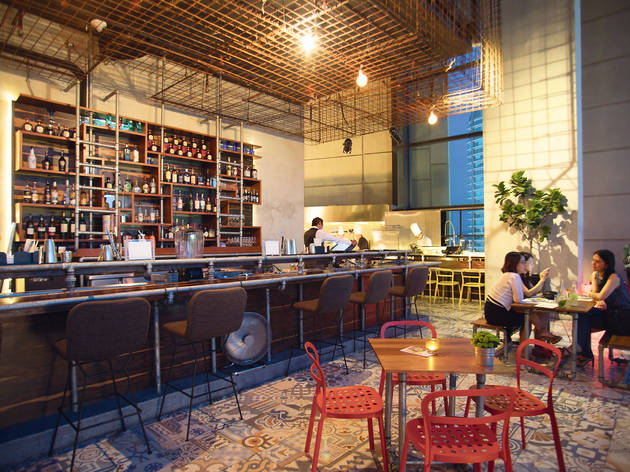 The flourishing duo behind Troika Sky Dining have added yet another feather to their cap: Fuego, a restaurant and bar that overlooks KL's original duo, the Twin Towers. Eddie Chew and Christian Bauer expand their reign of the Troika quarter with their trademark whiz and bang, and it's difficult to imagine them doing it any other way.
Best selling Time Out Offers