The geek's guide to different coffee brewing methods
All you need to know about six of the world's hand-pour coffee equipments as explained by an expert
One beverage, served different ways – coffee preparation is serious science. We consult Sam Tan, Coffee Stain by Joseph's head barista, to discover the bitter truth behind six pieces of geeky hand-pour coffee equipment that look like they came straight out of a chemistry lab.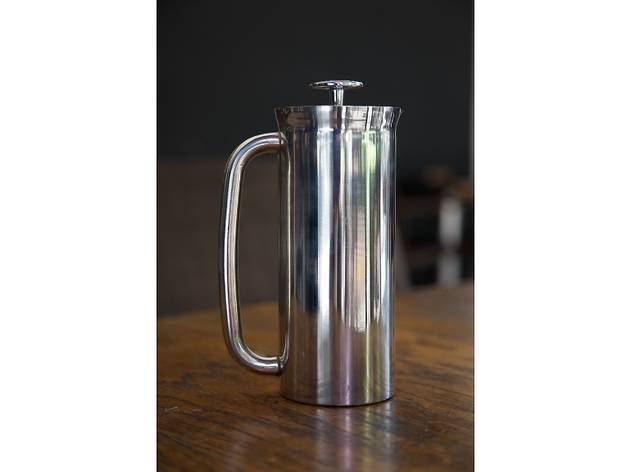 French press
Use this if you… want an easy and convenient cup of coffee.

Method: Add 120ml of hot water (91–94C) to 8.5g of ground coffee. Let it steep, and press down on the plunger at exactly four minutes.

Coffee grind: Medium to coarse.

Taste: Although you end up with more sediment in the cup, the French press captures all the concentrated flavours of the coffee. Drip machines make good coffee too but you tend to lose much of the flavour profile to the paper filters.

Beans to use: Central American for that crisp and bold taste with high acidity. Go for Costa Rica Reserve Coffee or Jamaican Blue Mountain.

Barista tip: The French press requires no pouring skills and allows precise control over steeping time. Pour your brewed coffee immediately into a cup. If you leave the coffee sitting on top of the grounds for too long, it will keep extracting and get stronger.

Drink it at: TiPsy Brew O' Coffee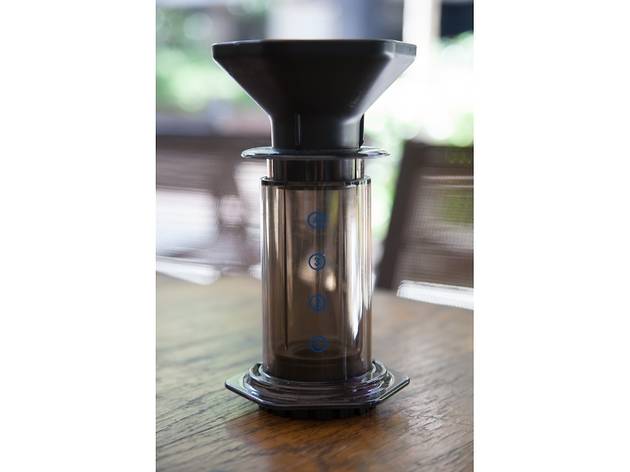 Aeropress
Use this if you… like an instant, fuss-free cup of Americano or Long Black.

Method: Place a micro-filter inside the cap and attach the cap to the chamber. Place the chamber on top of your mug. Mix 18g of coffee grounds with 240ml of hot water (75–80C) for ten seconds. After 30 seconds, plunge the liquid directly into your mug. There's also an invert technique but you might want to master this first.

Coffee grind: Fine (somewhere between the grind for espresso and drip).

Taste: A concentrated, full-bodied and sediment-free coffee. If steeped correctly, you might even get crema.

Beans to use: Compared with the French press, the short brewing time brings out the best in bright-tasting coffee. Go for any beans from Kenya, Ethiopia, Panama or Costa Rica.

Barista tip: AeroPress requires a short steeping time because the air pressure pushes the coffee and water mixture through a micro-filter. Think about it like this: The first 10–15 seconds works like a French press (ground coffee mixed with hot water); the next 20 seconds like an espresso machine (hot water under high pressure forced through coffee grounds). You want an Americano? Just add hot water to the end brew.

Drink it at: Brew Culture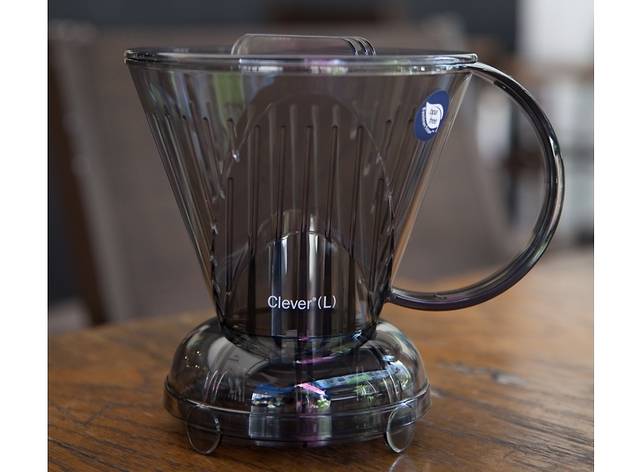 Clever dripper
Use this if you… can't decide between a French press and a V60 dripper. With a French press, you can control steeping time but the coffee comes with sediment. Brewing in a V60 with a paper filter eliminates the dregs but you can't tinker with the steeping time. The Clever, however, combines the very best features of both.

Method: Place the paper filter in the Clever dripper and pre-moisten it with hot water. Place 22g of ground coffee into the Clever and pour just enough hot water (91–94C) to saturate it. Cover for 30 seconds. Then continue pouring the hot water over the grounds until it reaches the brim of the Clever. Stir once or twice and cover for three minutes. Place on top of a mug or pitcher to dispense coffee.

Coffee grind: Fine. But bear in mind that it will taste slightly acrid.

Taste: You'll get a clarified brew. The taste is cleaner and well-balanced.

Beans to use: The Clever dripper leeches out the subtle citrusy (almost lemony) flavour from any Costa Rica beans. For something more 'chocolaty', try the syrupy Panama Don Pachi Natural Geisha.

Barista tip: If the water starts to pool, your coffee grind is too fine. But if it takes less than 30 seconds to drain, it may be too coarse. Try shortening the steeping time or coarsening the grind if the coffee tastes over-extracted.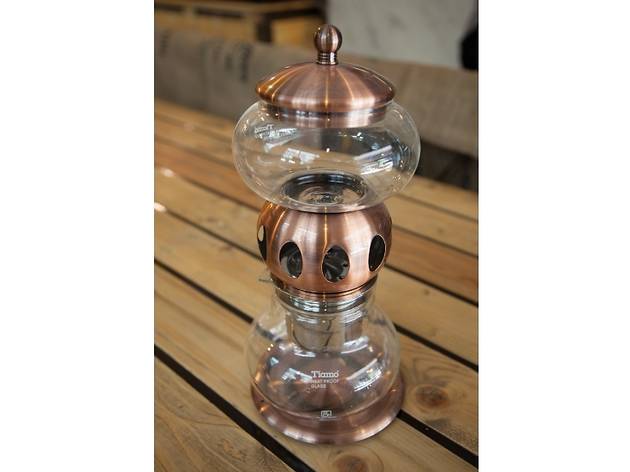 Hario Pota dripper
Use this if you… want a cold brew, not iced coffee. What's the difference? Cold brew is coffee grounds steeped in cold water for 8–24 hours. On the other hand, iced coffee is brewed hot and then chilled by adding ice.

Method: Place coffee grounds (50g will yield 500ml of coffee) into the coffee chamber. In the water chamber, add ice and cold water to start the dripping process. The cold water will then pass through the coffee grounds to produce cold coffee. Use a drip speed of around one drip per 1.5 seconds.

Coffee grind: Coarse. Taste Because the coffee grounds in the cold drip never come in contact with heated water, this brewing method eliminates some of the bitter and undesirable traits you get from hot-brewed coffee. Instead, you'll achieve an intense flavour profile – the coffee tastes sweeter, rounder and less acidic.

Beans to use: Varietals from Latin America or South America. Go for Guatemala Finca Candelaria or El Salvador Santa Ana Naranjo.

Barista tip: Use fresh ice, possibly made with filtered water so it doesn't affect the coffee's taste. The Hario Pota dripper performs identically to the ice drip tower but because of the wide coffee chamber, it can brew faster (around three to five hours). This cuts about 30 percent of the brewing time compared to the tower version.

Drink it at: Coffee Stain by Joseph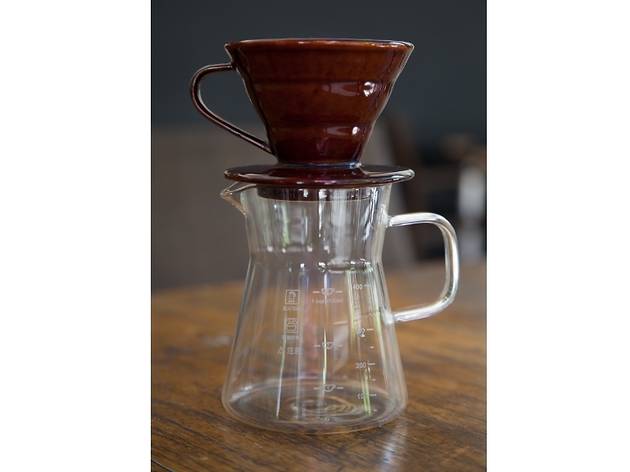 V60 (ceramic)
Use this if you… want to keep your coffee warm longer. The ceramic V60 can hold heat better than the plastic version. The ridges along the V60 also help to keep water distributed evenly in the coffee grounds so as to prevent over-extraction.

Method: Place the paper filter into the ceramic cone and flush it with hot water to remove any residue. This also helps to heat the ceramic before brewing. Pour 30ml of water (91–94C) onto 17g of coffee grounds and allow them to bloom (a phenomenon where coffee gas emanate from fresh grounds when mixed with hot water, causing the grounds to nearly double in size). When the coffee stops bubbling, pour another 120ml of hot water into the centre of the coffee bed. Brew for three minutes.

Coffee grind: Between fine and medium.

Taste: Because V60 filters are thinner than any other paper pour-over filters, the resulting brew is less 'dusty' with almost no sediment.

Beans to use: Again, choose beans that have bright, fruity and floral notes. Try Kenya AA if you prefer something slightly citrusy.

Barista tip: To achieve an even brew, keep the flowing water about a quarter of an inch away from the dripper.

Drink it at: Beans Depot and Await Café.
Siphon
Use this if you… crave the purest form of coffee. Also, if you want to show off in front of your friends.

Method: First, heat around 350ml of water in the bottom chamber with a butane burner (about 95C). The boiling water will rise into the top chamber due to pressure. Add 7.25g ground coffee as well as 150ml water to the top chamber and stir the mixture gently for a few seconds. Let it sit for one minute, then remove from heat and stir the top chamber to create a whirlpool. As the vapour in the bottom chamber starts to contract, it creates a vacuum of negative pressure and pulls the brewed coffee through the filter back into the bottom vessel.

Coffee grind: Coarse.

Taste: This 'full immersion' brewing process only takes place in glass so it can't pick up taste from filter paper or plastic. Such a method is known to produce consistent cups every time while highlighting the coffee's clean and flavourful traits.

Beans to use: If you like coffee that's derived from the subtle workings of a civet or elephant's digestive system, siphon is the best way to bring out the beans' sweet and fruity notes.

Barista tip: You can speed up the 'kick down' process (brewed coffee pulled back into the lower vessel) by wrapping a wet cloth around the bottom chamber.

The expert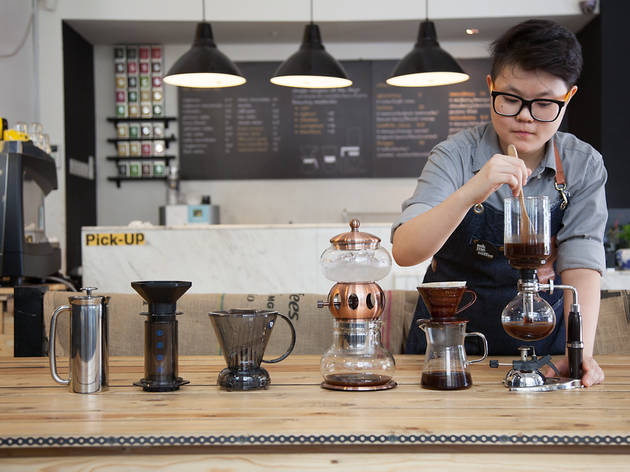 Sam Tan is the head barista of Coffee Stain by Joseph. She's also a certified SCAA (Specialty Coffee Association of America) lead instructor, who has trained numerous baristas to win coffee championships in the city.
More coffee features
Featuring a crash course on cold brew and the best places to drink them.
Read more
We spill the beans on the third wave coffee movement that's sweeping over KL.
Read more