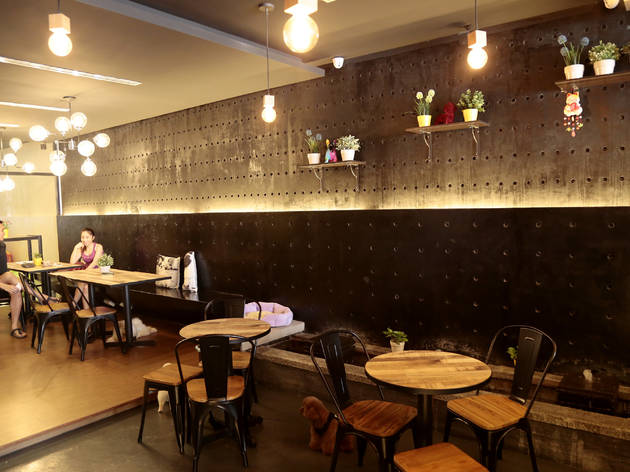 1/9
Photo: Daniel Chan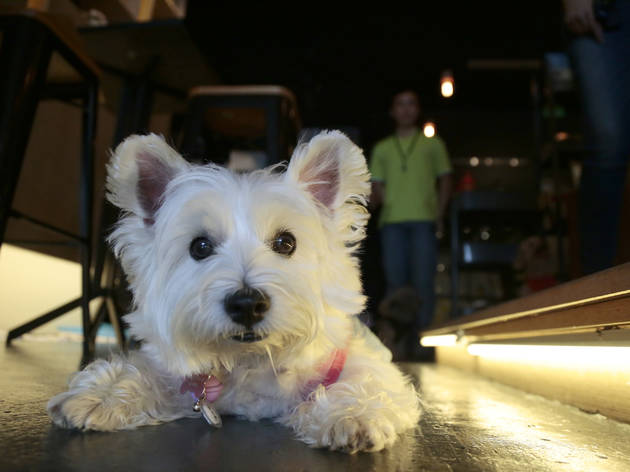 2/9
Photo: Daniel Chan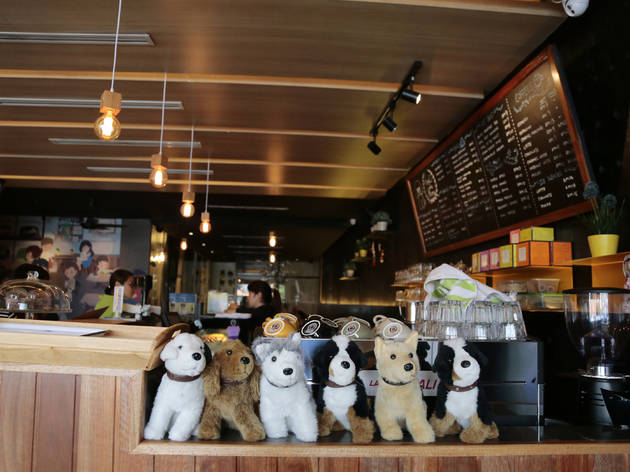 3/9
Photo: Daniel Chan
4/9
Photo: Daniel Chan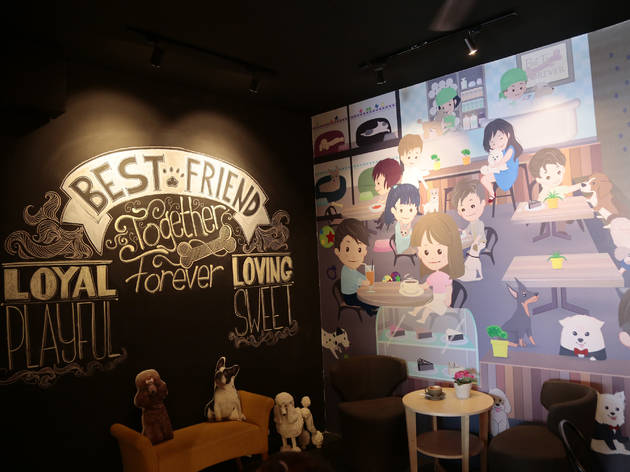 5/9
Photo: Daniel Chan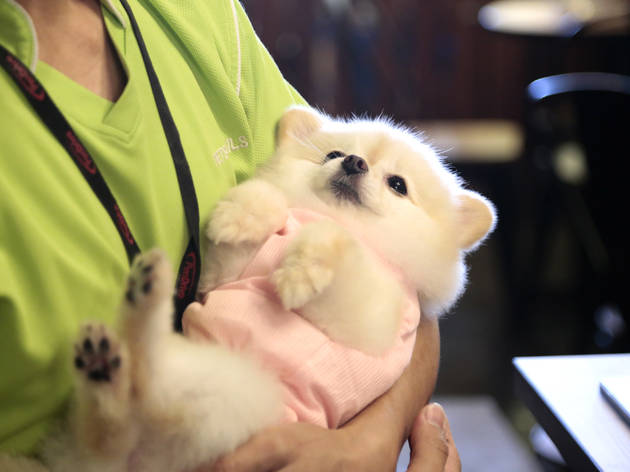 6/9
Photo: Daniel Chan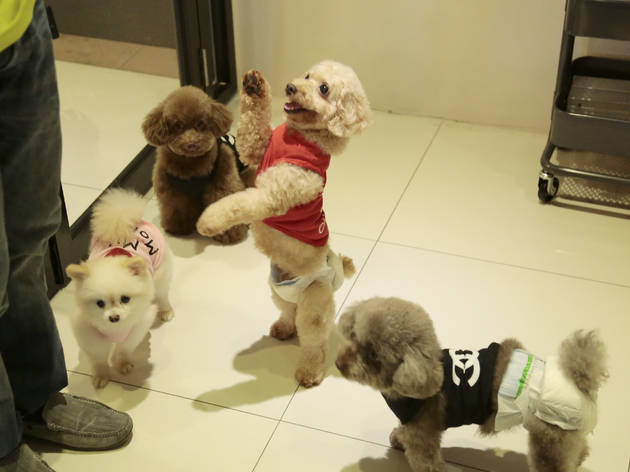 7/9
Photo: Daniel Chan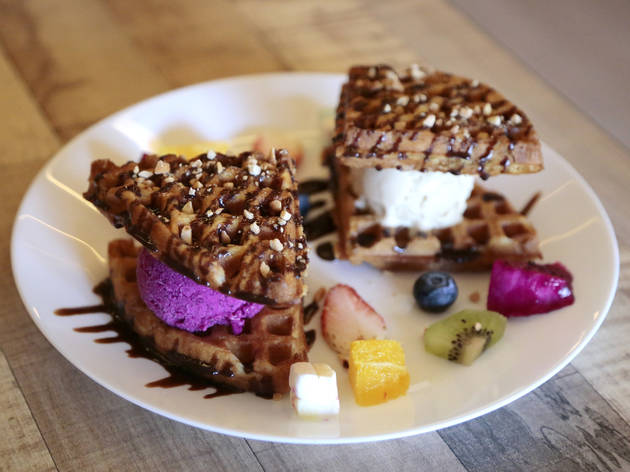 8/9
Photo: Daniel Chan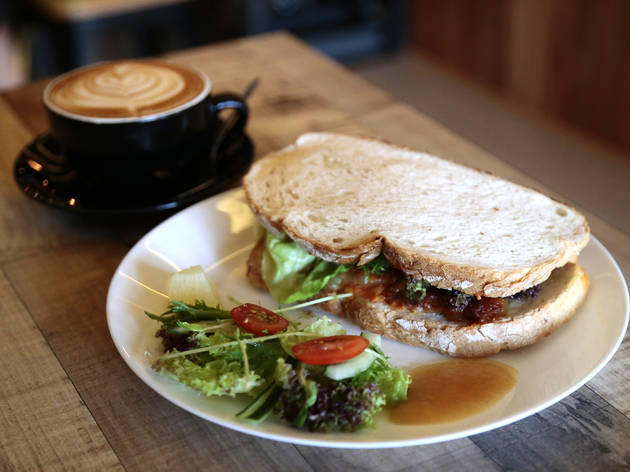 9/9
Photo: Daniel Chan
Klangite pet lovers, put that road trip to KL's pet cafés on hold because Klang's first dog-filled pet-friendly café is in town (the dogs are nearer and you get to skip the traffic jam). A stone's throw from AEON Bukit Tinggi and on the same row as PappaRich, Tivoli by Adrian Gan and Danielle Chin is an extension of the Pets Trails pet shop (just a couple of doors away) and also offers pet hotel services as well as a furkid spa.
As you enter, you'll be greeted by host poodles Keiko and Ichigo. If you're lucky, the whole troop (including Snow White the West Highland White Terrier, Taro Ball the Pomeranian, and Brownie and Coffee the poodles) will be there.
Warm lighting and black walls highlight kitschy dog-themed accessories dotted about; there's an all-white bust of a pug, soft toy dogs, a large mural of cutesy people and their dogs, and a 'photoshoot' wall with phrases like 'best friend', 'together forever' and 'loving'. A glass wall separates the café from the pet hotel and spa, but you can take a peek to see dogs snoozing in spacious rooms or getting a grooming.
True to the cheerful spirit of its Danish amusement park namesake, Tivoli, which opened in April, has a merry vibe, cute dogs in cute garb and friendly staff. Standard pet-friendly café rules apply: All dogs have to wear a diaper (if you forget, the café provides diapers for a fee), close the door behind you so the dogs don't bolt out, and clean up after your furry one.
If you're thinking of bringing your Siberian Husky or Golden Retriever, it's best to check Tivoli's Facebook first. Currently, only small dogs are welcome (as sometimes they need to be protected from the bigger ones), but there are plans to introduce 'big dogs-only' days in the future.
Menu-wise, there are sandwiches and ice cream from the Basira Yeusuff-helmed Root Cellar KL, cakes from local suppliers (try the limau nipis bundt cake), American breakfasts and waffle ice cream sandwiches (the Sepang dragon fruit sorbet is highly recommended). You'll also find café staples like pasta, chicken wings, tea, fruit juice and coffee. While a furkid menu is in the works, there are doggie treats available upon request.
So yes, Klangites too can have their cake and eat it (with their dogs). For those in KL, Tivoli's a worthwhile addition to the burgeoning list of pet-friendly restaurants in the Klang Valley.
Venue name:
Tivoli
Contact:
Address:
12 Lorong Batu Nilam 21A
Bandar Bukit Tinggi
Selangor
41200

Opening hours:
Mon, 1pm-10pm; Wed-Thu, 1pm-10pm; Fri-Sun, 11am-11pm
You may be interested in: