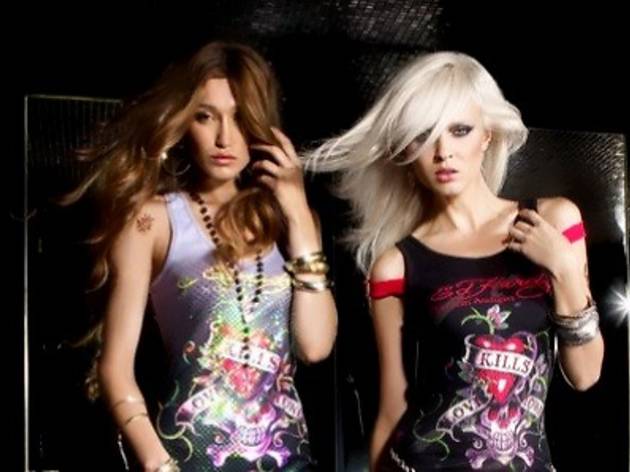 Modesty is not the style philosophy of Ed Hardy. Talk about making a fashion statement – the luxury rock 'n' roll-inspired brand's apparel and accessories are so over the top and flashy. Besides requiring shades to protect your eyes from the clashing of loud and even garish colours seen on the clothes and accessories, most items are emblazoned with prints like crosses, hell's fire, skulls and other counter-culture designs. The rebel in you, however, will also be delighted that the apparel and accessories are decorated with studs, sequins, and more. Overall the designs will even make, say, Harley Davidson bikers blush. Ed Hardy – definitely not for the faint-hearted, and if you intend to draw pop-culture references like the gritty 'Midnight Cowboy', forget it. It's less dirt-road rebellion but with rock 'n' roll swagger.

Other in-house brands like the more exclusive Christian Audigier, SMET (a recently introduced line inspired by legendary rocker Johnny Hallyday), Crystal Rock, C-Bar-A, Savoir Faire, Evel Knievel, Rock Fabulous, and Paco Chicano, are available at the KL store. However, the main attraction is the Ed Hardy line of well made outfits with flattering silhouettes that fit close to the body. Expect to pay high prices for tees, denims, hoodie tops, as well as caps, shoes, belts, wristbands, watches, handbags and more.

The brand's range of jeans (RM600 onwards), especially the loose-fit ones, and the tees (RM270 onwards), are particularly popular. If you'd like to know, many tabloids have published pictures of Madonna moving around on the streets dressed in Ed Hardy tees.

The Ed Hardy store, unfortunately, does not offer alteration or any other sorts of services. Perhaps this is because customers like you prefer to wear items in your own inimitable ways. Still, I reckon having the option to use alteration services would be ideal. And why not, especially since you're paying top prices for the goods. Tan Hee Hui
Venue name:
Ed Hardy
Contact:
Address:
Level 2, Suria CC, Jalan Ampang
Kuala Lumpur


Opening hours:
Open daily, 10am-10pm.
You may be interested in: