Multi-purpose shops in KL
These dual-purpose shops provide coffee and delicious plates alongside specialty services and retail offerings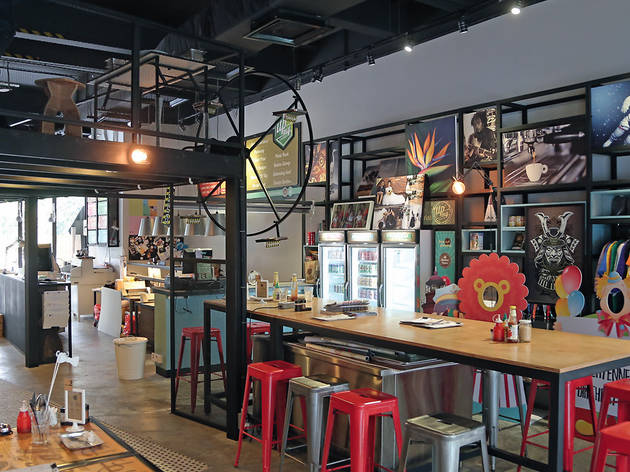 1/5
Photo: Hizwan Hamid
What it is
During his many years in the advertising and printing industry, co-founder Ee Han Ong noticed that customers at digital printing shops often had to go to nearby mamaks or cafés to wait for their printing jobs. He was inspired to start TTP.my to provide customers with a place where they can sit and discuss the jobs they want done, have a bite to eat or a cup of coffee, and wait for their printing in comfort.

The look and feel
Now that so much of our interaction is digital, TTP.my marks a nice return to the beauty of print. The founders wanted to bring a retro feel to the business, creating quality products like wedding invitation cards, canvas prints and party props that customers can touch, share and keep as mementoes. Samples of the products they've created double up as the shop's interior decoration, adding a warm, personalised feel that recalls the old romance of hand-delivered letters, printed cards and posters.

The services
As well as offering basic print jobs such as offset or digitally printed name cards, digital colour prints, die-cut labels and stickers, TTP.my also offers design services at a reasonable fee, the printing of button badges, T-shirts, stickers and posters, as well as decorative party packs (food tags, labels, stickers, flags etc). The company is now developing custom-ready wedding invitations and party packs, where you'll be able to pick a themed template and customise it to suit your event.

The food
TTP is short for Teh Tarik Print – the café serves up a great teh tarik, as well as a good mix of both Western and Asian meals. Customers can enjoy premium teas, a range of coffees, a full lunch menu and light snacks such as fries and
onion rings.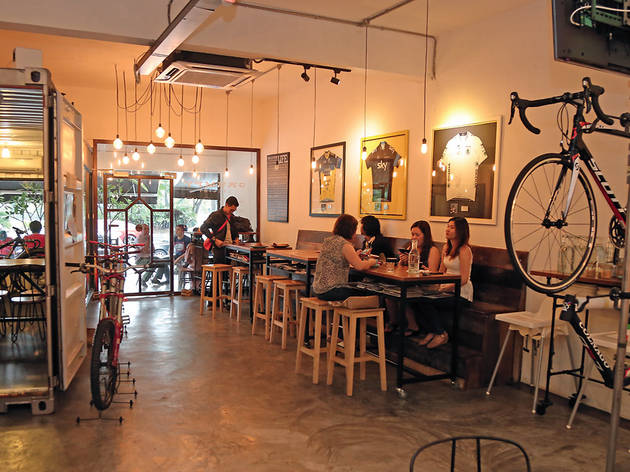 2/5
What it is
The Grumpy Cyclist draws on the concept of cycle cafés commonly found abroad. It was created as a way of combining the founders' passion for good coffee, food and cycling within a friendly community-based hub, providing a relaxed space for people to hang out regardless of whether they're cyclists or not. Located in TTDI, the café is well situated between popular parks and cycling routes, within a matured neighbourhood that's well loved by both the cycling community and café-lounging hipsters.

The look and feel
A quiet oasis away from the usual bustle of TTDI, the café is comfortable yet functional. For example, the bikes hanging around the café aren't just for decoration – they can be ridden too. We like how well utilised the small shoplot is, offering both a relaxed atmosphere for working, meeting friends or reading, as well as a versatile space for more active cycling-themed events.

The services
As well as offering shower facilities for cyclists and a homely menu of food and drinks, the main feature of The Grumpy Cyclist is a space within the café known as the Bike Kitchen – a multifunctional 'clinic' for servicing, bike builds or for people to come in and ask questions they might feel too intimidated to ask at pro shops. Recently, they've developed a range of merchandise – a cycling kit (inset) created in collaboration with Australian brand Babici, a batch of branded T-shirts, and a limited edition series of handmade collectible pins from the Grand Tours of 2014.

The food
Though the chefs and baristas regularly experiment with new dishes and brews to keep things fresh and interesting, the café is known for its crowd favourites – the hearty Gran Fondo breakfast, the Crespella and Italian Mystery pancakes, and the red velvet cake. For a little extra luxe indulgence, homemade ice cream from Inside Scoop and premium TWG teas are also on the menu.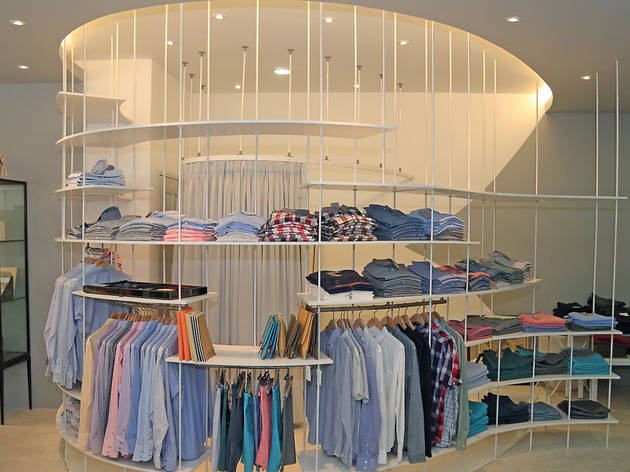 3/5
Photo: Hizwan Hamid
What it is
This multi-label menswear boutique and café offers a beautifully curated range of fashion and accessories from brands that aren't available anywhere else in Malaysia. Founder Yang Lee Keong draws inspiration from his time abroad in the US, Hong Kong and China to personally select products that fall in a comfortable range he terms 'urban casual', somewhere between high fashion and street.

The look and feel
15sheets is a trendy space. Clean white surfaces and slick displays provide a sophisticated yet relaxed shopping atmosphere that sets it apart from the grubbier boutiques of Bangsar.

The products
Because 15sheets chooses to feature up-and-coming brands rather than established ones, the shop boasts an eclectic range of cool independent labels, many of which feature unique hand-crafted details on its products. We love its collection of Descendant of Thieves shirts (known for the unique trimmings and droll little quotes sewn on the inside) and the traditional patterned brogues handmade by British brand Husdon. Also look out for the whimsical ties and dress shoe laces from accessory brands DIBI, Ivy Prepster and Stolen Riches. And because style is more than just about clothes, 15sheets also retails fun but functional extras such as notebooks, bags, wallets and homeware.

The food
The coffee bar at 15sheets is more of a complementary feature than a main focus at the shop. Still, it makes for a good, quick stop for coffee and people-watching while you browse. Of note are the mocha and buttercup (peanut butter latte) which are freshly prepared in front of you, using pure chocolate or peanut butter chips for a sweet, extra creamy mouthfeel.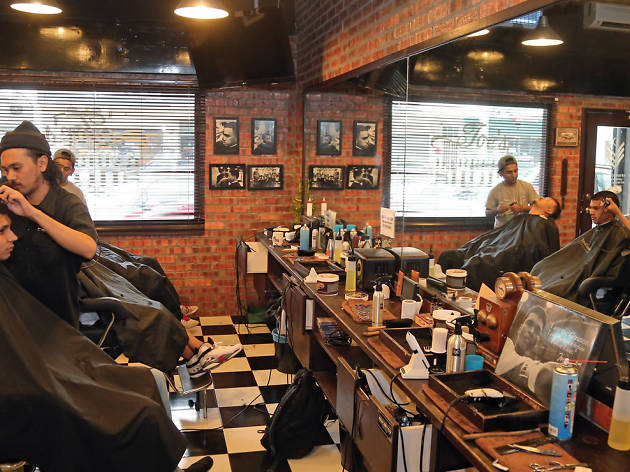 4/5
What it is
An old-school gentlemen's barbershop and Italian pizzeria share a small but cosy space in Subang's thriving SS15 neighbourhood. Founded by local hip hop star Joe Flizzow of Too Phat fame and with Ardy Damis as its creative director, the barbershop offers classic barber services at affordable prices. As the founders' friends were also looking to open their own Italian restaurant at the same time, they decided to combine the two ventures. The barbershop sits at the front of the shop while the restaurant is located through a set of glass doors at the back.

The look and feel
It's a quirky combo of a classic men's barbershop, complete with a red-brick interior and elegant mahogany-coloured furniture and fittings, with strong hip hop influences. The restaurant features a wall dedicated to members of the Wu-Tang Clan, and two portraits autographed by Raekwon and Ghostface Killah during a visit to the shop. As hip hop is such an integral part of the shop's identity, hip hop music is played all day throughout the establishment.

The services
Classic barber services for any guy wanting a clean cut in a homely, cosy environment. Joe's also offers additional styling services such as hair braiding, dreadlocks, hair tattoos, shaves, as well as cuts for kids. All for very affordable prices – hair cuts are priced at RM20 for adults and RM15 for kids, and shaves at only RM10. Check out their Instagram (@joes47500) for cool shots of the styles on offer.

The food
Inspired by authentic Italian recipes, the chefs ensure that all dishes are made from fresh ingredients, most of which are sourced locally. Customer favourites include the macaroni balls and hot and spicy wings for starters, and pepperoni pizza, aglio olio pasta, Joe's Chilli Dog, and minced beef macaroni and cheese for mains. We tried the chocolate pecan pie on our visit – a sweet, warm fix to satiate our post-lunch sugar craving.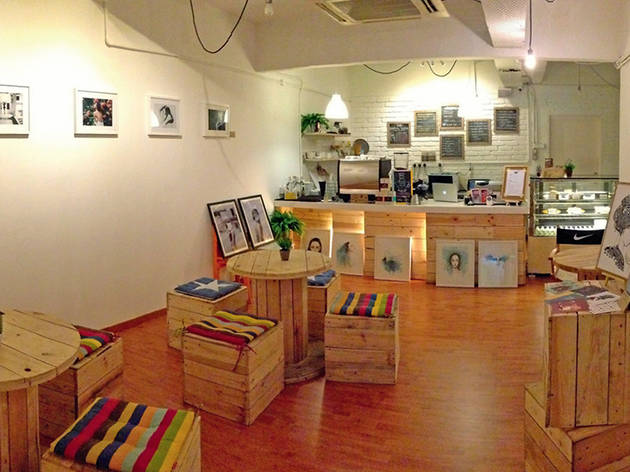 5/5
This laidback café doubles as a creative community space where local artists gather and showcase their work. Some of the artworks on display are for sale, while photographers, musicians, writers or performing artists are also invited to use the space to hold events, book readings, gigs, workshops, discussions etc. Nothing fuels creativity as heartily as good food and coffee, so Ode Art Café also offers home-cooked meals (definitely try the chicken chop, made from a home recipe), cakes, desserts and hand-brewed coffee – the perfect accompaniment to writing, drawing, painting, talking and dreaming up new ideas.