Malaysia's best moments at the Rio 2016 Olympics
A recap: The eight most memorable highlights at the Games
This morning, words of support for our national athletes who competed at the Rio 2016 Olympics are still flooding the news and social media. It's Malaysia's best Olympic year yet, having garnered four silver and one bronze medal. The Olympics this year arrived at a crucial time, especially when the country has come under intense international scrutiny: The Games demonstrated how all racial and ethnic particularity collapsed and merged into a greater national whole for a solitary purpose. Our national athletes did the very one thing everyone else has struggled to do: bring the nation together.
We didn't win gold, but in the end, it isn't about Malaysia having dominated and championed a single sport, it's about us having fought our very best. The sportsmanship, or even the joy of pure competition, kindled anew the national spirit that was heard – loud and clear – from every mamak stall. It was this genuine, unyielding patriotism from our athletes that inspired us to also deliver our full measure of national devotion.
We may not consciously realise this, but every time we witness our athletes in action, we're also witnessing their years of hardship, their burden of shouldering a massive national responsibility, their battle scars and injuries, their steadfastness in upholding the reputation that Malaysians do not quit, and their pain of being denied another chance at singing 'Negaraku' on the medal podium. Our athletes – reminding us that great stories come with even greater sacrifices – undoubtedly would have travelled home with their thoughts on the upcoming Games; trust them to return to the arena harder, better, faster and stronger.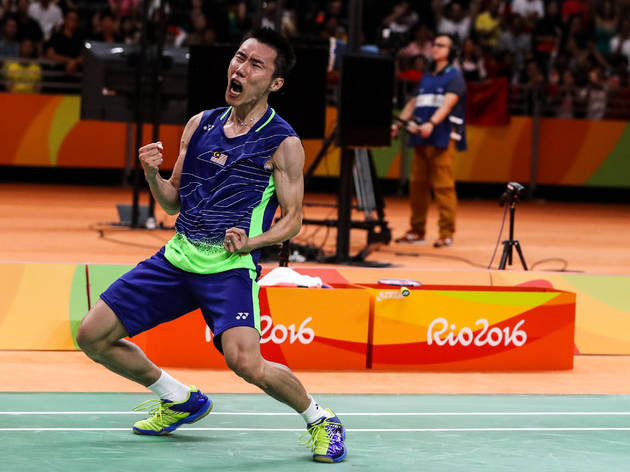 Dato' Lee Chong Wei beat Lin Dan at the semifinals
Our national hero beat his arch-nemesis Lin Dan – first time at the Olympics – with a nail-biting 15-21, 21-11, 22-20 victory to reach the badminton men's singles final. Many great moments are worth celebrating here: 1) Chong Wei dropping to the floor and covering his face with his hands in triumph; 2) Chong Wei punching the air in elation; 3) Both players exchanging their shirts as a mark of friendship and respect; 4) That 'bro moment' when they hugged; 5) Thunderous cheers echoing throughout all corners of Malaysia.

ICYMI: Based on a report by Hype.my, the touching letter from Lin Dan to Chong Wei is just a fan-fiction posted on sina.com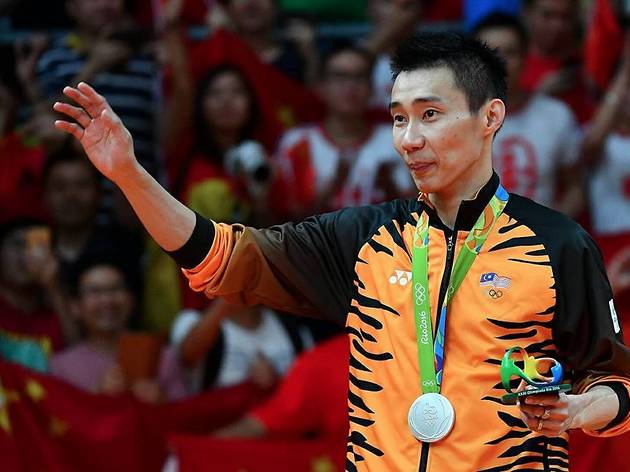 Silver, but gold performance from Chong Wei
It's heartbreak for the world No 1 shuttler, who later apologised for not delivering the gold during a TV interview. Chong Wei ended his Olympic career with three silvers in a row, ever since making his first Olympic appearance back in Athens (2004) before reaching the finals at Beijing (2008) and London (2012). 'I never once gave up,' he said in the interview. We trust you, Chong Wei, and you have nothing to be sorry about.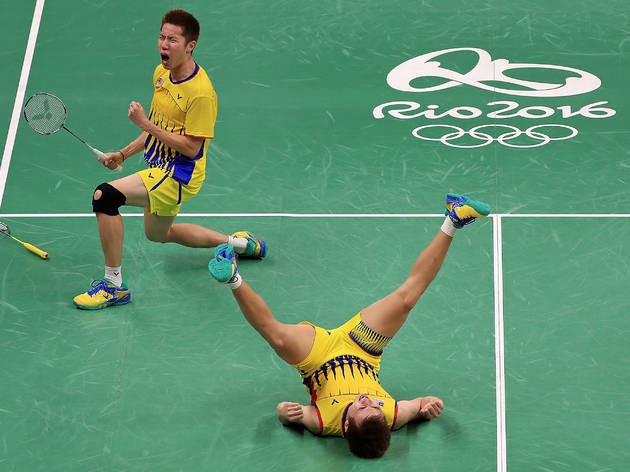 Goh V Shem and Tan Wee Kiong claimed silver
First, the 12th-ranked pair stunned world No 1 duo Lee Yong-dae and Yoo Yeon-seong to book a spot in the men's doubles semifinals. Their tenacity led them all the way to the finals but fell short to China's Fu Haifeng-Zhang Nan in a 67-minute thriller. V Shem and Wee Kiong laid down one of the most nerve-racking matches of all time, bringing the distant dream of winning a gold medal a little closer.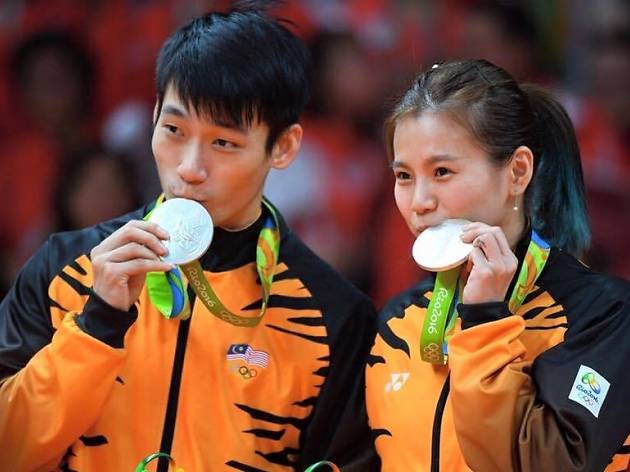 Mixed doubles pair Goh Liu Ying and Chan Peng Soon created history
The only mixed doubles pair to have reached the Olympic final and won a medal, Liu Ying and Peng Soon achieved a spectacular feat, having entered the Games as underdogs. Peng Soon first partnered Liu Ying in 2009, but the pair went on hiatus in 2014 as Liu Ying underwent a knee surgery to fix her injured knees. Read her personal note about her silver medal achievement.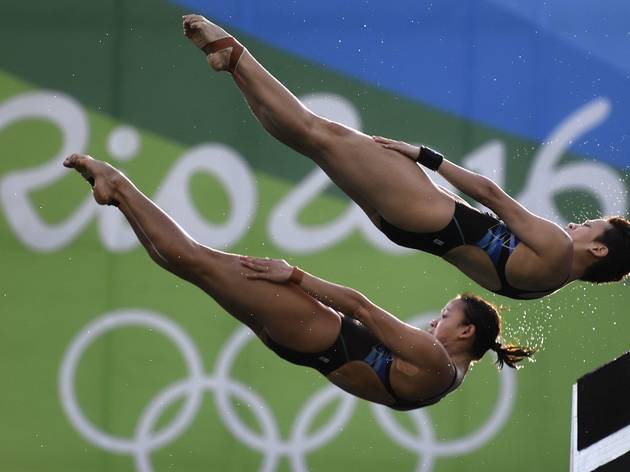 Pandelela Rinong and Cheong Jun Hoong delivered Malaysia's first medal at Rio 2016 Olympics
It was a great start to our medal tally: Divers Pandelela Rinong and Cheong Jun Hoong clinched silver in the women's 10m platform synchronised. An injured Pandelela finished out of the medals for the women's individual 10m platform, which she won a bronze medal for in London four years ago, but she didn't let her injuries derail her. Also, newcomer Nur Dhabitah Sabri, who finished ninth in the finals ahead of Pandelela's 11th, seems promising as the next diving successor.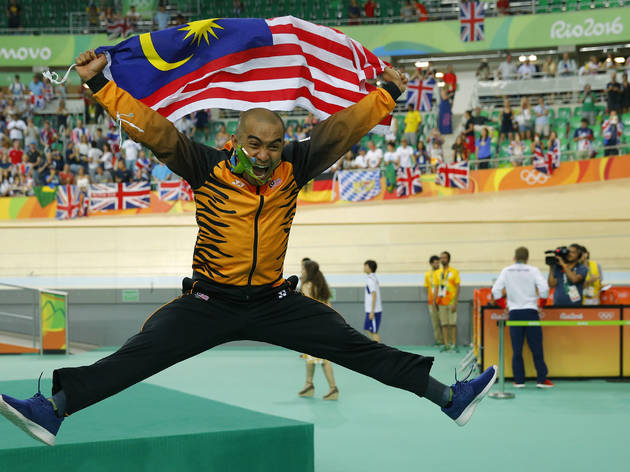 Azizulhasni pedaled his way to bronze
'Pocket Rocket' (nicknamed as such because of his small stature) came in third in the men's keirin, becoming the first national track cyclist to snag an Olympic medal. Azizulhasni has always shown great determination and grit, as demonstrated in the keirin final of the World Cup leg in Manchester – he crashed and was skewered with a 20cm splinter, but he got back on his bike to finish third. The Olympic bronze medalist also took a jibe at Terengganu Menteri Besar Ahmad Razif Abdul Rahman for allegedly not supporting him in his preparations for the Rio Olympics.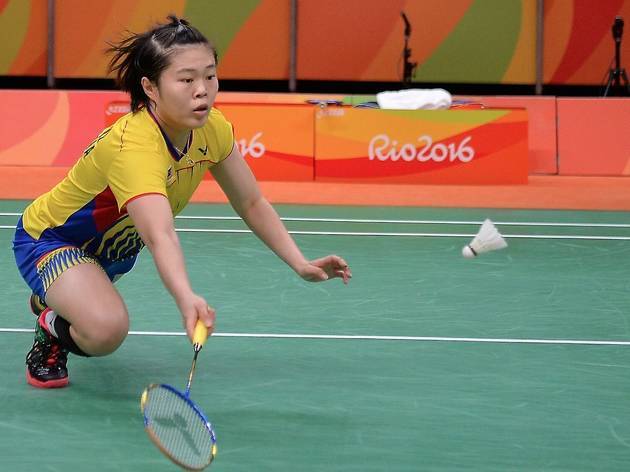 Tee Jing Yi's fighting spirit
No one would doubt Jing Yi's fighting spirit after watching her play against Japan's Akane Yamaguchi in the women's singles. The shuttler suffered a calf injury midway but continued to play on after seeking medical attention twice during the break. A teary Jing Yi expressed her disappointment after the match ended, 'This could be my final Olympics and I prepared well. I came to Rio with the target of giving one hundred percent but luck was not on my side.'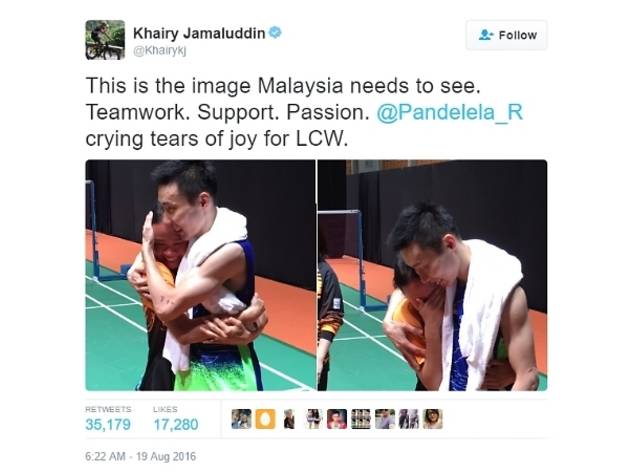 Pandelela Rinong embraced Chong Wei on his victory against Lin Dan
This touching family photo, in which Pandelela mentioned in her tweet, 'So much happiness and super proud of my big brother Chong Wei. I'm just so touched by your fighting spirit…'. Youth and Sports Minister Khairy Jamaluddin, who was present in Rio posted a photo of Pandelela embracing Chong Wei moments after his victory with the caption, 'This is the image Malaysia needs to see. Teamwork. Support. Passion. @Pandelela_R crying tears of joy for LCW.'