Most of the cat cafés in this list focus on breeds as their main draw, but not TTDI's Purradise, whose residents are all rescue cats comprising both shorthair and longhair varieties. While this is a cat café that has an entry charge and promotes itself as a place to unwind, Purradise has a bigger and clearer aim: To promote cat adoption and ultimately be a place where rescue cats can learn to socialise and get used to humans before they're adopted (some of the cats here are up for adoption).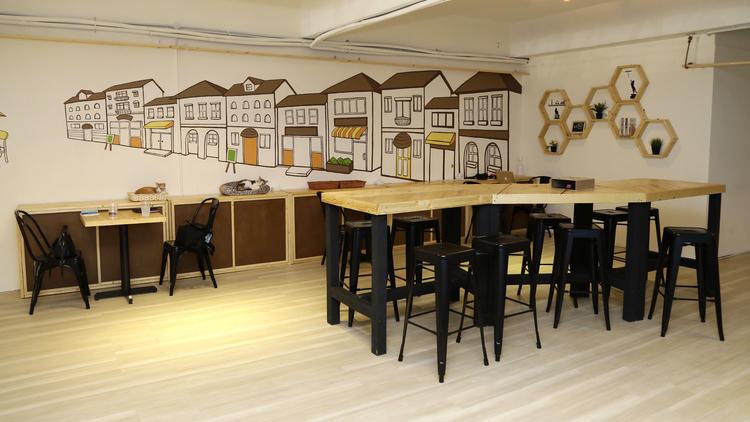 Photo: Hizwan Hamid
We've visited Purradise several times now and there's a reason we keep coming back – it's actually a great place to hang out after work (spacious, clean and full of free-roaming cats). Unlike other cat cafés which have a designated cat section, the whole of Purradise is the cat area, because cats need enough vertical and horizontal space for peace of mind. So yes, the 20 (and counting) cats are free-roaming and may come over and have a sniff of your smoothie – or they may be hiding anywhere from the conveniently placed wall shelves to the big wooden cat house. The layout here is also pretty well-planned to make it a comfortable environment for both cats and humans to linger (tables and chairs for humans to eat a sandwich/do work on their laptop, beanbags for casual chilling). You may complain that the entry fee is expensive, but it does come with your choice of homemade juice, smoothie, tea or coffee. Full-day and monthly packages are available if you plan to treat Purradise as your 'office'. For the rest of you, the best time to visit is on weekdays.

Tue-Fri, 2pm-10pm; Sat-Sun, 11am-11pm. First hour, RM15 per person with one free drink, RM3 per person for every subsequent 15 minutes; one-day unlimited access, RM39; monthly packages from RM300 a month.