Reviewed: Pet cafés in KL
Get ready for our furriest review yet: We check out some of the Klang Valley's most talked-about pet cafés
Whether you're a lover of dogs or cats, the opening of pet cafés in town has got local animal lovers into a bit of a frenzy (both the good and bad kind). Not to be confused with pet-friendly cafés (ie, restaurants which allow pets but don't house any of their own), a pet café is a themed establishment with animals as its main attraction; you generally pay an entry or drink fee to hang out with the resident pets within the given time – much like a petting zoo with free-roaming domesticated animals. We decided to pay these places a visit to better help you decide which places are worth your time and money.
Most of the cat cafés in this list focus on breeds as their main draw, but not TTDI's Purradise, whose residents are all rescue cats comprising both shorthair and longhair varieties. While this is a cat café that has an entry charge and promotes itself as a place to unwind, Purradise has a bigger and clearer aim: To promote cat adoption and ultimately be a place where rescue cats can learn to socialise and get used to humans before they're adopted (some of the cats here are up for adoption).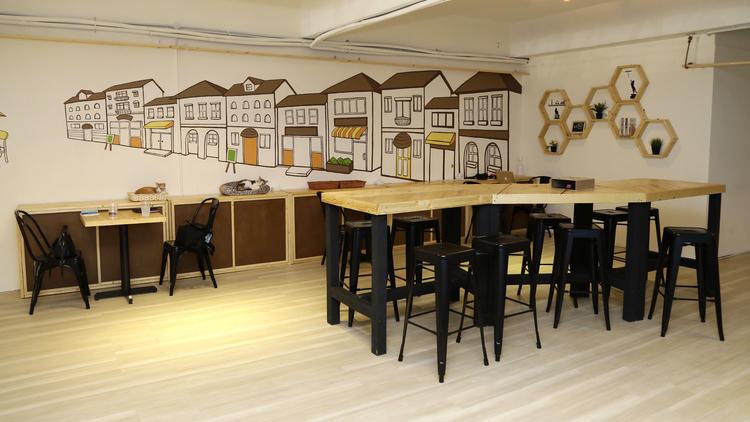 Photo: Hizwan Hamid
We've visited Purradise several times now and there's a reason we keep coming back – it's actually a great place to hang out after work (spacious, clean and full of free-roaming cats). Unlike other cat cafés which have a designated cat section, the whole of Purradise is the cat area, because cats need enough vertical and horizontal space for peace of mind. So yes, the 20 (and counting) cats are free-roaming and may come over and have a sniff of your smoothie – or they may be hiding anywhere from the conveniently placed wall shelves to the big wooden cat house. The layout here is also pretty well-planned to make it a comfortable environment for both cats and humans to linger (tables and chairs for humans to eat a sandwich/do work on their laptop, beanbags for casual chilling). You may complain that the entry fee is expensive, but it does come with your choice of homemade juice, smoothie, tea or coffee. Full-day and monthly packages are available if you plan to treat Purradise as your 'office'. For the rest of you, the best time to visit is on weekdays.

Tue-Fri, 2pm-10pm; Sat-Sun, 11am-11pm. First hour, RM15 per person with one free drink, RM3 per person for every subsequent 15 minutes; one-day unlimited access, RM39; monthly packages from RM300 a month.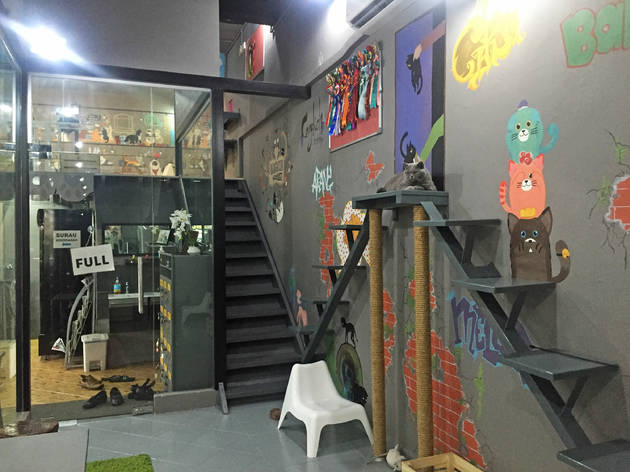 When photos taken from this fairly new Cheras cat café went viral on Facebook (presumably it was this photo of its cats at feeding time that did it), people were hankering to pay this place a visit – us included – and see Good Meowning's resident fluffy felines and British Shorthairs upclose. Here's what you need to know: Good Meowning operates like a normal café with food and drinks (there's nasi lemak in the shape of a cat's head); the 'cats' playroom' takes up a section of the premises complete with a whole mezzanine floor to make it look like a cute cat apartment. The size of the space should comfortably fit around five to ten people, which means that on their busier days (mostly weekends), you'll need to book your slot in advance. Every session is 30 minutes for RM5; if there isn't a waiting list you can top up another RM5 to make it an hour, but it's Good Meowning's narrow space that doesn't really make you want to stay for longer than that.


Space issues aside, the cats here are big, fluffy and rather active and playful but this obviously depends on the crowd. And to be fair, the 20 or so cats (some are adopted strays, some are from breeders) do look healthy and well taken care of, while the space is clean and odour-free (an indicator that the litter boxes get cleaned often). Our only major gripe we can't really get over is the strict dresscode: no shorts, no tanktops, no short skirts, and – you may want to sit down for this – no tight-fitting trousers. Um, okay...
Tue-Sun, 9am-10.30pm. RM5 per entry (30 minutes). Advanced booking required on weekends.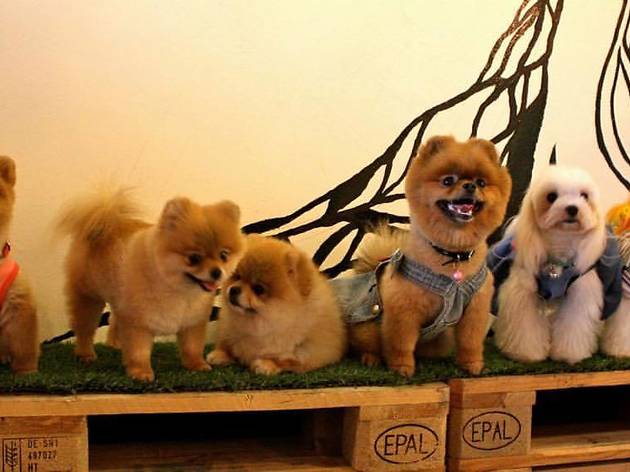 Clawset is more of a pet-friendly café with resident dogs (and one cat), and the pets here are free to roam/run around. The dogs are adorable though, we'll give them that – they all wear doggie outfits and one of them even has pink highlights. Yeah.

As you enter, the dogs greet you in that eager, chipper way that small dogs often do, but if you're expecting to see them doing tricks or anything of the sort, you've come to the wrong place. Think of Clawset as a place you visit when you need to hug a Pomeranian (Clawset's star 'attractions'. There are currently three), and when you're satisfied, you can buy them a doggie treat (although how many treats a dog is allowed to have in a day, we can't say). We're told that there are around eight dogs in the café, but sometimes there'll be more when the dogs from the pet shop next door come to visit. As usual with pet cafés, Clawset can get quite packed on weekends, so it's best to come here on weekday evenings.
Free entry. Tue-Thu & Sun, 10am-10pm; Fri & Sat, 10am-11pm.