SkyWarrior Rainforest Challenge
With new obstacle courses popping up left, right and centre, we took the plunge at Putrajaya's latest playground, the SkyWarrior Rainforest Challenge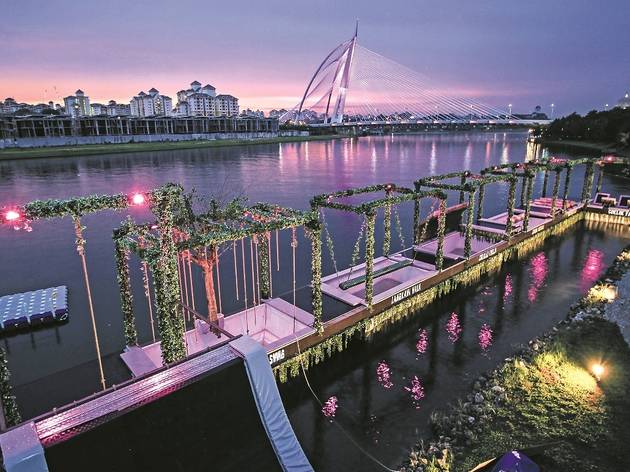 There's nothing pleasurable about knocking your ribs against a (cushioned) pillar, falling into an icy pool and surfacing later looking as if you've been left stranded at sea for days. Obstacle courses are very exhausting no doubt, but the real pleasure is this: Crossing the finishing line.

Prove your mettle at the SkyWarrior Rainforest Challenge, the latest obstacle challenge nestled within Putrajaya's newest attraction, Skyrides Festivals Park. Fitness junkies may find the race format slightly similar to the fiendishly difficult 'American Ninja Warrior' game show, in which the creators set contestants up for failure with their gruelling courses. But SkyWarrior – featuring eight stages with escalating levels of difficulty – is less physically demanding so even teenagers can partake in.

Here's what went down during our visit: We took on the challenge barefooted, sped through the boulders, fell miserably, and dragged our cold bodies out of the water. Repeat. Some rope burns and a dirty bath in the pool later, we trudged our way up to the winning podium, evincing boosted self confidence … until the organisers revealed that the record to beat was 30.8 seconds – that's like the time we use to tie our shoe laces! Still think you can do better? Check out what's ahead of you below:
1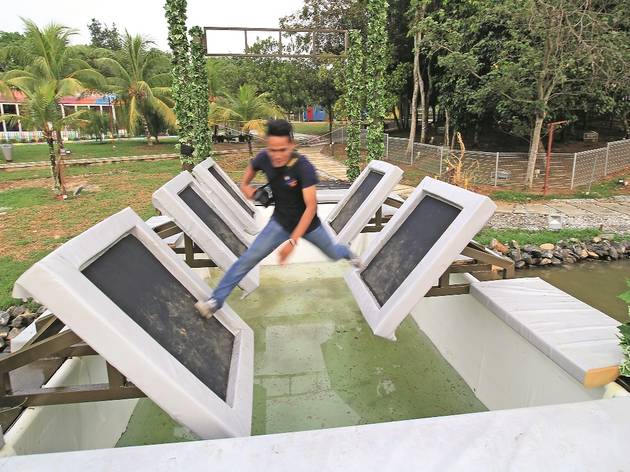 Chelik Falls
Leap from one slanted platform to another in quick succession if you don't want to fall into the pool. Get a good footing on the higher edges of the platform for a more secure jump.
2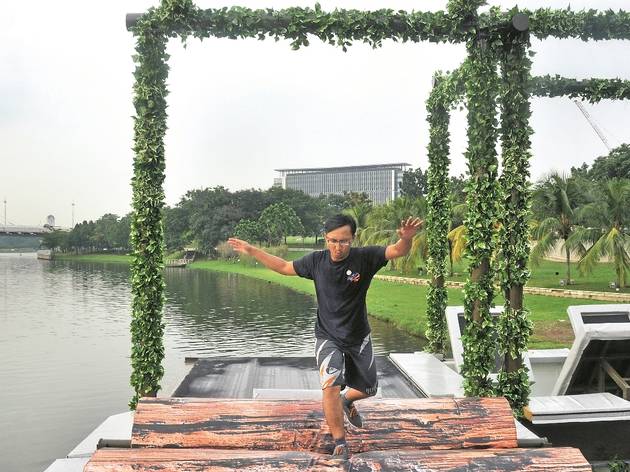 Ulu Sepat Leap
You have to cross three spinning boulders here. Act quickly because the longer you spend on a boulder, the more it'll start to rotate.
3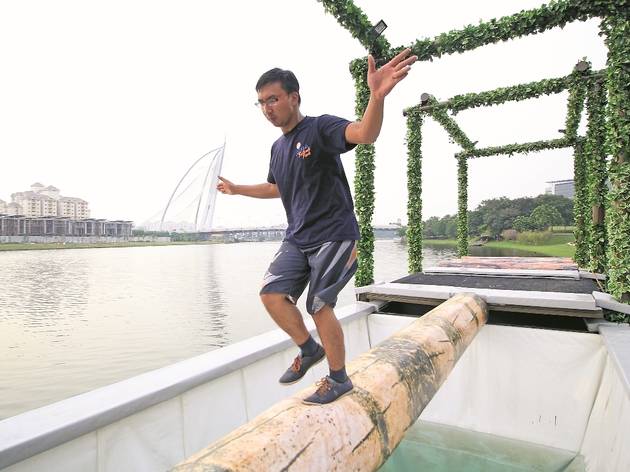 Marudi Crossing
This longer boulder will keep your balancing skills in check. We made a grave mistake by second-guessing our step mid-way, resulting in our first plunge into the pool.
4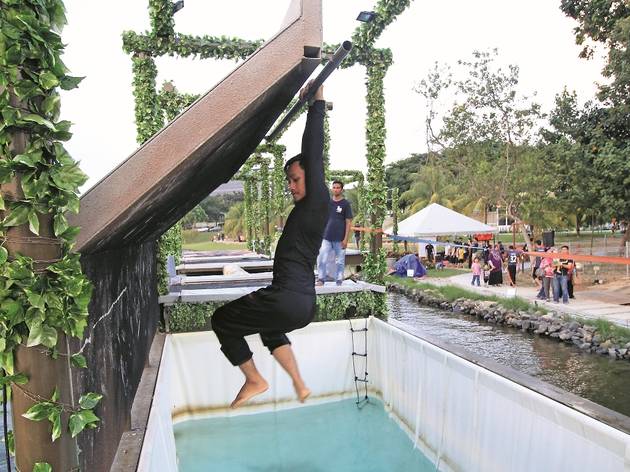 Kinabalu Ferrata
Here's your chance to put that upper body training to use. Shimmy across three metal bars with descending heights, which mimic a cliff ledge. For a better grip, some gloves will come in handy.
5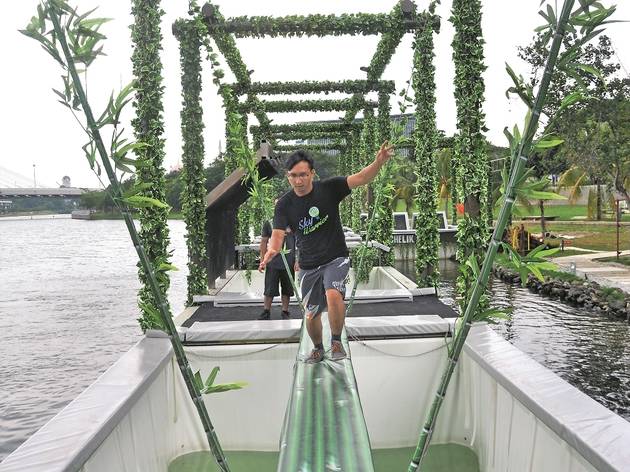 Langkawi Walk
The slightest weight on this swaying platform will throw you off course. It's not as daunting as it looks, but remember to keep your centre of gravity low to avoid tipping over.
6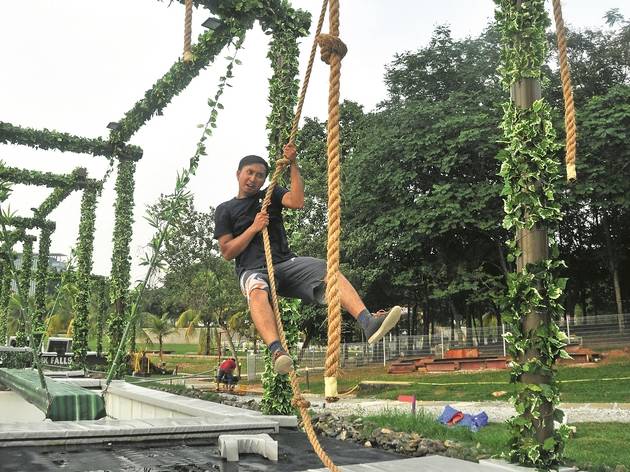 Kinabatangan Swing
Swing like a monkey, we kid you not. The key to overcoming this obstacle is knowing when to leap and when to let go of your rope. Experience taught us that to gain maximum distance and momentum, let go of the first rope before you hit 45 degrees.
7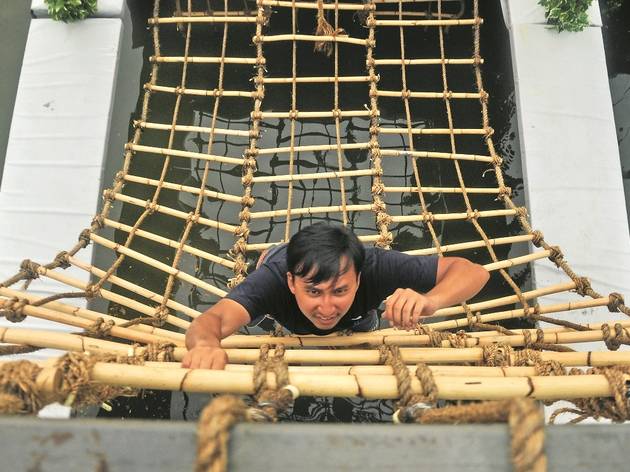 Cameron Web
Swing on a single rope and grab on to the net before climbing upward. Not too tough unless you have tiny feet.
8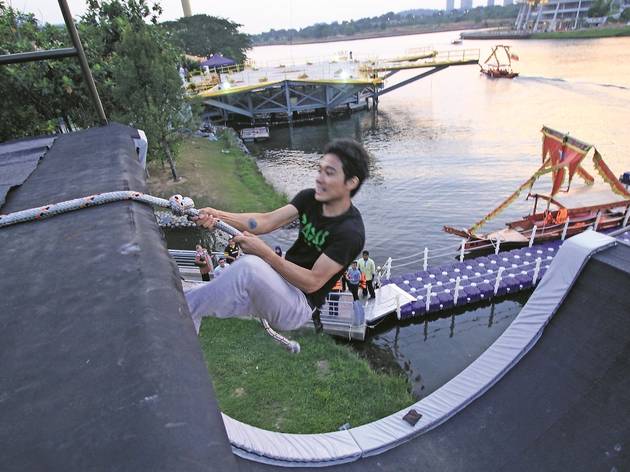 Danum Valley
Standing between you and victory is this big bad boy. With only a short runway and a steep curved wall, you'll need to build up as much speed as you can to clamber up to the top. There's a short rope you can catch on to pull yourself up, but the question is, how? (Tip: toes.)
More things to do at the Skyrides Festivals Park
Get this right: This is no hot-air balloon but a tethered, helium-filled one, which can soar to a height of 120m. With the ability to hold up to at least 30 passengers, this family-favourite attraction serves as a 360-degree observation deck overlooking the stunning Putrajaya view.
Read more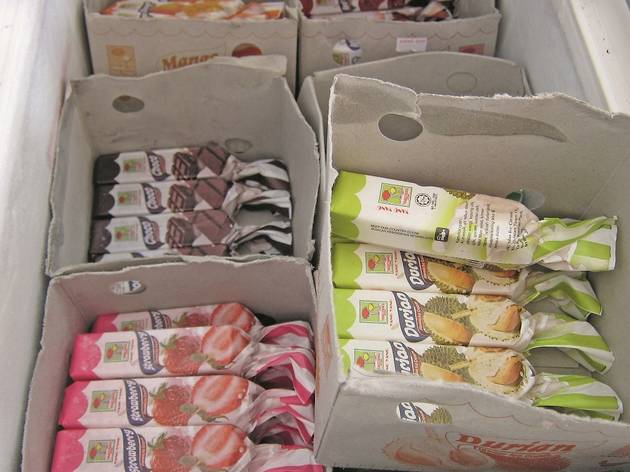 Score some cheap festival food
Helping you beat the heat are the food vendors peddling popcorn, snacks, drinks and the nostalgic Yang Yang ice cream potong (go for the coconut or durian flavour every time) at just RM2 each. For something more substantial, there are stalls hawking burgers and nuggets too.
You've seen Putrajaya from the top; now go around the scenic lake in a boat cruise. The Skycruise includes several attractions en route including the iconic Seri Warisan Bridge, the Darul Ehsan Palace, the Putra Mosque, the Millennium Monument, the Tuanku Mizan Abidin Mosque as well as Marina Putrajaya. Amp up the romance factor with their special dinner package on board.
Read more
Visit the park
Skyrides Festivals Park is Putrajaya's very own helium balloon theme park with various attractions catering to different age groups including the SkyWarriors Rainforest Challenge and SkyKids.

Free admission to the park except for rides. Skyrides, Adult, RM38, child, RM30; SkyWarrior Rainforest Challenge, RM10 with unlimited tries; Skycruise, from RM20.

For more info visit skyridesfestivals.com.
Read more