The coldest cinemas in KL
To escape KL's blistering heat, we check out the frostiest cinemas in town to take cover in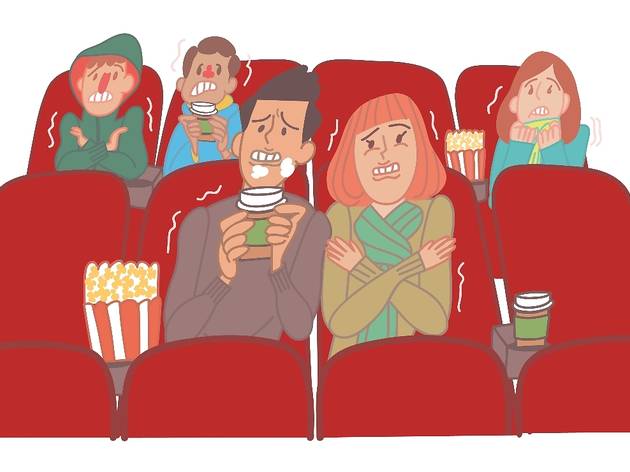 The following experiments were carried out with just the writer wearing a regular T-shirt, jeans and sneakers. She still believes that it's the film – not the freaking cold cinema – that matters. Here's her choice of body armour: 100 percent fine-quality wool cardigan; 80 percent cotton, 20 percent linen scarf; and 100 percent Merino wool gloves.

TGV Indulge, 1 Utama
Choice of armour: Cardigan
Cold comfort: Welcome to spoon-fed entertainment, where seats can be reclined and food is (we're talking about grilled steak prepared à la minute, mind you) served with a click of a button. If you have money to spare, the list of hot food on the menu is your oyster.
Verdict: This may seem like an unfair comparison since TGV Indulge provides lovely comforters (well, you're paying RM45 for a ticket after all) but the air conditioner was giving us a terrible cold shoulder. How cold, you ask? Already armed with a cardigan, we were thisss close to asking for some hot towels and strapping them to our stiff limbs like Tiger Balm patches. All the shivering cinemagoers – cocooned snugly in their bulky comforters – ended up looking like frozen roulades. But on the plus side, these invitingly fluffy duvets are extremely comfortable to nap in, especially when a shitty movie bores you to sleep.

TGV Cheras Sentral
Choice of armour: Cardigan and gloves
Cold comfort: Our hot coffee enveloped us like the warmth of our mum's bosoms, but alas, the false promise only lasted up to the 20-minute mark.
Verdict: We felt like slabs of salmon chilling out in a supermarket's frozen meat section. Our buttocks recoiled at once from the cold cushioned seats and our pores shrivelled as jabs of frosty wind punctuated our cardigan. If you're desperate, and the person sitting next to you doesn't look like Gordon Ramsay, you may consider spending the rest of the movie in each other's embrace.

GSC Setia City Mall
Choice of armour: Cardigan and gloves
Cold comfort: A cup of hot Milo should keep you warm for at least 45 minutes. Even the fried fish fingers and dry French fries offered a bit of relief.
Verdict: No number of Chris Hemsworth's crazy-hot topless scenes from 'Blackhat' could remedy our chapped lips and dry skin. Gusts of wind blustered through our gloves, and as a result we had to clutch our fingers together, leaving our poor Milo defenceless. At this rate, there was no way we could concentrate on the movie with the breeze in our undies. All we could think of was Chris's toasty, bare chest as he wrapped his glorious muscles around Tang Wei in this 'C' grade action flick. The cinema hall was so cold that… why, heeello there, Lee Hom!

GSC Tropicana City Mall
Choice of armour: Cardigan, gloves and scarf
Cold comfort: The popcorn was not all it cracked up to be and the machine-dispensed coffee was gratuitously capped with stiff foam. That's it, you're doomed.
Verdict: You already know the reason this cinema is exceptionally cold – it's one of the less crowded cinemas around. So it was even more baffling to us as to why the air conditioner was blasting frigid air when the cinema was only less than half filled. While we resisted the urge to knock back more cups of caffeine, loud fits of explosive 'ah-choo's broke out intermittently across the audience. It also didn't help that the aunty sitting in front of us conveniently moseyed in and out of the hall, presumably to relieve herself. Our advice? Bring a date or suffer the wintry condition in total ice-solation!

MBO Viva Home
Choice of armour: Cardigan, gloves and scarf
Cold comfort: Soggy popcorns. Cold coffee.
Verdict: COLD. VERY COLD. HELP. 'TAKEN 3' WAS BAD! DIE, JUST DIE ALREADY.
PS: Those were the only notes we could take down in the freezing cinema hall. We still love you, Liam Neeson.
Prefer to cool off with dessert?
Featuring customisable ice cream, alluring parfaits and nostalgic sundaes – these are the latest scoops in the city to keep you cool.