Three ways to celebrate a Blue Christmas
Kronenbourg 1664 Blanc encourages KLites to pause and appreciate the finer things in life this Christmas season
Time Out in partnership with Kronenbourg 1664 Blanc
|
It's that time of the year again when we start to count our blessings, spend time with loved ones and celebrate the moments that matter most to us. To help you treasure those memories this festive season, Kronenbourg 1664 Blanc launched its 'Pause for a Blue Christmas' campaign, a month-long calendar of events starting from December 8, and ends with a grand party on December 22.
More information and updates on the 'Pause for a Blue Christmas' campaign can be found at their Facebook page.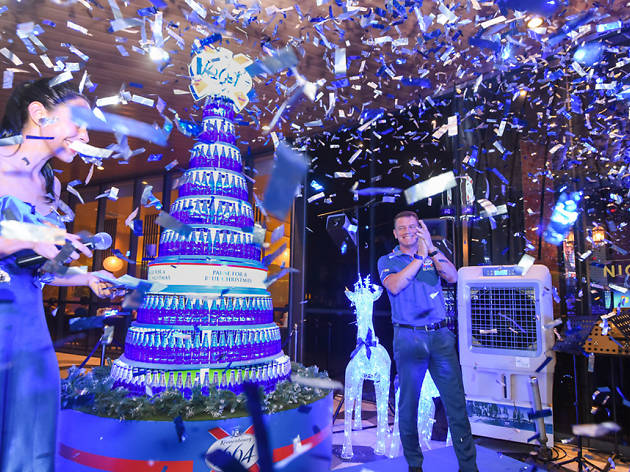 The launch of Kronenbourg 1664 Blanc's 'Pause for a Blue Christmas' campaign
Have a blast at the 'Pause for a Blue Christmas' party
The month-long campaign culminates in this grand Christmas party at Tom, Dick and Harry's in Oasis Ara Damansara on December 22. Here, you'll find a blue Christmas-themed town that has everything you need to get you into the holiday spirit: an 18-foot tall Christmas tree made from over 1,700 Kronenbourg 1664 Blanc blue bottles, a giant snow globe, jazz performances, carollers, Santarinas and of course, a blue Santa Claus!
Entry is free.
Capture the festive moment in a giant snow globe
From December 9 to 22, don't be surprised to see a giant snow globe appearing across the Klang Valley. The snow globe was made by Kronenbourg 1664 Blanc just for this event, and gives people a chance to capture the perfect Christmas photo even as the sun shines bright and hot.
The snow globe will be at these locations on the following dates:
Dec 13, 8pm-12midnight at The Turf Restaurant & Bar (18, Jalan Kasuarina, 12/KS7, Bandar Botanic Capital, Klang).
Dec 16, 8pm-12midnight at Tap It Out (K-1-5, Jalan Solaris 2, Solaris Mont Kiara, KL).
Dec 19, 8pm-12midnight at Tavern 13 (Lot 1A , Jalan Kemajuan, Section 1, PJ).
Dec 20, 8am-12midnight at Espressoul (Sunway Velocity, Jalan Cheras, KL).
Dec 22, 6pm-12midnight at Tom, Dick & Harry's (R-13A, Jalan PJU 1A/7A, Central Piazza Oasis, Ara Damansara, PJ).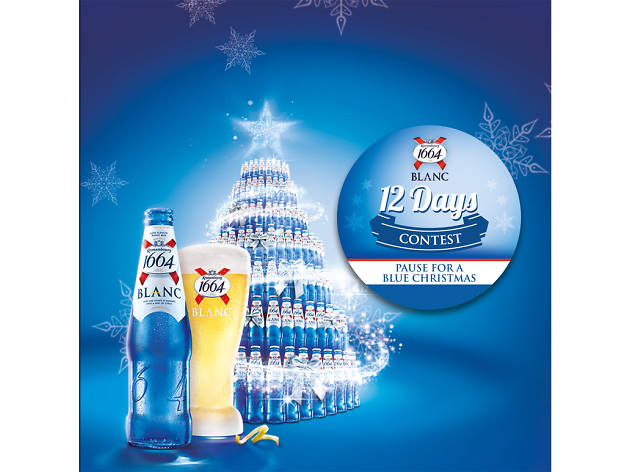 Grab Kronenbourg 1664 Blanc goodies for 12 days
In the run-up to the big party on December 22, there will be a 12-day 'Pause for a Blue Christmas' social countdown challenge to win daily prizes. During this time, be sure to regularly check up on Kronenbourg 1664 Blanc's Facebook page; there will be a series of Christmas-themed tasks like recounting your favourite Christmas memory and cheering up a co-worker's desk to carry out. Succeed, and you can win a bucket of Kronenbourg 1664 Blanc, as well as a Christmas dinner set for two at the big party at Tom, Dick & Harry's.