What you need to know about: Urban farming
A beginner's guide on how to start your own farm in the city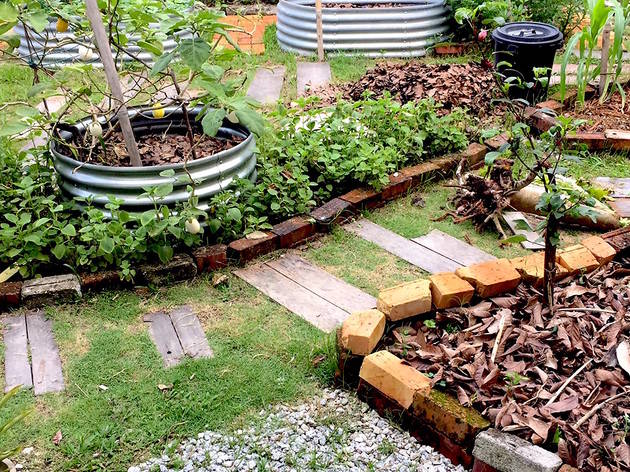 Living in the city doesn't mean you can't have green thumbs; urban farming can be done within the confines of your home, and the best part is you can grow your own food too! We spoke to Beatrice Yong, strategic planner at Eats, Shoots & Roots, to talk about what urban farming and permaculture is. As a social enterprise, Eats, Shoot & Roots – run by Beatrice with business partner Shao-Lyn Low – aims to educate urbanites about the benefits of urban farming and permaculture via workshops, which are occasionally conducted by guest experts.



L-R: Shao-Lyn Low, Beatrice Yong; Photo: Eats, Shoots & Roots
Urban farming must be sustainable
Permaculture is an agricultural philosophy that puts emphasis on building a sustainable ecosystem, where organisms can grow and thrive as intended by nature. This philosophy can be implemented in building a farm or growing a garden and is especially useful in the city. 'Permaculture practices and its usage in urban farming or gardening is about being self-sufficient and sustainable – constructing green spaces with design principles that are eco-friendly,' says Beatrice. 'You can compost your waste, refurbish thrown-away items, recycle materials and more to build your project, and doing so saves you a lot of money,' she continues.



Photo: Eats, Shoots & Roots
Starting your own farm is hard work but not impossible
'Growing a successful farm or garden takes more than just reading up on self-help books; it requires a lot of trial and error and learning from your mistakes. Depending on the climate, not everything you plant will do well, so it's important to keep at it and continue experimenting,' says Beatrice. If you're unsure of where to look for gardening and farming equipment, Eats, Shoots & Roots and CityFarm Malaysia are just some enterprises that peddle everything you need to get you started on your own project.
Beatrice also advises that first-timers should start small. 'Start by planting easy-to-grow plants like orchid and jasmine or edible plants like sweet potato leaves and Malabar spinach. You should also use good soil as it helps keep pests away and gives you tastier and more nutritious harvests.'



Photo: Eats, Shoots & Roots
Growing in high-rise buildings is possible
Without a plot of land, you're limited to the amount of items you can grow; you'd also have to tweak your system to fit in a smaller space all while adhering to permaculture practices. But that doesn't mean that growing plants and food in your apartment is impossible. 'You can plant your seeds in containers or alternatively you can plant vertically. Think suspended pots or vine plants that climb up wooden lattice panels,' says Beatrice. In terms of what you can grow, plants such as herbs, salad greens and baby carrots are good choices for newbies. According to Beatrice, most plants require at least four hours of direct sunlight to grow, so wherever you place your plants make sure they receive enough sunlight.



Photo: Eats, Shoots & Roots
There are several benefits of urban farming
'The more obvious benefits would be that you'll get a greener environment, you'd know where your food comes from, and you get a sense of achievement when harvesting your crops. Because we live in the city, urban farming or gardening helps us re-connect with nature – something us as urbanites are sorely missing,' says Beatrice.
The culture of urban farming and being self-sufficient is growing in Malaysia
'Urban farming is a relatively new trend in Malaysia and there are small groups of people who take interest in this. Compared to other countries like Australia and Thailand, Malaysia still has a ways to go before people fully embrace urban farming as a necessity and not just a trend. If you're interested in being part of the urban farming community, enterprises such as Eats, Shoots & Roots and CityFarm Malaysia frequently host farming and gardening workshops to help you get started.
Farming and gardening workshops available through Eats, Shoots & Roots and CityFarm Malaysia; D-2-39 Jalan BS 14/1, Taman Perindustrian Bukit Serdang, Seri Kembangan (03 8940 7318).