Best things to do in Kuching
Explore, dine and drink your way through Sarawak's capital city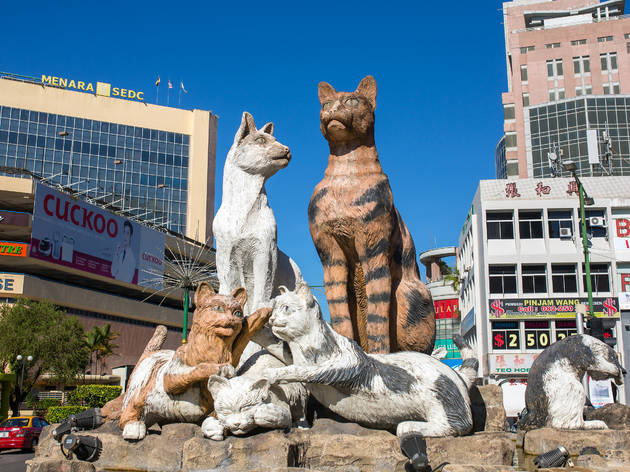 With a history that stretches back to the early 1800s, Kuching has evolved to become a city that embraces modernity and old-world charm; a city where malls, restaurants and hotels are never far away from museums, street food, museums and cultural centres. We take a look at the best places to stay, visit and eat in Sarawak's vibrant capital city.
Where to stay

Photo: Batik Boutique Hotel
The Batik Boutique Hotel (38 Jalan Padungan. 082 422 845) is a 15-room hotel that combines the allure and hospitality of a boutique hotel with all the modern amenities expected of a luxury hotel – the silk duvets are a definite plus point. Another reason to stay here is its location on Jalan Padungan, which has some of the city's best coffee shops, restaurants and pubs.
Alternatively, The Ranee (6 & 7 Main Bazaar. 082 258 833) is a charming boutique hotel housed in refurbished traditional 19th century shophouses. Its 24 rooms are tastefully furnished with local traditional crafts and décor inspired by Sarawak's rich heritage and culture. There's an all-day dining and bar, and its strategic location at the waterfront in the heart of the town ensures there's plenty to see and do during your stay.
If city life proves too busy for your liking, head over to Borneo Highlands Resort (Jalan Borneo Heights. 016 886 0790), an eco-resort that's located about 60km away from the city centre. Parked atop a rainforest clad highland terrain, the resort has everything you need for a pampered stay – spa pools, deluxe family suites, an 18-hole golf course and a farm-to-table restaurant are just some of the amenities – complemented with a gorgeous view of the surrounding forests. The hotel also organises guided tours, rainforest walks, jungle trekking, mountain climbing, visits to the Simangas Waterfall and horseback riding.
What to do
Gain a deeper understanding of Sarawak's history and culture at the Sarawak State Museum (Jalan Tun Abang Haji Openg. 082 244 232) which houses several exhibitions including the 'Urang Sarawak: Pameran Tentang Kita', which delves into Melanau, Kayan and Iban cosmology and ritualistic practices. There are also archaeological findings that go back 40,000 years – perfect for history buffs.

Photo: Semadang Kayak
A visit to Kuching wouldn't be complete without exploring the rainforests that lay beyond the city centre. Start with a 30-minute drive out to the Semenggoh Nature Reserve (Off Jalan Puncak Borneo. 082 618 325) where you can observe orang utans up close. For a spot of adventure, you can take an hour's drive out for kayaking tours (semadangkayak.com) which take place at Kampung Semadang.
If you prefer to explore the beaches, Satang Island is a 30-minute speedboat ride away, an untouched crystal-watered island where Irrawaddy dolphins and marine turtle conservation are active. Day tours (www.borneoadventure.com) will take you through the efforts by conservation rangers, and snorkelling equipment is provided for a quick dip.
What to eat and drink

Photo: iStock
There's no way you're leaving Kuching without having Sarawak kolo mee – noodles topped with minced and barbecue meat, fish balls or mushrooms. One of the best places to have them is Annie Kolo Mee (236 Jalan Padungan), a humble stall that serves probably the best bowl of the noodles that you're going to have. Also on the same road is Noodle Descendants (188 Jalan Padungan), which has been around since 1957 and never fails to draw a crowd. Word has it that an average waiting time of two hours is to be expected for your bowl of noodles, but it's certainly worth the wait.
If celebrity endorsement matters to you, then Chong Choon Café (121 Jalan Abbell. 012 856 2811) should be your next destination. Ever since the stall was featured on Anthony Bourdain's travel programme, there has been no shortage of people lining up to try its famed Sarawak laksa. It's good, but you'll readily find locals who'll dispute its reputation as the city's best.

Photo: Monkeebar
When night falls, there are no shortage of bars in town. Drunk Monkey Old Street Bar (68 Jalan Carpenter. 016 864 9222) is one of the most frequented watering holes and stocks an impressive amount of beer from all over the world. Then there's Monkeebar (12 Jalan Padungan. 019 232 1896), which donates one third of its profits towards conservation programmes to help the orang utans, sun bears and gibbons. Meanwhile, The Wayang (80 Jalan Wayang. 082 259 450) is a popular stomping ground for those who enjoy live music bands, beers and good company.
Explore these eco-retreats in Malaysia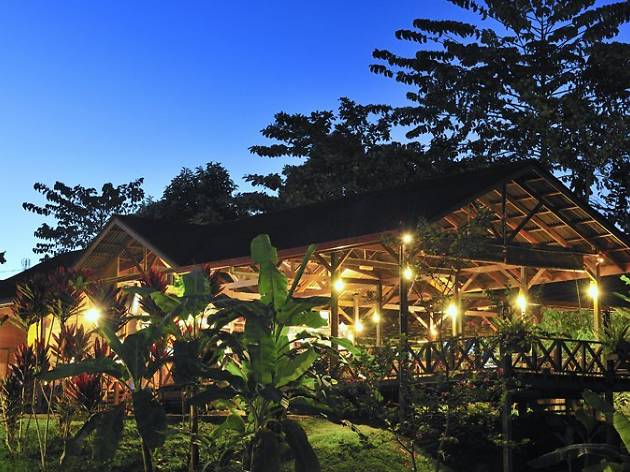 For a tranquil getaway without having to travel far, these eco-retreats offer a unique and rustic holiday experience right in Malaysia. You can stay inside a concrete cylinder pipe in a jungle at Time Capsule Retreat, a shipment container set within a vast paddy field at Padi Box or even get up close with orangutans in East Malaysia at Sepilok Forest Edge Resort.