Hot spring getaways in Tokyo
Amanda Taylor chooses six of the best onsen day trips and weekend breaks from Tokyo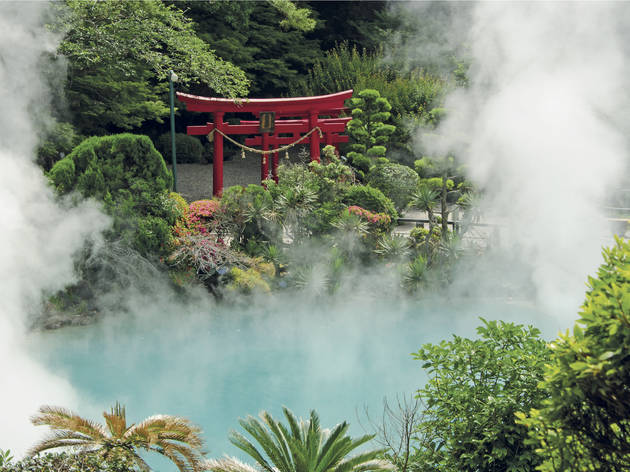 By

Time Out KL contributors
|
Hot springs, or onsen, are a big deal in Japan. Not to be confused with sento, which are simply public baths using heated tap water, onsen comprises volcanic spring water that's full of natural minerals, giving health benefits like clearer skin, aiding in detoxification, and even helping with weight loss (it's said that bathing in the hottest onsen water can burn the same amount of kilojoules as jogging). As winter descends, they also become desirable destinations for daytrips and weekend breaks from Tokyo, so we've rounded up six of the best.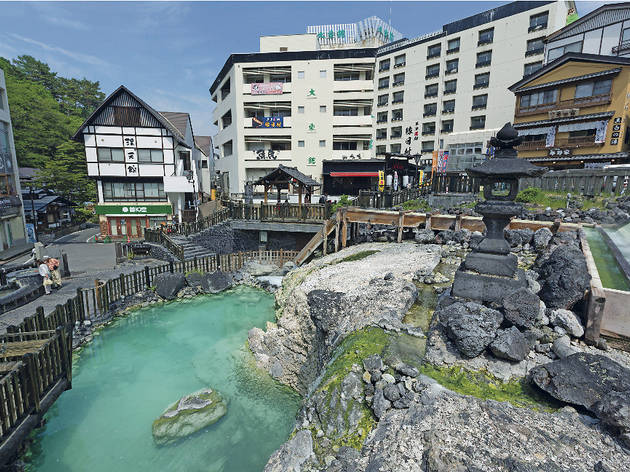 Photo: Winhorse/iStock
1. Kusatsu onsen, Gunma
Its water is so hot there's a special stirring procedure to cool it, rather than adding cold water, which would dilute the potency of the minerals (said to be able to cure any sickness except lovesickness). This stirring method is called Yumomi and can be watched as a performance at certain times. The most popular public hot spring is Sai no Kawara Rotenburo, located in Sai no Kawara Park. It boasts pretty forest views and pure, steaming water, and the entrance fee is just ¥500 (about RM16). Tip: buy some Yu no Hana hot spring powder to experience the healing minerals of Japan's hot springs at home. If you're looking for something else to do in the area, Mt Shirane offers pretty hiking trails in spring and summer, and in winter, skiers can take on the mountain slopes –
Kusatsu Snow & Spa Resort
is open from early December to mid-April.
How to get there
It's about 2.5 hours from Ueno Station on the weekends-only Kusatsu limited-express train to Naganohara- Kusatsuguchi Station (otherwise take the
shinkansen
or Takasaki line to Takasaki Station, then change to the Agatsuma line), and then a 25-minute bus ride to Kusatsu Onsen bus terminal.
2. Beppu onsen, Oita
Known as the hot spring capital of Japan, Beppu is made up of a cluster of eight
onsen
areas. It's a bit of a trek to get there, but it's worth a visit for its variety of baths including mud, steam and even sand baths. Speaking of which, be sure to try the
Beppu Beach Sand Bath
on Shoningahama beach, where you'll be submerged in volcanically heated sand while overlooking softly crashing waves. Top tip: Go on the 'Hell Tour', which takes you to eight of the hottest onsen in Beppu, nicknamed '
jigoku
' (burning hell). Look out for the hot-water lovin' crocs at Oniyama Jigoku.
How to get there
By air: 1 hour 40 minutes from Haneda Airport to Oita Airport, then a 45-minute bus ride to the bus stop Beppu Kitahama. By train: Five hours by
shinkansen
from Tokyo Station. Take the Nozomi Shinkansen to Kokura Station, then transfer to the Sonic limited express to Beppu Station. Travel by Hikari and Sakura trains will require an extra hour and another transfer at Shin-Osaka Station.
3. Ginzan onsen, Yamagata
In the hot spring area of Ginzan Onsen, wooden buildings line the Ginzan river, and at night the soothing rush of the water and flickering gas lamps create the atmosphere of a Japanese fairy tale. Winter, when crisp white snow frosts the whole town, is prime season at Ginzan Onsen. It's the perfect place to experience outdoor winter bathing. Cool air on your upper body and face makes for a delicious contrast to the warmth of the water. It's an extremely popular winter bathing spot, so book early, as much as three months in advance. The highlight of the area is definitely the scenery. For sightseeing, you'll have to look elsewhere in Yamagata, like the Zao Onsen area which is decorated with snow sculptures in winter.
How to get there
It's roughly 3.5 hours from Tokyo Station to Oishida Station by Yamagata Shinkansen, and then 40 minutes by bus to Ginzan Onsen bus stop.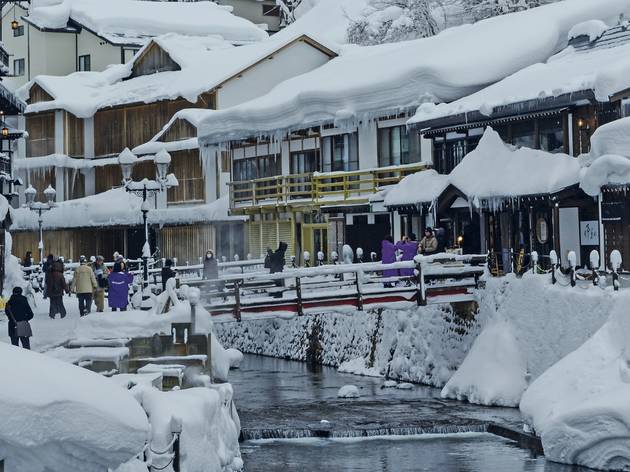 Photo: iStock/Hiro1775
1. Niwa no Yu, Tokyo
Another place where you can wear bathing suits in a designated area (good for couples who want to hang out together), Niwa no Yu is a spa/
onsen
in Tokyo. While the waters aren't as mineral rich as true
onsen
(they come from drilling underground), Niwa no Yu is an easy trip for Tokyoites and the facilities are impressive. The spa is housed in a Japanese garden, making for relaxing outdoor views. Note that no children are allowed.
How to get there
From Shinjuku Station it takes about 20 minutes on the Toei Oedo line to Toshimaen Station.
2. Yumoto onsen, Nikko
At this hot spring area that's part of Nikko National Park and just next to Lake Yunoko, steam rises up from vents in the ground, admittedly making the air and the water smell like stinky sulphur, but the water is packed with minerals that leave the skin tingling. The entire area is dotted with
ryokan
(inns) featuring
onsen
, and just north of the 'town' you'll find Yunodaira Marsh, where hot water actually bubbles up from the ground. On your way to Yumoto Onsen, it's worth stopping off at Ryuzu Waterfall and making the trek through the dreamlike Senjogahara hiking trail.
How to get there
It's about two hours from Tobu Asakusa Station by rapid train to Tobu Nikko Station. Leave early because Yumoto Onsen is an 80-minute bus ride from Tobu Nikko Station (ask for details at the tourist office inside the station). Buy the 2-Day Nikko Pass from Tobu Asakusa Station to get discounted travel.
3. Hakone Yuryo, Hakone
Many hotels and
ryokan
in Hakone open their baths to the public, but one of the most notable onsen is
Hakone Yuryo
. Surrounded by nature, it has indoor and outdoor communal baths as well as 19 private open-air baths (for an extra fee) and massage services.
How to get there
It's about 90 minutes from Shinjuku Station on the Odakyu Romance Car to Hakone-Yumoto Station. Buy the Hakone Freepass, which covers your round-trip fare and unlimited use of transportation such as trains, buses and even ropeways and boats in the area.
Onsen etiquette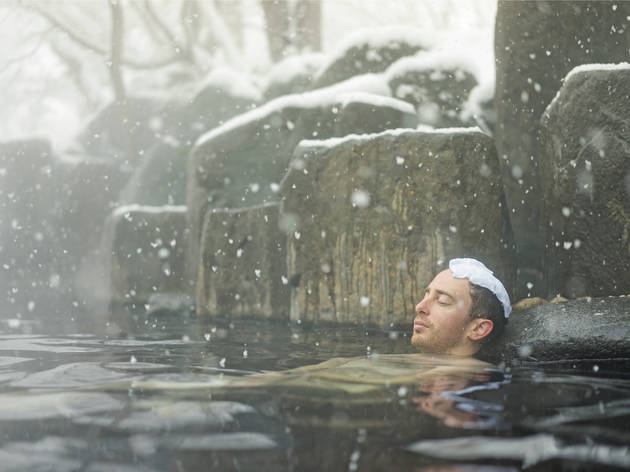 Photo: iStock/Sam Spicer
Tips for hot-spring novices
The onsen: an essential part of the Japan experience. Though hot springs are in no way unique to Japan, the Japanese, as usual, have their own way of doing things and there are all sorts of unspoken rules you need to abide by when bathing naked with strangers. Read on to avoid any embarrassing faux pas on your trip to the very public bath.

Do: Go in both winter and summer
On its face, the thought of immersing oneself in hot water on an already steamy day doesn't sound particularly appealing, but the Japanese are known to visit onsen year-round. Why, you ask? While warming up in winter is certainly one of the appeals of onsen-ing, the primary reason to visit Japanese hot springs is ostensibly their detoxifying and healing effects: the natural spring water contains elements like sulphur and sodium chloride, and is thought to heal aches and pains, and even help with conditions such as diabetes, hypertension and rheumatism.

Do: Get naked
This ain't your local swimming pool; almost all onsen have a strict birthday suit-only policy. Towels are used while going to and from the changing room to the bath, but once you hit the water, it's the full monty. Make sure your towel doesn't touch the bathwater: it's traditionally placed on your head for safekeeping (although these days most people just leave their towels in their locker). A big part of onsen culture is 'hadaka no tsukiai' (naked communion). In other words, there's a certain level of communication that can only be reached when it's all hanging out. Don't worry about your naughty bits being spotted by members of the opposite sex: onsen have been gender segregated since the Meiji period (1868-1912), which is when the Westerners with their prudish ways hit the scene.

Don't: Jump right in
Onsen aren't baths in the traditional 'clean the dirt off your body' sense. They're for relaxing, healing and detoxing, and entering the water with a sweaty, smelly body really kills the wa (harmony). Make sure you scrub down thoroughly before entering the bath using the showers provided. Most high-end onsen have soap, shampoo and towels on site, but more reasonably priced locations might require you to bring your own (if you arrive empty-handed you can usually buy from them).

Do: cover your ink
Bad news for the marked: entering an onsen with visible tattoos is generally a big no-no (although you may get away with it in the neighbourhood sento, which are sometimes less strict). In the West, tattoos are an expression of one's personality, but in Japan, while tattoos are gradually catching on with the young, they still mean one thing in the minds of most people: yakuza. That means no tattoos in onsen, even for foreigners who obviously have nothing to do with the Japanese gangster life. It's easy enough to cover up small tats with waterproof bandages, but for those who have ink that's impossible to hide, look out for Japanese inns that have their own private onsen – you can usually rent it out for an hour or two. These private onsen are also nice for opposite-sex couples, inked or not, who want to soak together.