Hotel Muse Bangkok
The boutique design hotel in Bangkok with the perfect location for shopping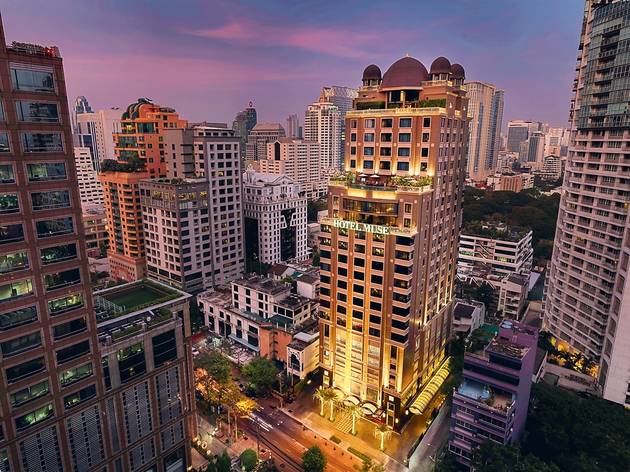 THE LOCATION
Hotel Muse Bangkok has the perfect location. It is smack right in the city centre and within walking distance to Bangkok's major malls (Central World, Erawan and Siam Paragon), and yet tucked away at the peaceful and quiet Langsuan Road, one of Bangkok's most prestigious residential areas. It's like the Bangsar or Damansara Heights of Bangkok, but unlike many upmarket neighborhoods which feel a little too sterilised, Langsuan Road, while very well kept and looking just a tad gentrified, is still unmistakably Bangkok. You'll find street food and a number of convenience stores along the road. Most importantly, there's a quaint little house right next to the hotel offering decent foot and body massages at only THB270 (about RM28) an hour.
THE DESIGN
Two words: handsome, intimate. Hotel Muse Bangkok has the air of a private gentlemen's club and the flourishes of opulent Victorian designs, but it's chic. The faux vaulted ceiling of the lobby, the wrought iron detailing and the dim mood lighting - yes, it's a little fanciful and a little indulgent. And though we can't help but feel that the updated European styling is a little hedonistic, we actually think that's very befitting of Bangkok, because whether we admit it or not, Bangkok is a little hedonistic getaway for most of us. Plus, the European inspiration has a historical context to it actually; it references the King Rama V-era Thailand of the late 19th and early 20th century when the nation began to open up and reach out for ideas and inspirations.
THE ROOM
The rooms' period feel is an updated exercise in opulence, mixing classic European signatures (ie travel trunk-like cabinets, Venetian mirrors, black marble floors) and ornate Asian motifs (ie hand-painted wash basins). Our Dowadueng Corner Deluxe room is well-appointed with a super comfortable bed and amenities like a flatscreen TV, complimentary WiFi, an iPod docking station, and a claw-foot roll-top bathtub with separate shower. We were most pleased that the room came with ground coffee and French press instead of horrible 3-in-1 instant coffee sachets.
THE BAR
Even if you're not staying at the hotel, it's worth coming to just have a drink at The Speakeasy. Sprawled across the hotel's top two levels, the bar's prohibition era styling is unmistakably masculine. Soundtracked by a sexy, down tempo playlist, the terrace bar clings to the side of the hotel on level 24 to afford a stunning view of the city skyline. Up on the rooftop, The Lawn is - pardon the superlative - even more gorgeous. Surrounded by the building's elegant domes, this alfresco lounge is in a world of its own; it feels both decadent and secretive at the same time. Couches are arranged on artificial turf (hence the name) and you get an uninterrupted view of the city's skyscrapers while you sip on vintage cocktails such as Aviator or Negroni.
THE FACILITIES
There's a small but adequate infinity pool with scenic view on the 19th floor. Right behind it is the gym and on the same level you'll find Su Tha Ros Thai restaurant where breakfast is served, as well as lunch, afternoon tea and dinner. For something a little more posh, Medici Kitchen & Bar on the lower ground floor has been receiving positive comments for its Italian menu and neoindustrial chic interior; it serves lunch and dinner.
Hotel Muse Bangkok is a member of MGallery, Accor's memorable hotels collection. 55/555 Langsuan Road, Lumpini, Pathumwan, Bangkok (+662 630 4000/www.hotelmusebangkok.com/). Rooms from THB6,415 (about RM652), inclusive of breakfast.