On the road with the Volkswagen Passat
Photographer Paulius Staniunas tells us about the unexpected discoveries he came across while driving the Volkswagen Passat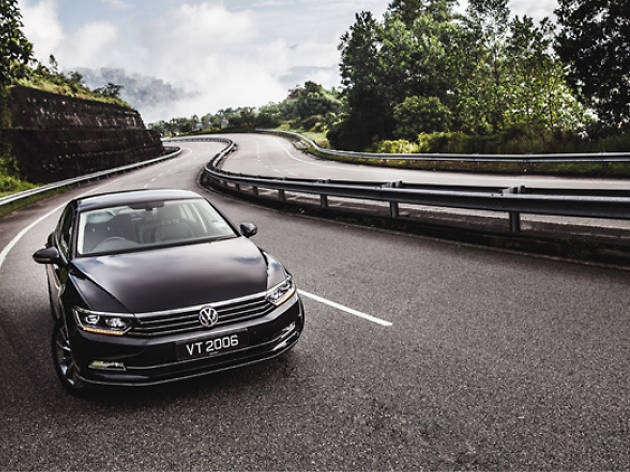 Time Out in partnership with Volkswagen
|
There's nothing quite like the thrill of discovering new places and experiences, more so when they're just a short drive away from – or even within – the city. That was what Paulius Staniunas, the photographer behind All is Amazing, sought out when he was contacted by Volkswagen to photograph the Passat in its latest campaign.
'We scouted around to find some new places; we wanted to see the Klang Valley in a different way,' says Paulius. 'So we drove out to three locations – Kuala Kubu Bharu, Port Klang and Bukit Tunku – to capture the car in natural, industrial and urban settings.'
We spoke with Paulius to find out more about his epic journeys with the Passat, and the unexpected discoveries he came across.
Learn more about the Volkswagen Passat here.
Behind the scenes with Paulius Staniunas
Photo: Paulius Staniunas
We shot the car along the road near the Sungai Selangor Dam, which is often packed during the weekends, but on weekdays it's totally empty. And because it faces the east, you can catch a spectacular view of the sunrise – I recommend heading up here early in the morning to capture what we saw. I was really surprised to find such a place so close to KL; it felt as if we had travelled to somewhere in Italy or Switzerland – the scene wasn't something you expect to see when you think about Malaysia.
If you're there early, make sure you stop by Restoran Fazlina Maju in the town of Kuala Kubu Bharu; it's the last mamak before you hit the road that leads to the dam, and everything here's good. We had the roti pisang and roti canai, and the staff are polite and friendly. We couldn't have asked for more from this 24-hour restaurant.
Restoran Fazlina Maju, 2 Jalan Abdul Hamid, Kuala Kubu Bharu (03 6065 2124). Daily, 24 hours.
Location of where the shot took place: https://goo.gl/maps/Yqw4gNsfT4P2
Photo: Paulius Staniunas
Sadly, the container storage area where we shot the Passat was off limits to the public – but after the shoot we went to check out a fishing area called Angler's Resort on Pantai Acheh in Pulau Indah. Getting to the place was quite an experience; we had to take a dirt road, and for ten minutes, we were literally driving through fields and fields of emptiness – and just when we thought we were heading nowhere, the resort appeared and it felt like we were on a beach far away from Klang. Once you pay the RM3 entrance fee, you can access a fishing jetty where you'll find a dozen people catching fish – fairly big ones too at about 15-20cm long. Of course, the place has seen better days; the chalets there are run down, but it's still a nice getaway spot that few know about.
And the food in Klang was just amazing. I know the place is known for bak kut teh and seafood, but IV Restaurant Pandamaran has a killer roti canai – now, I've eaten a lot of roti canai in my life, but this is the bomb. It's everything you'd want in a good roti: light and crispy on the outside, soft and fluffy on the inside. The three of us first ordered one apiece, but we ended up having two more each before we left.
Angler's Resort, Pantai Acheh, Pulau Indah, Klang (016 225 8434/anglerresort.blogspot.my).
IV Restaurant Pandamaran, 117 Jalan Pandamaran Jaya 62, Kawasan 10, Klang (03 3167 0943). Daily, 5.30am-5pm.
Photo: Paulius Staniunas
A few of my friends were a bit cautious when I mentioned we were going to Bukit Tunku, saying that it was haunted at night. Of course, nothing happened, but it was still a challenging shoot because the roads leading up were very narrow and steep – and we had to operate quickly before the sun set.
We shot the car at a location few have come across: just outside the gates of the Galeria Sri Perdana, a huge mansion that was once where Tun Dr Mahathir stayed when he was prime minister. It's now a museum that has a few security guards posted outside the gates, making it a safe place for us to park and shoot the city landscape. And the view, when you get there, is stunning: on a good day you can see the whole of KL sprawled out before you, from KLCC to Bangsar. Just make sure you have a full tank of petrol before you head up – you don't want to be stuck up there at night!
Galeria Sri Perdana, Jalan Terengganu, Bukit Persekutuan, KL (03 2072 0033/arkib.gov.my/en/web/guest/galeria-sri-perdana). Tue-Thu, 10am-5.30pm; Fri, 10am-12noon & 3-5.30pm; Sat-Sun, 10am-5.30pm. Closed on Mondays.
Map location of where the shot took place: https://goo.gl/maps/FLkFUG2B3bC2