Players to look out for in FIBA 2014
With Brazil all but a distant memory, the sports world now shifts its sights onto the FIBA basketball World Cup in Spain. We pick four exciting players to look out for this month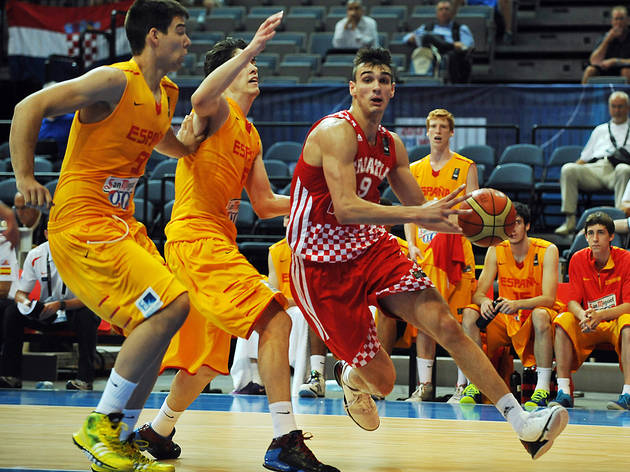 Dario Šaric
(Crotia)
Watch out for
: Harlem Globetrotters-esque no-look passes
This skilful 20-year-old point forward continues to go from strength to strength, following up his dazzling performances in the Croatian domestic league and cup competitions in 2013 with more MVP-winning plays in this year's regional Adriatic League. The reigning FIBA European Young Player of the Year, who's an outstanding passer for a big man and also a prolific rebounder, is set to spend the next two seasons at Turkish outfit Anadolu Efes before moving to the Philadelphia 76ers in the NBA.
Jonas Valanciunas
(Lithuania)
Watch out for
: Highlight reel-worthy put-back dunks
Rebounding from an underwhelming NBA rookie campaign in 2012, this two-time FIBA European Young Player of the Year emerged as a standout performer for the Toronto Raptors this past season. Widely recognised as one of the most promising centres in the game today, the 22-year-old 7-footer will look to lead his country to World Cup glory after starring in Lithuania's unexpected run to the EuroBasket championship final last year. A top-drawer defensive presence in the post, Valanciunas is an athletic rim protector with a penchant for shot-blocking and rebounding.
Dante Exum
(Australia)
Watch out for
: Lightning-quick fast breaks
One of the rising stars of international basketball is set to ply his trade in the NBA this coming season after being picked fifth overall by the Utah Jazz during this past June's NBA Draft. Only 19 and barely a year out of high school, the speedy point guard first caught the attention of NBA scouts at last year's FIBA Under-19 World Championship, where he was ultimately named in the all-tournament team. All eyes will be on this wunderkind as he attempts to inspire his unfashionable Australian team out of a tough World Cup group that includes European dark horses Lithuania and Slovenia.
Ricky Rubio
(Spain)
Watch out for
: Pinpoint alley-oop lobs
A veteran despite his tender years, this 23-year-old point guard has been pulling the strings for the Spanish national team since the 2008 Beijing Olympics. Despite losing the gold medal game to the USA that year and falling to the same opponents four years later in London, the Minnesota Timberwolves star has enjoyed tremendous success in the EuroBasket championship, where Spain won back-to-back titles in 2009 and 2011. Famed for his electrifying playmaking skills and Steve Nash-like court vision, Rubio has thrice been awarded the title of FIBA European Young Player of the Year.
Watch two quarterfinals, the semi-finals and both bronze and gold medal matches of FIBA World Cup, Spain 2014 (www.fiba.com/spain2014) on Astro (www.stadiumastro.com). Aug 30–Sep 14.