The best viewpoints in Lisbon
Official or not, these are the best viewpoints in Lisbon. Enjoy the nice weather and let these views take your breath away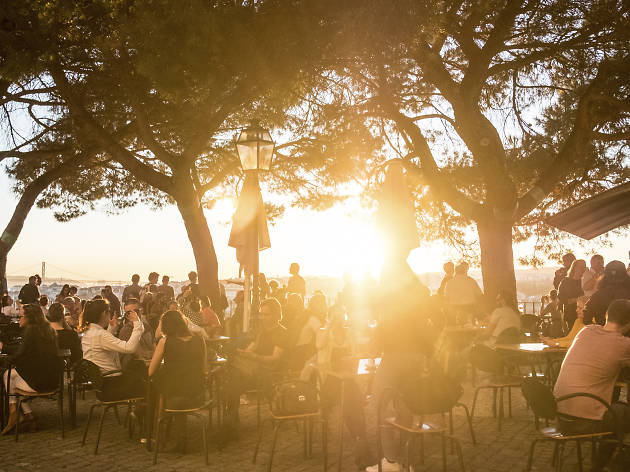 Lisbon has 16 official viewpoints: all of them with amazing views over the city's rooftops, the most important monuments, the Tejo river, its other margin, and the 25 de Abril bridge. But there are more than the ones City Hall (Câmara Municipal de Lisboa) lists as official: the others are rooftops, terraces, bars and hotels. To have Lisbon at your feet while having a drink is a nice programme, don't you think so? So all you need to do is choose one out of the ten best viewpoints in Lisbon.
The best viewpoints in Lisbon
The best viewpoints in Lisbon
From Graça to Senhora do Monte, from Mouraria to Martim Moniz, the huge viewpoint window from Teatro Taborda's café shows it all. The landscape, reflected on the huge interior window is only one of the many good reasons to know this location, where many people from Lisbon study and work. There's a piano, glass lamps of all shapes and sizes and smoked sausage and cheese boards.
Read more
The balcony of Hotel Tivoli's ninth floor only opens in the summer and it is much more than a trendy place to have a drink at the end of the day: it is a unique belvedere, with a huge selfie potential. As far as snacks go, the panoramic outdoor café has Portuguese specialties, such as "bolinhas de alheira" (bread and garlic meatballs) with Porto wine, and tenderloin beef with ham in a bolo do caco sandwich (a typical bread from Madeira).
Read more
Between alleys and backstreets, Memmo Alfama design hotel has one the city's most appealing rooftops. The red bottom pool is for guests only, but anyone can go up for a drink at the end of the day and see Lisbon's most ancient and authentic neighbourhood.
Check prices
Read more
People say the best gifts come in small packages. Clichés aside, Bairro Alto Hotel's terrace is pretty much the case, small but dazzling. It has a view of the rooftops of all the typical houses, that heap over one another and, up ahead, the river, the 25 de Abril bridge and the National Sanctuary of Christ, the King. Choose a cocktail and don't leave before you see a ferry boat (known as "cacilheiro") crossing to the other side of the river.
Check prices
Read more
You might also like
With so many top Lisbon attractions to tick off, your city sightseeing checklist could get very long indeed. That's why we've put together this list of the city's essential sights – here you'll find architectural wonders, spectacular palaces and the best lookout points in Lisbon.
Read more
Embarking on an intrepid mission to discover Lisbon's many offerings is thirsty work and, besides the city's wide-range of history and cultural sights, there is a long list of modern, and more traditional, bars where you can replenish any lost fluid.
Read more