Lisbon's best bakeries and cake shops
We present you 12 pastry shops that bake their own breads and cakes and assure you that if you visit them you won't be disappointed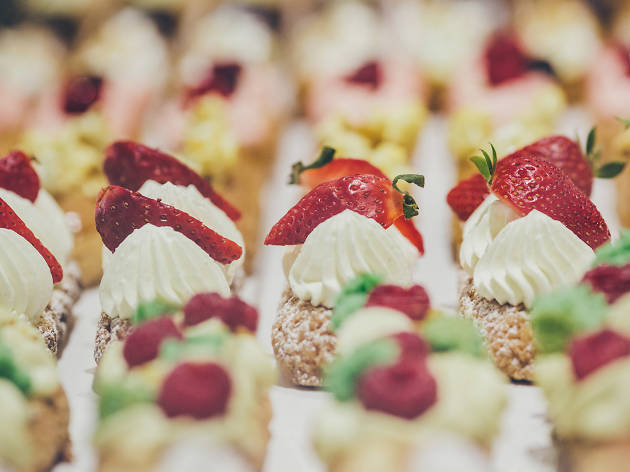 We've tracked down and taste-tested Lisbon's most delectable bakeries to bring you this definitive top 12 of Lisbon's best bakeshops to go for breakfast or brunch, tea, or even lunch.
Lisbon's best bakeries and cake shops
This bakery's name fits like a glove - it is specialised in slow fermentation and was opened in Graça neighbourhood by a scientist with a bakery and pastry degree. Besides the number of different kinds of bread — wheat with sesame seeds, rye or wheat mixture and polenta — there are two tables where you can have toast with butter, sugar and cinnamon, or cream cheese or or peanut butter and jam.
Scones, puff pastry tarts with "doce de ovos" called wonders, "jesuítas" (puff-pastry cake covered with a thick layer of egg and sugar), small cheesecakes from Sintra (known as "queijadas de Sintra"), muffins, "trouxas de ovos" (another Portuguese traditional sweet made with egg yolks and sugar), "quindins" (sweets made with sugar, egg yolks and coconut) and strawberry pies. We could sit here all day and list the numerous specialties that this pastry, which was founded in 1934, has, but the best thing to do is to stop by and dive into this sweet sea of sugar.
You might also like
We Lisboners like a little sweetness in our lives. It's not all codfish and great wines. As proof, we've picked three desserts you should try in Lisbon, believing that a spoonful of sugar really does help everything go down.
Restaurants, Ice-cream parlours
Ice cream or gelato? One scoop or two? Take your pick at the best ice cream parlours in Lisbon.