The 10 best things to do in Belém
Life is better by the river and Belém is the area with the highest number of tourists per square metre, at least judging by the queue at Pastéis de Belém.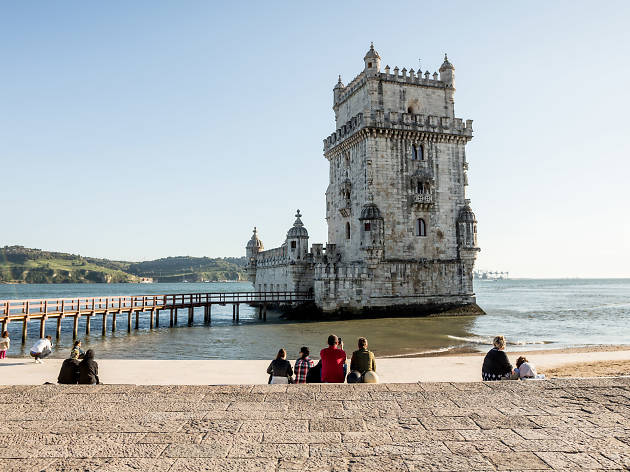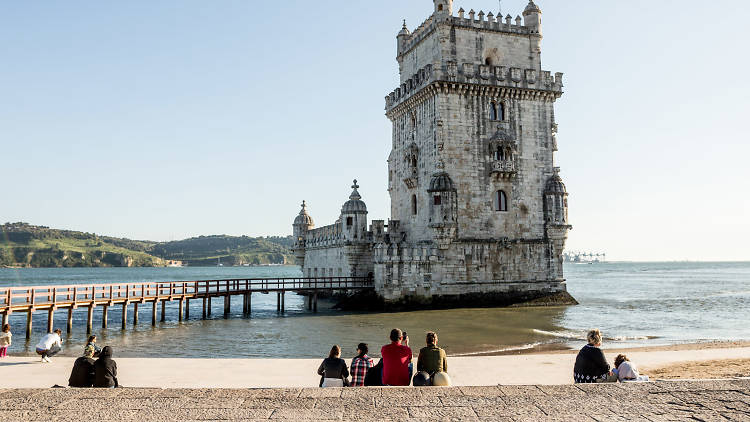 Don't just go there for the custard tarts (pastéis de nata) - but definitely try the custard tarts! Belém is almost an epicenter of museums, which deserve to be visited before or after a beautiful meal in the best restaurants in the area. Just follow our suggestions for the best things to do in Belém and you won't miss out on anything.
Recommended: Top 10 things to do in Alfama
The 10 best things to do in Belém
One of Lisbon's most recognisable landmarks, the Tower of Belém was built in 1520 as part of a defence system at the mouth of the Tagus river, and is now an architectural icon of King Manuel I's reign. It achieved the status of UNESCO World Heritage site in 1983 and was voted one of Portugal's Seven Wonders in 2007. Close to it, don't miss the Padrão dos Descobrimentos, representing 33 historical figures involved in the Portuguese discoveries. The monument was erected in the 1940s, during the Estado Novo dictatorship.
The Pastéis de Belém bakery is a mandatory pitstop for tourists, but its large tea rooms, covered with blue and white azulejos, tend to attract Lisbon residents too. The pastéis (€1.10 each) are worth the fuss, and their history is long and ancient. Their fabrication started in 1834, when the Jerónimos Monastery started selling sweets. They were so successful that three years later, the Pastéis de Belém empire started, with a secret recipe that is still used to this day.
By now, it's time to think about a refreshing dip, and the Tagus river is not an option. The swimming pool of hotel Altis Belém, however, is a great one, with a view on the river. It's open to non-guests for €30 a day, including access to the indoor pool, the sauna and the Turkish bath. On sunny weekends it gets very busy, and hotel guests have priority, so book in advance.
4
©DR
It may seem like a strange concept, but this is what happens when you hire a Sitway, a kind of segway, but even lazier, where instead of standing on the machine, you can sit down and leisurely visit all the monuments along the river. The rental point is at Padrão dos Descobrimentos, and your legs will love you for saving them the trouble of walking up and down the city's seven hills. (From €25 per hour.)
The Clube Naval de Lisboa is a good place to stop if you're cycling or walking along the river. Have a gin on one of the chairs, where all that's missing if your feet dipping in the water, or grab lunch on the terrace. The fish dishes are highly recommended, even if you just have the fish soup because you'renothungryformore.On weekends there's usually live music (late-afternoon jazz) and tables are hard to secure.
Vinho ao Vivo - the European Terroir Festival - is scheduled to return to the terrace of À Margem on July 13-14. Expect a wine- fuelled weekend, with dozens of independent producers from all over Europe. Tickets (usually around €25 a day) give access to wine tastings and petiscos, and wine bottles will be sold at discounted prices. If you're not in Lisbon on those dates, this white terrace with a fantastic view of the river is still a great option to have a glass
of wine, any time of day.
The Centro Cultural de Belém (CCB), a project by Italy's Vittorio Gregotti and Portugal's Manuel Salgado, hosts a number of temporary exhibitions and, since 2006, is home to the Berardo Museum. There are also rooms for performing arts from theatre to opera, dance shows, film screenings or concerts. There's a bookstore, a terrace with a café/restaurant that serves pizza and sushi (called Este/Oeste), another, hidden bar and restaurant with a view (Topo Belém), and even a Davvero ice cream parlour. The first Sunday of every month, CCB's central square welcomes a market.
This project by the EDP Foundation is much more than its acronym, MAAT (Museum of Art, Architecture and Technology). Its architectural lines struck the city at its 2016 launch, and now justifies regular pilgrimages to the area of Belém. If nothing else, the structured designed by British architect Amanda Levete, combined with a sunset backdrop, makes a killer pic to share on social media. But of course you shouldn't stop there: we recommend consulting the agenda for information on permanent and temporary exhibitions.
Take a trip back in time at what is considered Portugal's most visited museum, Museu Nacional dos Coches (the National Coach Museum). It moved to a new building in 2015, abroader, more modern space where you can see carriages, coaches, pushchairs, strollers and many other vehicles – including one with bullet holes: the carriage in which King Carlos and his heir Prince Luís Filipe were murdered in Terreiro do Paço in 1908 is exhibited there. You can learn more about the royals' lives while sitting in these velvet seats. The museum was inaugurated 112 years ago at its original location, in Picadeiro Real – just a few yards from the new location – by Queen Amélie of Orléans (a French princess who married a Portuguese king).
The Jerónimos Monastery, ordered by King Manuel I order in memory of Prince Henry the Navigator, has been a National Monument since 1907, and became a World Heritage Site in 1983. Built in the 16th century, it was donated at the time to the monks pertaining to the Order of St Jerome. In 2016, it became part of the National Pantheon. The monastery's church (Igreja de Santa Maria de Belém) holds the tombs of Luís de Camões, Vasco da Gama and King Sebastian, whose remains were brought there by King Philip in an attempt to put an end to the popular belief that Sebastian would return to save Portugal. But few people actually believe that these remains are those of the Desired King.
Recommended for you...
With its world-class restaurants, excelling in seafood, its reputation for style and long pedigree in art and culture, Portugal's first city remains high on every discerning weekend-breaker's hit-list. Want to know what to do in Lisbon? Whether you're just spending 48 hours in Lisbon or want to sample the best Lisbon restaurants on a longer stay here you'll find the top Lisbon attractions, along with some insider tips on the essential things to see that many visitors miss. Looking for even more fun in the city? Explore our comprehensive guide to all things to do in Lisbon. The best things to do in Lisbon, points of interest, attractions and nightlife are here.
Want to get to know the Portuguese capital like a local? Try one of these tours and tackle the city's charming streets and take in sights and attractions on foot, by bike, bus, boat – even in an old school VW Beetle if that's what you fancy. There are loads of fun ways to explore the capital, you just have to pick your favourite. Why not experience the delicious delicacies of Portugal on a food tour? Sample bacalhau (salted cod) in the historic district of Belém, or sip on Portuguese wine, fresh from the vineyards of Alentejo, on a day-trip north of Lisbon. Alternatively, tour Lisbon at your leisure on one of the many hop-on, hop-off buses and trams that circulate daily. To help your decision-making, we've gathered up the best Lisbon tours below.