Things to do in Cascais: a perfect day
A half-hour drive from Lisbon, this seaside town has lots to offer if you have a day to spare. Or two. Take a look at our guide with the best things to do in Cascais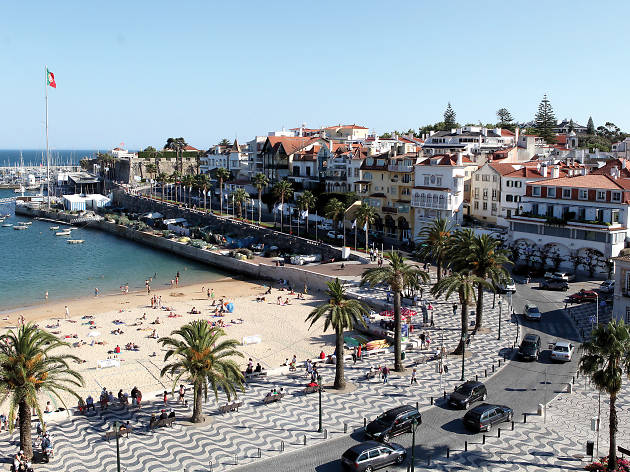 If you're in Lisbon, you definitely can't leave without taking a tour through Cascais. Less than an hour away from the city - and you can even take the train and enjoy the view on the way there - it's the true jewel of Portugal's capital.
You've woken up and feel like getting out and about with so many options of things to do in Cascais. Whether for walking, cycling or skating, this cycle route is perfect. It stretches for almost nine kilometres between the centre of town to Guincho beach, via the sea cliffs at Boca do Inferno. There are 60 free bikes (as BiCas) for hire at Cascais rail station, at the Casa das Histórias museum, or at Guia.
You've done enough exercise and now need to get your strength back. That's normal. A Sacolinha (Alameda dos Combatentes da Grande Guerra, 107 A) is a great bakery with fabulous cakes and bread, including croissants, filled doughnuts and flaky palmiers.
Time to head for the water. You can wear a wetsuit if you want. What for? To get onto a paddlesurfing (Stand Up Paddle) board or just a regular surf board. Cascais, Carcavelos, Praia Grande and Guincho are excellent places to practice some surfing lessons.
You're probably famished by now. The Mercado da Vila (Rua Padre Moisés da Silva) in the centre of Cascais was revamped in 2015 and now has dozens of eateries as well as produce stalls. Our favourites are Marisco na Praça, which specialises in fish and shellfish, Italian restaurant Gulli, which is great for kids, Pátio do Petisco, where you can split some snacks, and Grão d'Amor, which has toasted sandwiches, salads and the like.
Now for something more edifying. Cross the famous Rua Frederico Arouca (which locals call 'rua direita' – straight street – even though it isn't) and head for Cascais Bay to take some snaps, and walk up to the Cidadela (Avenida Dom Carlos I), a fortress that now houses a display of winners of the World Press Cartoon competition and an old royal palace. Then go on to the Casa das Histórias – Paula Rego (Avenida da República, 300), a building designed by Eduardo Souto de Moura to showcase artworks by Rego, who was born locally. If you're looking for a different kind of experience, try an art tour through one of the local communities and learn how they used art to unite the neighborhood.
For an early-evening drink before heading back to Lisbon, drop into the House of Wonders (Largo da Misericórdia, 53), which is an art gallery, shop and café rolled into one and has a top-floor terrace that's ideal for a sundowner.
If you feel like staying for dinner, here are two good options with only one thing in common: they both involve fish. On the one hand is one of the town's most renowned seafood restaurants, Mar do Inferno (Avenida Rei Humberto II de Itália), where you must try bruxas de Cascais – locally caught crustaceans; on the other is sushi specialist Confraria (Rua Luis Xavier Palmeirim, 14), whose ambience is one of the best around.