The most beautiful Lisbon beaches
We don't like to brag, but some of these beaches can easily stand amongst the best in the world. Soak up the sun in one of the most beautiful Lisbon beaches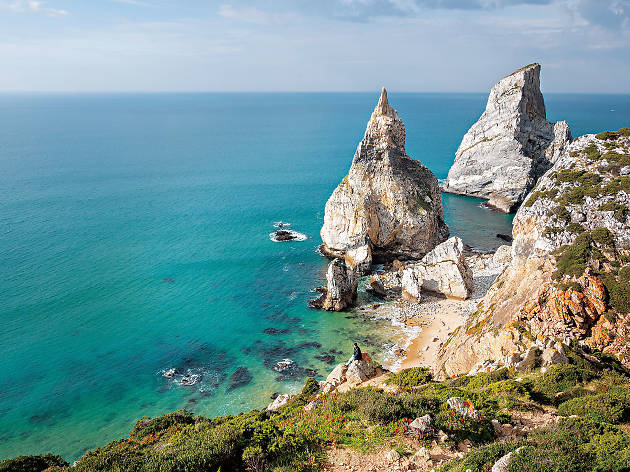 Some are perfect for families, others are little havens for couples or even paradise for surf lovers. But all of them put together stand amongst the most beautiful beaches you can find in our country and in the world. And they're only a few moments away from Lisbon. From Cascais to Sintra or Arrábida, here are the most beautiful Lisbon beaches.
The most beautiful Lisbon beaches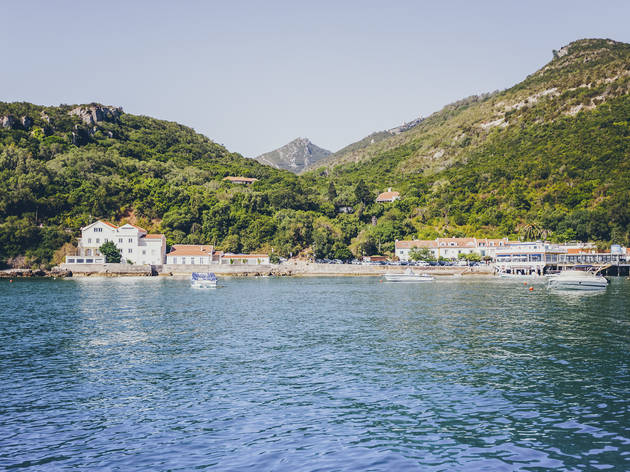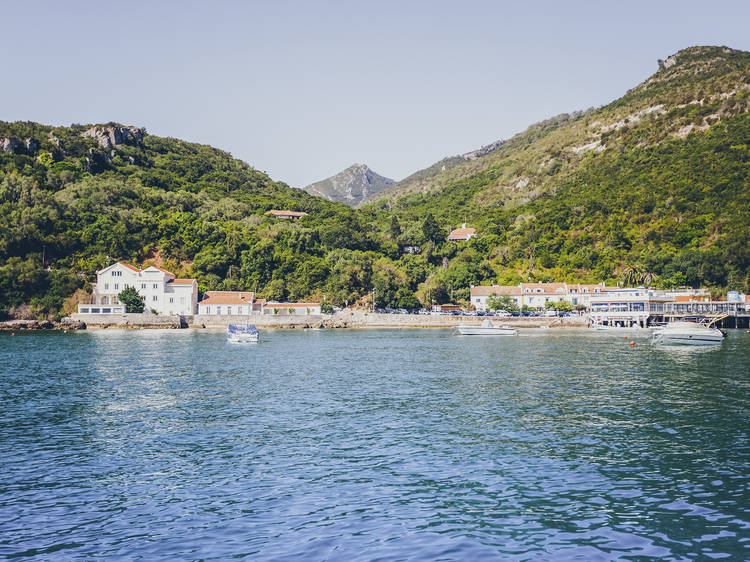 Fotografia: Arlindo Camacho
Portinho da Arrábida - 45 km
It's that beach postcard that you've always wanted to take home as a souvenir. It has blue and green tranquil waters, like almost every beach in Arrábida and stands only two kilometres from Setubal's city centre. In Portinho you'll find smalls houses and outdoor cafés and tons of things to do: from snorkling to canoeing, and even an old military fortress. But what you really need to do is relax and enjoy the view – you won't even care if the water's too cold.
©DR
Located among the cliffs, with Pre-Historic rocky surfaces, Samarra beach, in São João das Lampas (Sintra) may not be one of the most famous but it certainly has that unique charm. Angling, seafood and octopus fishing are pretty common around here: you can watch fishermen from this little beach.
Fotografia: Manuel Manso
It's located right next to the city (it's only a train or car ride away) and it's relatively popular for those who like to surf without having to walk several kilometres. Aside from surfing, you can go kayaking, kite surfing, bodyboarding, go for a Jet Ski ride or have a turbulent but – but fun – ride on top of a banana (an inflatable object shaped like a banana that's dragged by a Jet Ski). These are some of The Windsurf Café's activities, which also serves meals, snacks and a weekend brunch.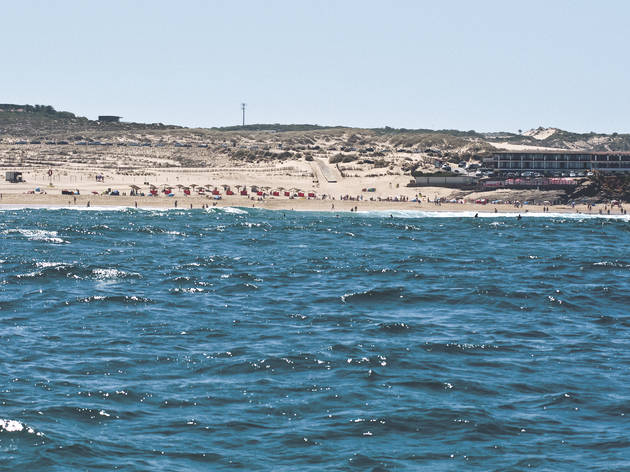 Fotografia: Arlindo Camacho
Before heading there, search the Internet and find out how the wind is blowing. Guincho beach is very windy, however, that isn't enough to take its charm away.
 It has so much sand that the cliffs have sandy
 and green tones all the way to the top, but it's still a mandatory stopping place even if your hair gets all tangled. That's why it's kite and windsurf lovers' favourite beach and also the locals', who only want 
to lie down and bathe in the sun. Bond, James Bond was here too. He rode along the sinuous road to reach Guincho and even dove into the turbulent waters in 007 – On Her Majesty's Secret Service (1969).
Fotografia: Inês Calado Rosa
Praia Grande Beach - 44 km
Both the European Surf Championship and the World Bodyboard Championship are held here every year, which is a place that all water sports fans (but also all families) love. But Praia Grande beach, in Sintra, has more than just natural beauty: it has good food, for instance. At Bar do Fundo you may order the traditional toasts and salads if you want to take a break, but there's more: roasted fish, posta mirandesa or lobster risotto. Further north lies Arribas Sintra Hotel, which has one of the biggest salt water pools in Europe and, further south, if you look close enough, you may find millennial dinosaurs traces.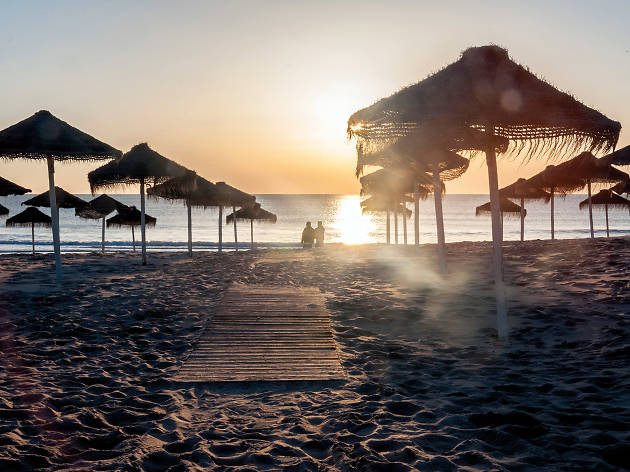 Fotografia: Inês Calado Rosa
You have to pay for your parking space but it has reserved spots and all of them stand under the tree's shade – which you won't find anywhere else. Bicho d'Água, Kontiki, Sunset, Pé Nu and the newest Praia (Sea, Salt and Pepper) – are all the restaurants you may find serving meals, snacks and cocktails. At São João beach you'll always find a spot where you can lay your beach towel. From Lisbon's centre to the beach (crossing the 25 de Abril bridge and then the highway to Costa) it's a 25-minute car ride.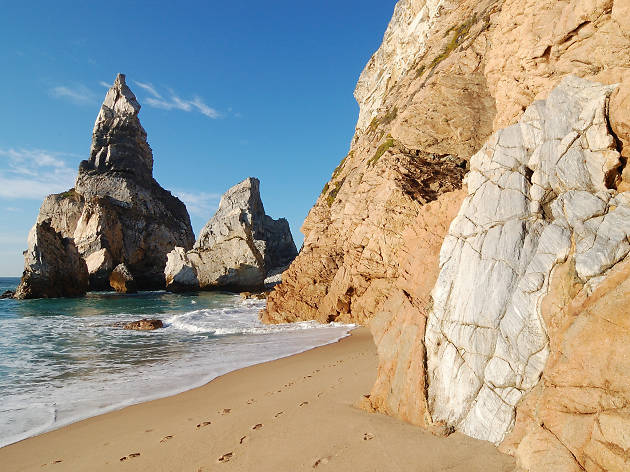 ©Rosino
If you are at Parque Nacional de Sintra then you must head towards Cabo da Roca. Soon enough you'll find a sign that says "Ursa"; you must park your car and get ready for another walk – it'll take about 20 minutes to get there. It's one of most well-hidden beaches around and the one with the most difficult of accesses: when the tide is running low you might see some fishermen searching for gooseneck barnacles. Accept the challenge of searching for the animal-shaped rock (bear – "ursa") that named the place.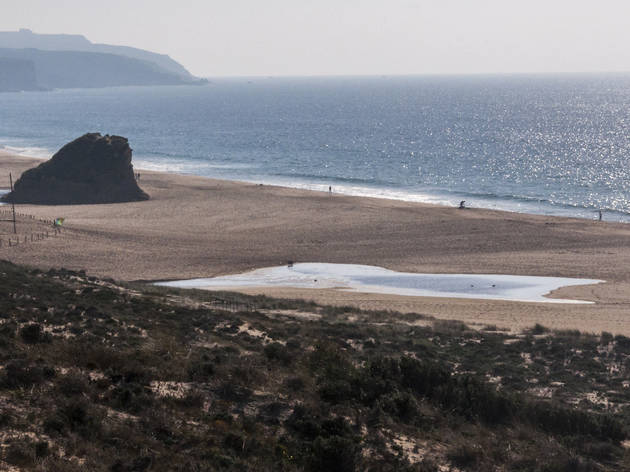 Fotografia: Inês Calado Rosa
It's big, it has clay cliffs (if you want a face mask do it yourself) and fishermen's boats harboured to complete the scenery. Located at the other side of the river, in Sesimbra, Meco beach still has nice infrastructures: parking lots (where the prices differ, depending on how close you want to be to the beach) and also bars and restaurants to grab a bite or have a drink by the end of the day. It's also known for being a nudist beach (though you need to walk for a while to actually see naked people) and it annually takes in "Légua Nudista", a race where every contestant competes without a single piece of clothing.
You'll definitely enjoy...
Don't worry about the weather too much, in Lisbon the sun is usually shinning. In this list you'll find the best views in Lisbon: viewpoints, or "miradouros" as we say in Portuguese, terraces, by the shore or from the river. A sunrise you won't want to miss.
Some people think beach and winter don't work well together but in Lisbon you can see that's not true. Enjoy the sun rays and the salty breeze with this list of the best beaches to go in the winter. Oh, and don't forget to see the best sunsets too!
More to explore