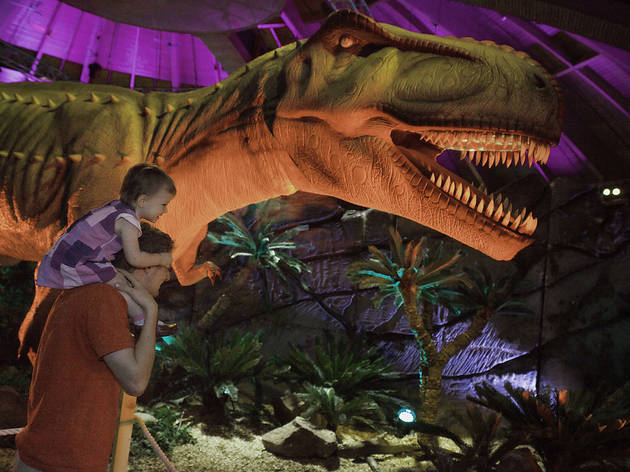 The movies would have you believe that the best way to check if an unconscious person is dead or alive is to hold a mirror above their nose and look for condensation. But there's an easier way well known to paleontologists. Simply shout 'Do you like dinosaurs?' Anyone who answers in the negative is definitely dead, at least on the inside. So if you're a living, breathing, sentient being, chances are you're pondering whether or not to attend 'Dinosaurs Unleashed'.
The 'DU' experience starts with a slightly hokey 'time travel' episode, but things swiftly improve. Information is delivered in bite-size chunks (and that's microraptor bite rather than allosaurus), sometimes directly addressing the scientific fallacies of 'Jurassic Park'.
The guides occasionally struggle to make themselves heard over the barrage of ambient noise – mostly simulated primordial jungle sounds and dinosaur roars – but holograms of Chris Packham are stationed by each dinosaur ready to impart useful dietary and behavioural facts if necessary. That said, it's clear the intention of 'DU' is to spark a sense of wonderment that will inspire children to learn more about prehistory when they get home rather than prepare them for their Key Stage 1 stegosaurus studies tests. Our guide was patient and well-informed and answered every question put to him but was clearly preaching to a choir of pre-school dino-geeks.
And the dinosaurs themselves? OHMYGOD! THEY'RE HUUUUGE! THEY'RE THE MOST AMAZING THINGS EVER TO WALK THE EARTH, EVER!!! LOOK! THERE'S A DIPLODOCUS!!!! Which is to say, they definitely do the job of bringing the Pangaean era to life.
Don't expect too much from the animatronics – the dinosaurs are largely milling about, occasionally inspecting their periphery rather than, say, eating each other or tap-dancing as they might have done in the wild. But that's enough – it's the scale and just-near-enough realism of the robots that make the show work. I might be slightly outside the exhibition's catchment age of two to 12, but the children in our group were uniformly enthralled. Old-school dinosaur fans will be pleased to hear there's a sweet spot that allows you to pretend a T rex and a triceratops are simultaneously talking to you.
There are a couple of minor quibbles. The famous spiked thumbs of the iguanadon are concealed by an injudiciously placed log and a shadow cast by the beast's own head. The 'virtual aquarium' showcasing unprehistoric undersea creatures will be underwhelming to anyone from the PlayStation 1 era onwards. But these are relatively insignificant compared to the excitement (er… for kids) of taking your first step into the dinotorium and seeing the colossal sauropods up close.