A.A. Murakami: 'Silent Fall' review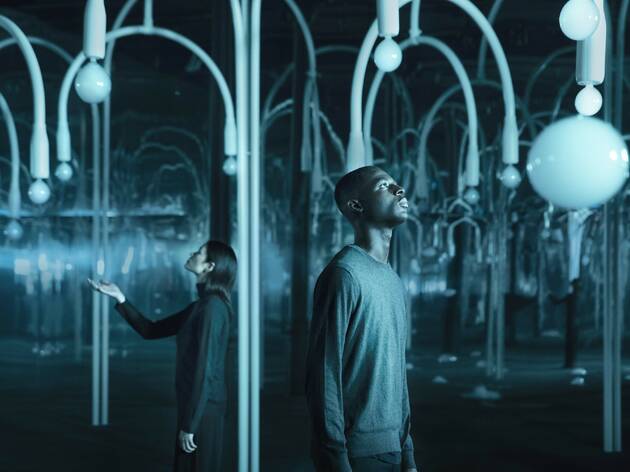 Time Out says
There's no point reviewing this installation as a work of art, because that's not really what it is. It's something to post on social media, something to go and do between shopping in Soho and brunch at Brasserie Zedel. It's to art what Harry Potter World is to cinema.
The schpiel here is that this installation by artist duo A.A. Murakami is meant to mimic the sounds and scents of a forest in order to make you think about man's place in nature yadda yadda yadda. Flimsy stuff, but it looks nice. The room is mirrored and dark, lampposts drip smoke-filled bubbles onto you as you walk past. You can catch them in your hand, pop them and see the smoke wisp away. There's a faint odour to the place, but that's lost in a world of facemasks. There are zero forest vibes here, though. It's more like being stuck in a factory with a gas leak. I don't mind it as an experience, but it hasn't got much conceptual heft to it.
The truth of it is that Superblue, the new gallery endeavour which plays host to this installation, was cynically designed to cash in on the immersive art trend, to convert the huge appetite for art that looks good on instagram into ticket sales. And that's smart. The tickets to Yayoi Kusama's mirror rooms at the Tate sold out instantly. People want to take photos of themselves in mirrored rooms with shiny things in them. There's nothing wrong with that, go nuts. The thing is, Superblue is a good business move, but it's a pretty weak art one.
Details
Dates And Times