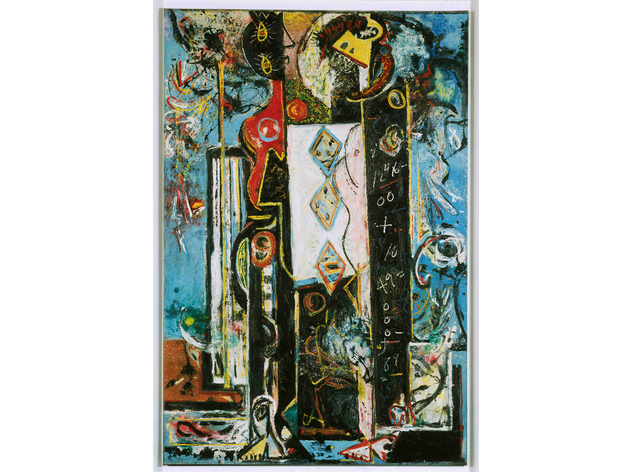 1/6
Jackson Pollock: 'Male and Female', 1942-43. © Courtesy of The Pollock-Krasner Foundation ARS, NY and DACS London 2015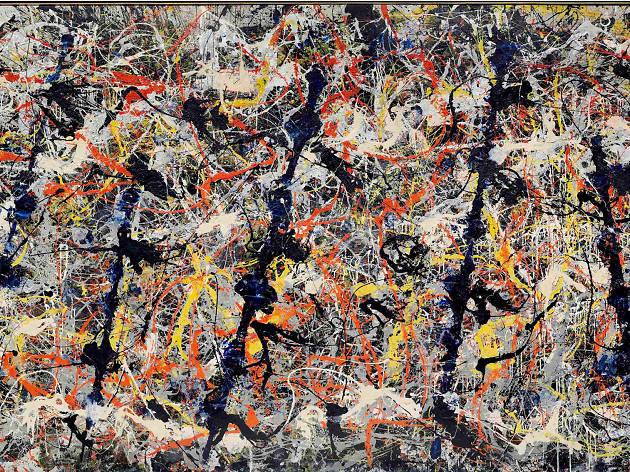 2/6
Jackson Pollock, 'Blue Poles', 1952 © Courtesy of The Pollock-Krasner Foundation ARS, NY and DACS London 2015 EditX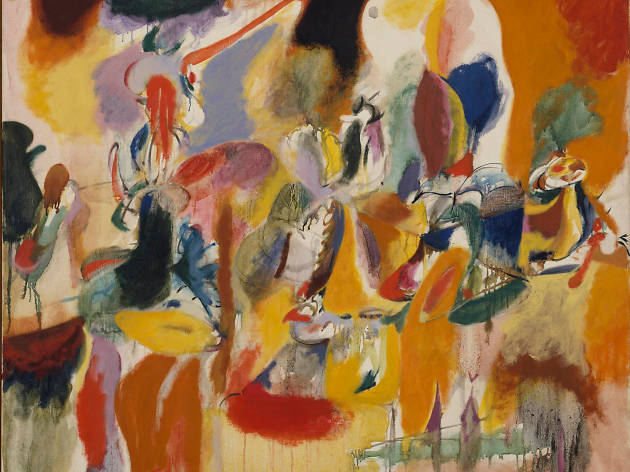 3/6
Arshile Gorky, 'Water of the Flowery Mill', 1944
4/6
Lee Krasner, 'The Eye is the First Circle', 1960
5/6
Mark Rothko, 'No.15', 1952
6/6
David Smith, 'Star Cage', 1950
If you don't leave this show feeling completely overwhelmed and totally breathless, you're either blind, dead or a bit of a dick. The RA has pulled together room after room of paintings and sculptures from probably the most important art movement of the twentieth century and it's staggering.
The abstract expressionists tore painting apart and restructured it into something bigger than it ever had been: more abstract, more passionate, bigger, bolder. This show's got all the headline names – Jackson Pollock, Willem de Kooning, Mark Rothko, etc, etc etc – and there's a lot to get through. It's mainly organised by artist, with a couple of thematic spaces, and every room feels like walking through a greatest hits compilation.
It kicks off with Arshile Gorky, the ab-ex daddy. His blobby, twisting fusions of cubism and surrealism are angry, brave and tormented. But they're just an appetiser for the massive room of Pollocks that follows. Seriously, there are tons of them: it's incredible. They're brutal, intense, aggressive and tightly composed. Not all of them are great – and probably the standout work in this room is by Pollock's wife, Lee Krasner, an artist who deserves a whole show in her own right – but seeing so many in one room is awe-inspiring. It's a herd of Pollocks, a whole flock, it's like being on Pollock safari. And seriously, 'Blue Poles' is a genuine 100 percent fucking masterpiece.
Then you dive into a cathedral of Rothkos, filled with lime greens, dark blues and pulsating yellows. Then a whole room of immense Clyfford Still paintings, like the remnants of a thousand torn down street posters.
Loop back to the Franz Kline room, painting after painting of insanely angry black marks on white canvases. Then de Kooning swoops in with his explosive cubism.
You keep going until you hit Robert Motherwell, Barnett Newman and Ad Reindhart. Newman separated colours into big blocks, like flags for countries that haven't been invented yet. But Reindhardt – oh man, Reinhardt! – he just concludes the whole thing, sums it all up with two big black canvasses. Just black! Nothing else! It's the logical endpoint of abstraction and it's perfect.
We've only just skimmed the surface of what's in this show. There are beautiful works by Joan Mitchell, Helen Frankenthaler and David Smith, and a ridiculously depressing late Rothko. The show seriously doesn't need to be this good. There's so much here, so many incredible works by incredible artists, it's almost too much. It could be half as a big, half as good, and it would still be great.
The only issue is that it all peters out a bit. The last rooms of photographs and late works aren't the triumphant final toot that this show needed. It all gets a bit flabby. It should have stopped with Reinhardt: that would have been a statement.
Other reviews of this show have had issues with some of the curating, the lack of various artists or even how the catalogue is written, one even said there are too many Pollocks – but fuck 'em, who cares? You're not here for clever artsy-fartsy bullshit. You're here because you want to stand in a room, surrounded by history, and get totally lost in some amazing art. All these works in one place, it might just be a once-in-a-lifetime opportunity. Don't miss it.
What to read more? Here's our six step guide to abstract expressionism
Average User Rating
4.3 / 5
Rating Breakdown
5 star:

5

4 star:

2

3 star:

2

2 star:

0

1 star:

0
The exhibition comes across as a minimalist success in its displaying of the pieces overall. I was glad to find that there wasn't only the mainstream Pollock bollocks but other artists which include sculptures such as the chaotic tranquillity of David Smith's 'Star Cage'. The room full of Rothko's you will likely find to contain the greatest population and looking around everybody seemed rather transfixed by the complex minimalism. The Atmosphere around the exhibition was one of observation, interest and respect for the art. I also utilised a guide, of the headphone variety, and found it rather monotonous and historical compared to other galleries so I suggest if you are not interested in the history of the art then do not make the £2 investment. I personally am not the biggest fan of abstract expressionism but for those who are I whole-heartedly recommend this exhibition.

Agree with Eddy Frankel this is not to be missed. So many amazing works in one place can be overwhelming yes, but the power of such immersion as you move from room to room is thrilling.
Highlights for me were Pollocks " Mural" , that massive Lee Krasner, the unexpectedly colourful Klein, the mesmerizing Rothkos and the HUGE Clifford Stills which made me feel like I was standing on the edge of the Grand Canyon. Those looked as fresh as the day they were painted.
It was interesting to note where all these paintings had traveled from. Brought together from both institutions and private collections, an exhibition like this may never happen again so if you are a fan of abstract expressionism then this is just plain unmissable. I traveled from Australia to see it ( and to make sure that Blue Poles was being well looked after) and I was not disappointed.
'If you don't leave this show feeling completely overwhelmed and totally breathless' ... well I am not sure I did.... but I can say I felt pretty damn satisfied... like eating an enormous 'art meal'. This show has everything you might want to see if you are interested in the history of abstract expressionism... but I am not sure the curation lives up to the hype surrounding it. There is almost too much.. the show is trying to cover everything, but at times this makes it too crowded. Perhaps it is just the Royal academy 'affect' but I found myself longing to see some of the works in their usual minimalist white cube surroundings, with a little more light and a little more 'total immersion'. I love the Rothko room at the Tate, but here the mixture of his paintings did not transfix my attention in the same way. However other rooms did move me. The amazing black room, the surprising quality of Joan Mitchell paintings and even some of those odd photo experiments... There is probably too much to list... maybe I was just overawed to be in the presence of so much greatness?
This is definitely a 'don't miss' exhibition for any one interested in Art. So many paintings you wont see in the flesh again in London for a very long time. You will kick yourself if you miss it.
The gallery I thought contained countless canvas of abstract expressionism from artists like Jackson Pullock to Ad Reinhardt. It was to me a hall of creative variation which made it mostly interesting. My favourite piece would have to be one of Ad Reinhardt nothing but painting. Although at first it seems as though it is just a black square, gradually as you look I deeper reveals squares of different colour and size. This to me was something I thought created a metaphor to the saying "the truth will always come out" as what was not visible in the painting eventually did once you looked closer.
However, one thing I would have to say that didn't go well for me was the use of the audio track. This because I thought it was quite old fashion and contained to much information which was BORING!!
Overall, the experience was good but I feel as though it would only be enjoyable for those would are interested in that genre of art.
The abstract expressionism exhibition was able collect a haul of pieces demonstrating dozens of contrasting varieties and genres of expressive abstract artwork. From Jackson Pollock to Helen Frankenthaler to Clyfford Still, the gallery provided countless of breath-taking art pieces to its viewers, allowing the public to analyse, judge and infer their own view on distant artists' dramatic emotion.
The exhibition introduces people to the various pieces smoothly through the layout of the artwork. Each attender was drawn to their inspirations and were given an informative (though impractical) audio guide for the accommodated pieces. The contrasting artists' work complimented each other's variety of pieces' room by room so those were gradually introduced to more and more fascinating art, viewing the endless amount of emotion through their pieces.
Though finding the experience slightly uneventful and the repetitive pieces in each room tedious, there was no denying the few paintings appealed to my critical taste. With such success in the assorted artwork, I can confirm that everybody, artistic or not, can discover something amazing attending this event.
The London art abstract expressionism has a historical feeling to it and the atmosphere around the exhibition has a warm, welcoming feeling to it. The other thing that I enjoyed about the Art museum is that there is many painting and photography that are outstanding and very creative.
The Abstracts paintings were all different from one another, they were a vast look in the paintings presented. The 'nothing but painting' by Ad Reinhardt bought my attention, as at first look it seems to be completely black. What I found interesting about painting by Ad Reinhardt is that your eyes had to adjust to the painting before you could see the darkness of the other colours. If you look closely you could clearly see there is no actual black. The disappointment about the exhibition is that it was very quiet and if you don't have a real interest in abstract painting you would lose interest really easily.