Anna Molksa and Ciprian Muresan: Stage and Twist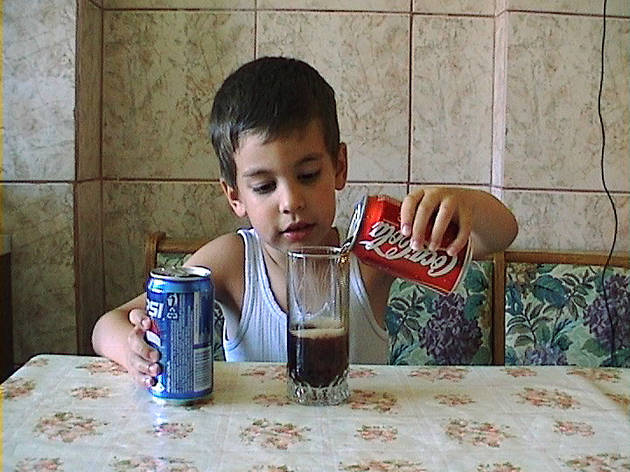 As an update to 'Leap into the Void' (the famous self-portrait of Yves Klein leaping transcendently from a wall), 'Leap into the Void, After Three Seconds', by Romanian artist Ciprian Muresan – with the protagonist lying face-first in the street below – is pretty self-explanatory. Yet the work is more than just a witty reference, it's also about notions of truth and reality. This is a real photo, as opposed to Klein's doctored photomontage, and depicts the painful result of putting one's faith in abstract ideals – a point of view which, in the context of a former Communist state such as Romania, resonates powerfully.
This show, featuring works by Muresan and Polish artist Anna Molska, is full of such quirky, multi-level works. The curatorial idea is to co-opt existing aspects of culture – from art historical events to more ephemeral concerns – and then provocatively subvert them. In one video Muresan's young son is seen mixing together Pepsi and Coca-Cola.
Other pieces show how social norms are generally pretty twisted to begin with – that's presumably the point of Muresan's video, '4'33"', which – like John Cage's famously silent composition after which it's named – is all about focusing attention on one's surroundings: in this case, a vast, abandoned, Communist-era factory, which appears utterly strange and engrossing.
Anna Molska's films are even stranger, with gladiatorial, loinclothed youths reconfiguring a large, Malevich-like square puzzle, or another gladiator futilely attempting to defend himself against a cascading deluge of foam. The theme here is interactions between abstract form and the human figure. It's an interesting idea, yet sometimes the staging of Molska's stylised narratives becomes incoherent, while the jarring editing and odd camera angles can feel like a twist too far.