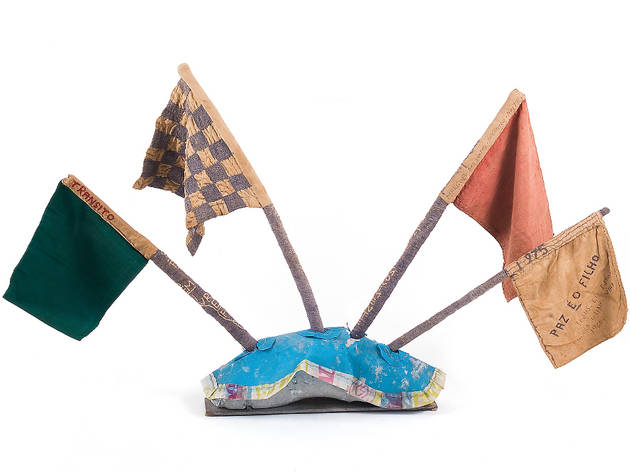 In 1938 a 29-year-old Brazilian named Arthur Bispo do Rosário had a vision of angels bathed in light. He claimed the Virgin Mary was guiding him and he believed that he should dedicate his life to visually recording the universe
in time for the Day of Judgement. Hospitalised for schizophrenia, Rosário became obsessive in his task, working 20-hour days during a 50-year incarceration in a psychiatric hospital and creating more than 800 sculptures, objects, garments and banners.
For this exhibition the V&A has brought together a succinct selection of these works, but has chosen not to include much biographical context, or to reveal how Rosário bridged the gap between outsider artist and the art establishment, who gave him recognition for his work after his death in 1989.
The V&A does, however, suggest inspirations behind his intricate works, made largely from found objects, wood, plastic and fabric. Rosário's heavily embroidered banners, for example, reflect the influence of his early years in the Brazilian navy, as well as his hometown of Japaratuba – an area known for its deep religious culture and its folk art. Rosário's fine sense of craft is also demonstrated in his illustrations of complex naval battle formations, poems and messages on sheets of hospital bedding. His miniature sculptures, too, are precisely constructed. A catalogue of earthly objects, from a ping-pong table to a target board, squeeze society into a shrunk-down inventory of pastimes and endeavours.
But for all its skill, the work is inextricably entwined with the story of the man. How do you judge art produced by someone who never saw themselves as an artist? And what is the line between creative drive and compulsion? For all the question marks, Rosário's vision of the world is as intriguing as it is captivating.