Artist Rooms: Jenny Holzer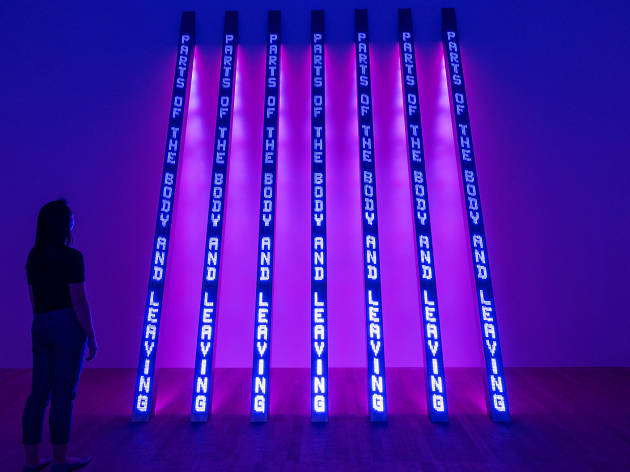 Time Out says
Friendly warning! We're working hard to be accurate. But these are unusual times, so please check that events are still happening.
There's nothing more revoltingly pointless than an inspirational quote. The kind of thing your aunt posts on Facebook: 'Life's not about the destination, it's about figuring out how to use the touchscreen ticket machine at the station' or some nonsense, slapped on a picture of a tranquil beach or a weeping kitten. American artist Jenny Holzer's work is decades' worth of statements, aphorisms, quotes and poetry. She takes words and sentences and plasters them over the streets, prints them on cups and condoms, engraves them into marble, and sends them stuttering at lightspeed along LED columns.
Stood here surrounded by words in this small new display, what strikes you is both the power and powerlessness of language. The first room is covered in collected statements, things like 'the land belongs to no one', 'women love power', 'you should study as much as possible'. They're sentences presented and said as truth, advice, things to live your life by. But they contradict each other, cancel each other out. Some implore peace, others call for violence. You end up nodding at the ones that resonate, shaking your head at the rest. For you, those specific words work, for someone else they won't. Then you worry that just maybe none of it means anything.
The only works that feel firm in their definition are the ones based on testimony from the Iraq War; here, lived experiences usurp interpretation.
But everything else – the LEDs, the marble benches, the plaques – just makes you query everything you read. Holzer's verbose art leaves your head full of question marks – that's what makes it so good.
@eddyfrankel
Details