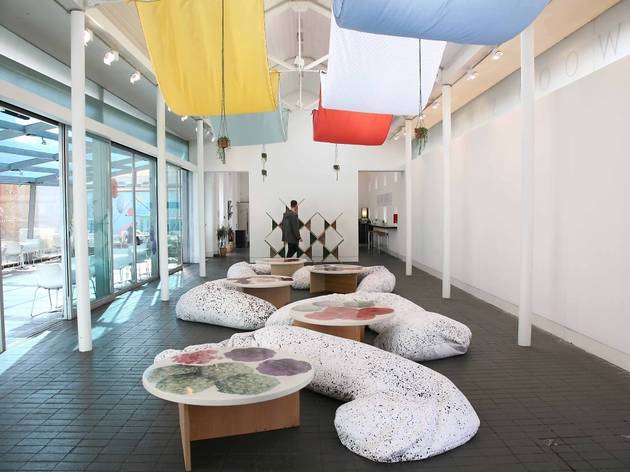 The Jerwood Space's programme is typically dominated by painting and drawing. As such it provides a rich and interesting context for a group show that asks how the recent spate of participatory art might be reconciled with the traditional gallery space, especially one that often holds with the traditional view of art as an object. Instead, on show are three newly commissioned pieces by collective practices that reference the influence of digital communications.
Looking like the bastard offspring of hippy-era DIY aesthetics and functional Ikea design, Charlie Woolley's large installation features 'cool' beanbags, round tables, swathes of bright material and hanging plants. Mimicking the general look of social hang-outs – 'break-out' rooms in creative offices, community centre lounges, and even Channel 4's 'Big Brother' house – Woolley's work cleverly addresses the widespread capitalist co-option of activist tropes, even when the space is not being 'socially activated' (although a series of live events has been planned to take place within it).
London collaborative outfit The Hut Project presents a sophisticated video of a newly choreographed dance. Screened on the far wall, this low-level, lifesize projection consists of many slowly moving dancers, asking you to consider both the pointedly empty floor space, and the virtual assembly of bodies on screen.
Taking a more literal approach to the digital, Kim Coleman and Jenny Hogarth re-present their online blog in the form of a split-screen installation. Emulating the virtual experience, the pair invite their viewers to click through short snippets of video footage. As with the other works, this easily assimilates into the static exhibition format. It would seem that even in this super-networked era, the progression away from making works for the gallery context has not been as radical as we might imagine.