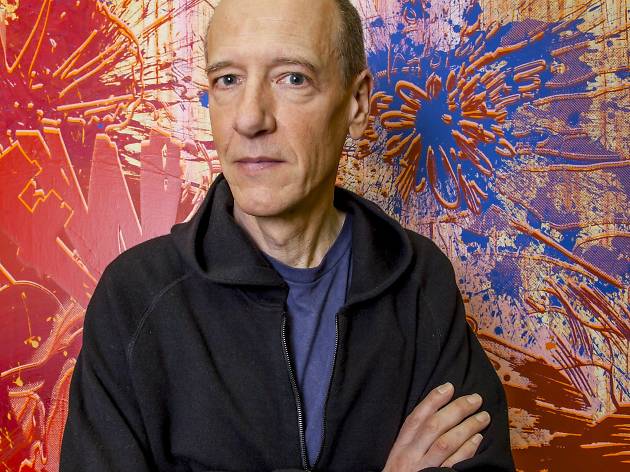 1/5
© Rob Greig
2/5
'Actions: Smak Squish Splsh (No.2)'
Photo: George Darrell. Courtesy White Cube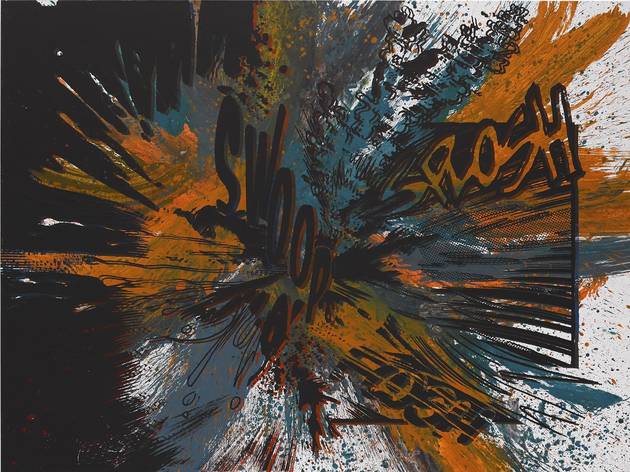 3/5
'Actions: Swoop Splosh Fwsh (No 2)', 2013
Photo: George Darrell. Courtesy White Cube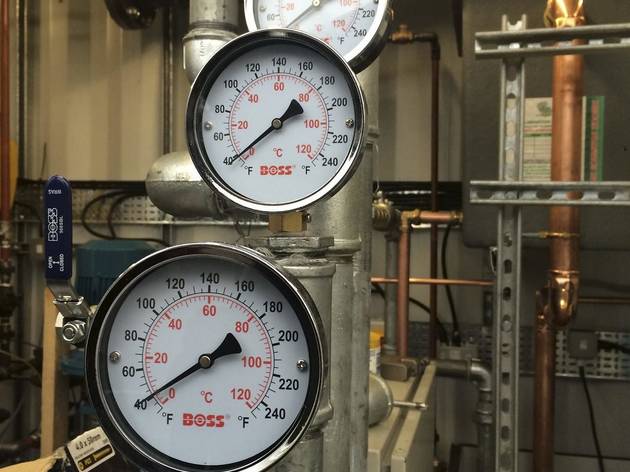 4/5
© Christian Marclay, 2014 Courtesy White Cube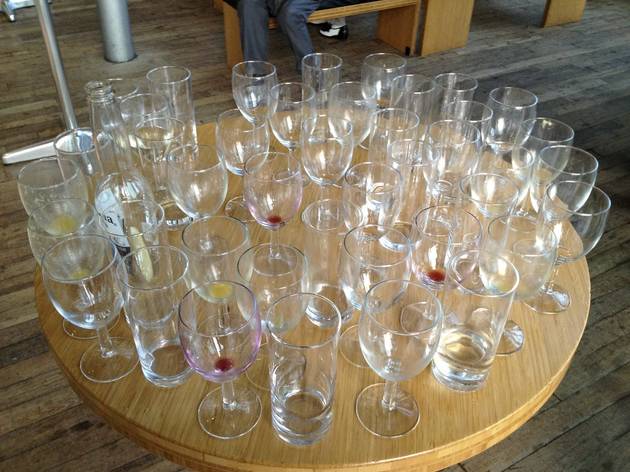 5/5
© Christian Marclay, 2014. Courtesy White Cube
Christian Marclay interview: 'I was fascinated by glasses being abandoned on the streets'
As a major new show opens at White Cube Bermondsey, Christian Marclay tells us about his latest symphonic masterpiece
Christian Marclay is filling White Cube's Bermondsey mega-gallery with sound – and the idea of sound. In one video glasses clink and smash. Animated 'bangs' and 'zooms' throb silently on screen in another room. Giant canvases are covered in onomatopoeic 'splats' and 'sploshes'. The Swiss-American artist whose three-decade career is a testament to the rich crossovers that can occur between the visual and aural, is painting the sounds of painting and making music out of silent objects. And, having moved to London, he appears to be creating art out of our national pastime - binge drinking.
This major show is set to involve weekly performances by the London Sinfonietta alongside composers including David Toop, as well as a massive, fully functioning vinyl press where you'll be able to see the process of making a record, from performance to pressing. We met with Marclay in a White Cube back room to talk LPs, cartoons and booze.

The video 'Pub Crawl' features you getting sounds out of cans, bottles and glasses that you find on the street on early morning walks. How did that come about?
'Well it's an interesting aspect of British culture, this social drinking. I haven't embraced it myself, I'm not a big beer drinker, but there's something so pleasant in the city, to see people relaxing with a drink. I think it came as a surprise after having lived in New York for so long, seeing how Americans deal with drinking and how puritan they are. Of course it has a lot of negatives - people drink too much and misbehave. So it's a double-edged kind of thing and I wanted to do something to document that. At first, I was fascinated by all these beautiful glasses being abandoned on the streets and when I started filming, it was interesting to see that the sweepers couldn't care less. They'd just break them and throw them away.'

Are you commenting on our drinking habits?
'Oh there's no comment. It's such a common thing in a city like London. Maybe it's a way for me to make peace with it.'

But you were shocked by British booze culture?
'Yeah, I was very surprised. People go after work to drink on an empty stomach, and they get drunk easily.'

Well, like they say, eating's cheating.
'I hadn't heard that expression!'
Quite a few of your works here are based on onomatopoeia. Why is sound so important to you that even when your work is totally visual, it still has a sonic element?
'I've always been interested in sound, but I've never studied music, so I had to invent my own ways of making sounds. That's how I first got into using records and turntables. The works in the show are visual compositions and sound compositions. It's the back and forth between the visual and the audio I'm interested in. All the work has this hybrid quality.'

Comic books figure quite heavily in the show. Did you love cartoons when you were a kid?
'It's not that personal. For me, it's all part of the texture of life. I've always been interested in found material - rather than create something out of nothing, I'm more interested in what all of us share and making something with it.'

The Vinyl Factory is setting up a record press in the gallery. Why did you want to open up that process?
'I've been involved with records for a big part of my career. People for many years knew me as the guy who works with records. Having been in a few record plants and seen how these things are made, I find it fascinating. I saw that the Vinyl Factory had an old hand press, so I asked if we could install it in the gallery. It's going to be operational in the gallery, which is amazing. I wanted to share that, because it's kind of an obsolete technology, but there's still a fascination with it.'

Do you approach a work of art and a piece of music differently?
'For me, it's the same. Last night I went to see the London Symphony Orchestra and it was amazing how visual the whole thing was. At home, music has to compete with whatever you happen to be doing, like washing the dishes. But actually seeing a piece being played is so different to listening to it on a recording. I just don't see why a piece of music is not art.'
Support Time Out
We see you're using an ad-blocker. Ad revenue is Time Out's main source of income. The content you're reading is made by independent, expert local journalists.
Support Time Out directly today and help us champion the people and places which make the city tick. Cheers!
Donate now