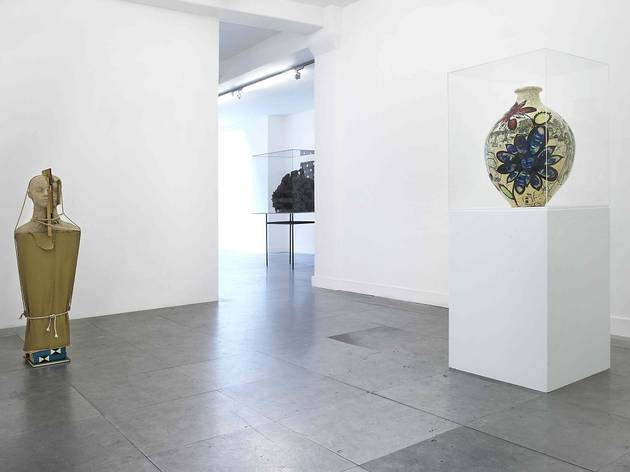 Guest curators Simone Menegoi and Chris Sharp have responded to the invitation to work with the Foundation's collection in a Pythonesque fashion. This is a sprawling miscellany of works, under the title 'Bouvard and Pécuchet's Compendious Quest for Beauty', that range from Sir Frank Bangwyn's 1910 painting depicting despondent nmanufacturing workers 'Industrial Frieze', to emerging artist Seth Pick's painting 'Half Abstract' (2011). The pair have used a literary framing device in an attempt to both jolly-up the curatorial use of collections and to critique the desire to catalogue artistic knowledge.
The curators have breathed life into Gustave Flaubert's satirical antiheroes Bouvard and Pécuchet, two Parisian copy clerks from a late, unfinished novel. The gentlemen embark on a search for intellectual enlightenment by imposing rules and systems on to all orders of scholarship. But their autodidactic desires lead only to frustrations. Menegoi and Sharp pick up where the French pair left off, applying their absurdist categorical approach to the artistic quality of beauty.
Under the bracket of 'Memento Mori', David Shrigley's blunt stuffed cat, 'I'm Dead'(2007), is contrasted with Gerard Byrne's sophisticated print, 'In the News' (2007). Elsewhere, a salon-style hang devoted to 'Female Beauty' sees works by Sarah Lucas placed side-by-side with works by Man Ray, John Currin and George Condo. And as if emulating the profound enormity of the task at hand, or indeed its impossibility, a single sculpture – Graham Hudson's 'Sign Odysseus' (2005) – comprises the entirety of 'The Sublime'.
Some may find this exhibition's obtuse nature grating, but there is something to be said for the questions asked by this satirical show towards the perceived sanctity of curating.