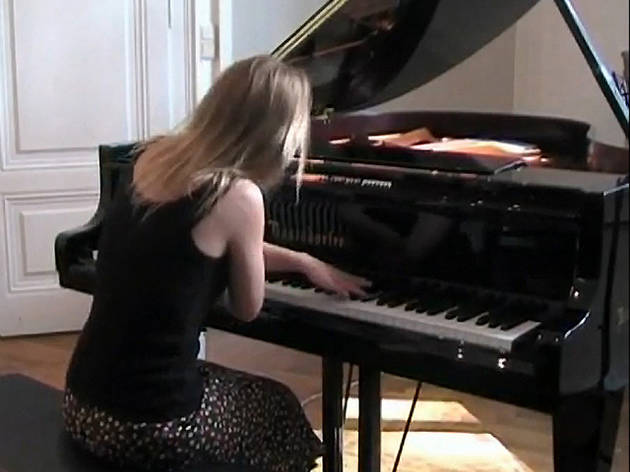 A split in atmosphere characterises this presentation of old and new work by pioneering US artist Dara Birnbaum. Framed by a 'then-and-now' schema, new multi-channel installation 'Arabesque' (2011) runs along the wall of the darkened lower gallery, while a selection of Birnbaum's classic video works, all from 1975-76, occupy the upper spaces.
The early videos, densely presented, and often depicting portraits of the artist struggling to create a presence in front of the camera, bestow a sense of agitation or aggression. In contrast, Birnbaum's new work looks at the legacy of two classical music compositions, presenting a tempered interlude, one that in turn elicits a passive viewing.
Her oldest surviving installation 'Attack Piece' (1976) begins to shore up ideas teased out during the artist's later appropriative forays with TV material. Investigating the relations between viewer, camera and performer, and presentations of gender within the media, this work foreshadows the critique of often-unnoticed broadcasting techniques that characterised Birnbaum's pirate-approach of later years (unfortunately her superlative sampling of a spinning Lynda Carter for 'Technology/Transformation: Wonder Woman' and other greatest hits have been relegated to a one-off night of screenings).
Turning from the 1970s to the present, TV no longer dominates our screen-time, and it's the low-fi mash-up vernacular of the internet that Birnbaum uses to articulate a narrative of solitary genius in her new work. YouTube clips of numerous women playing Robert Schumann's 1839 'Arabesque Opus 18', are screened alongside one clip of a pianist performing a piece by his virtuoso wife Clara, the later inter-cut with stills from the 1947 film 'Song of Love'.
This meld of amateurish recordings does not represent the web-experience via a sluice of hyperactive unstrung nonsense – the sort often presented by other tech or web-centred practitioners. Instead, although any depth of reaction or engagement seems numbed, there is something elegiac, romantic almost, in Birnbaum's accomplished composition.