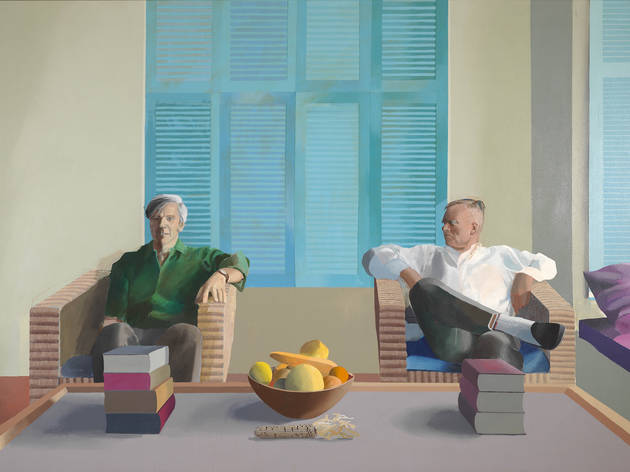 Time Out says
Some paintings are like celebrities. You've read about them, studied them from afar, obsessed over them for years, but never actually seen them in the flesh. So when you actually come face to face with one, you get all wobbly-kneed and fluttery-eyed. That's how some of the works in this massive David Hockney retrospective make you feel. The 80-year old Yorkshireman is a giant of twentieth-century art, a painter with an incredible eye for the iconic. But this show isn't just some stodgy funereal look back – Hockney is still painting, and he's still good.
But the show starts, like most things, at the beginning. Hockney's early work – chronicling his years at the Royal College of Art – positions him as a sort of pop art Francis Bacon. Fuzzy flesh-coloured figures sit on boxes of tea, or against black backgrounds flanked by Alka-Seltzer packaging. Two monstrous mouths 69 each other, their penises replaced by tubes of Colgate, a tub of Vaseline in the background. There's a lot of love here: men clinging to each other and dancing or bonking. These works are the throbbing early rushes of youth. Where Bacon is angry and tormented, Hockney is just…horny.
As you emerge from these first few rooms, you realise how important location is to Hockney's work. Those early paintings feel like London: dark, polluted, messy. Then, Hockney sacks off Britain and the RCA, heads for California, and everything changes. In LA, Hockney found freedom, sunlight, swimming pools, heat, calm and sexual abandon. Gone is the early chaos, replaced by stark, naturalistic simplicity. This is Hockney becoming the Hockney you know. Water splashes, sprinklers spurt, men lay prostrate in the sun or emerge phallically out of a pool. Everything captured in crisp, pure, simple lines and an endless array of heat-drenched blues. This first room of LA work pulses with sun and sex.
From these beginnings, it only gets simpler and more controlled. He paints portraits of rich art collectors, artsy friends in fancy apartments. Hockney's life was a dream and he was capturing it without any of the fuss of expressionism or abstraction, just achingly cool simplicity. You want to be in that pool, talking to those collectors, or digging your toes into Mr and Mrs Clark's deep shag carpet. In the corner, a portrait of his parents feels like a cloudy little reminder of home, of reality – of Yorkshire.
None of this means he wasn't radical though. His experimentation with photography – hundreds of photos of one thing from multiple angles, collaged into multi-layered compositions – shows how clever his eye is. Hockney sees things differently to everyone else. The polaroid composite of a man swimming nude is one of the best works here: sensual, erotic and hazily dreamlike.
The '80s and '90s saw Hockney start messing with perspective, capturing landscapes that seem to twist up and bend, a wiggly world of neon planes and green slabs. I mean, they're awful. Just horrendous. Ugly, badly composed, lazily painted bollocks. And that's before you even get to the '90s abstracts that made my eyes want to vomit.
Thank god for Yorkshire, then. Returning home seems to have brought Hockney back down to earth like only Blighty can. The massive multi-panel landscapes he made throughout the 2000s are an artist returning to his physical roots and capturing them with ridiculously grandiose enthusiasm. They're big, but feel wonderfully intimate, they're like roadmaps of his youth.
The show ends with new dark wintery charcoal drawings of Yorkshire, explosively blue Californian paintings of verandas and then a bunch of images made with the Brushes iPad app. Don't dismiss those. They're Hockney at his quickest, rawest and most impulsive. And that's the thing about David Hockney: whether he's using charcoal, paint or an iPad – whether he's depicting Yorkshire, California or his lovers – he always manages to be him. He's an icon, a giant, an art celebrity, and he'll leave you wobbly-kneed and fluttery-eyed like only Hockney can.
@eddyfrankel
Details
Average User Rating
4.7 / 5
Rating Breakdown
5 star:

8

4 star:

3

3 star:

0

2 star:

0

1 star:

0
My biggest regret is that I didn't go earlier in the run. By the time I got to Pimlico this exhibition was a bonafide sell out blockbuster which meant it was all a bit of a bun fight to see the pictures. However nothing can detract from Hockney's genius. I saw his beautiful landscape pictures at the Royal Academy a couple of years ago & fell in love with his use of colour. This exhibition met & surpassed my expectations. You could practically feel the sun on your face with his Californian pool pictures. His pictures simply make me happy & I smiled my way through the maddening crowds. He's a true national treasure & I look forward to his next chapter
I'm going to admit to something silly here, even before his Royal Academy of Arts exhibition, I kind of wanted to dislike him. Just because everyone seems to love him so damn much. And his paintings don't translate that well onto internet websites (even into books) for me. They are pretty and fairly interesting, but not worth the rave.
And then of course, I went to see it and was so overwhelmed (those rooms in RA also helped to bring the paintings out I think. It's hard to fill their great spaces) and I loved them all.
With Tate, I thought, well, it's a long career, the Yorkshire paintings might be astonishing, but that might be because nature is...
I know, I sound like a petty teenger. BUT, as it turns out, watching his career from room to room was perfectly eye opening and humbling. He's a great artist with a great eye for composition, line, colour, and *sigh*, I especially liked his portraits which never spoke to me before. It'd be fascinating to know how he'd paint me. A sulky admirer of his.