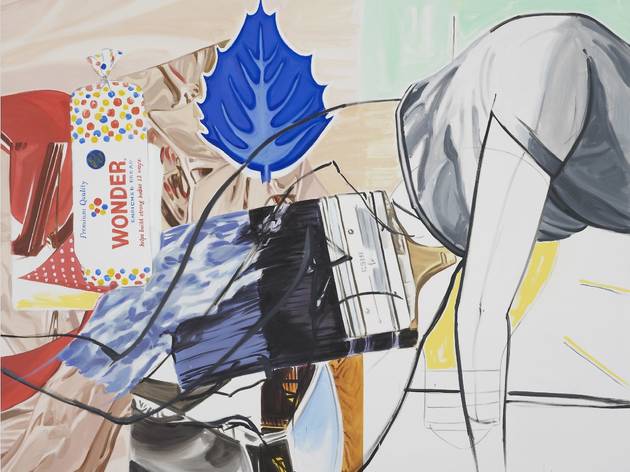 1/5
'Grace of' 2013-2014
© the artist, courtesy Maureen Paley
2/5
'Pour, Blanket, Wind' 2013
© the artist, courtesy Maureen Paley
3/5
'Digby', 2013
© the artist, courtesy Maureen Paley
4/5
Exhibition view
© the artist, courtesy Maureen Paley
5/5
Exhibition view
© the artist, courtesy Maureen Paley
The coolest of postmodernism's poster boys, David Salle brought a wry Magrittean touch to 1980s art with collaged and layered paintings of wildly disparate imagery. Mirroring the way we consume visual culture and anticipating an age when random image surfing would become the norm, the 61-year-old New Yorker's disjunctive painting style has proved to be as prescient as it is icily stylish.
After a few years under the radar, Salle is back doing what he does best – proving the old Picasso-attributed adage that 'good artists copy, great artists steal'. Here, Salle's pilferings range from work by popular mid-nineteenth-century American artist George Caleb Bingham to 1960s advertisements. Blankets and ceramic objects attached to some of the paintings add disconcerting notes of blunt actuality.
'Trappers', the largest of the works on show, is joltingly good. Performance, always a latent influence in Salle's paintings, is pushed to the fore with a bevy of body prints made by dragging models, Yves Klein-style, across the surface of the painting. Salle's endless circles of reference can seem like a serpent swallowing its own tale, but here he pushes things forward. It's as fresh as his jaded-on-arrival brand of post-postmodernism gets.
Martin Coomer