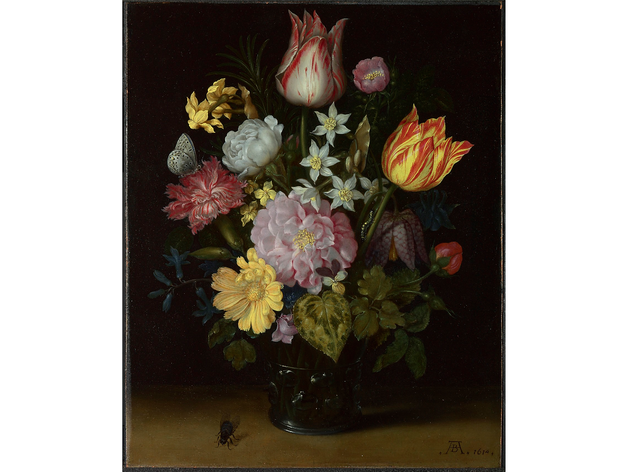 1/7
Ambrosius Bosschaert the Elder: 'Flowers in a Glass Vase', 1614. © The National Gallery, London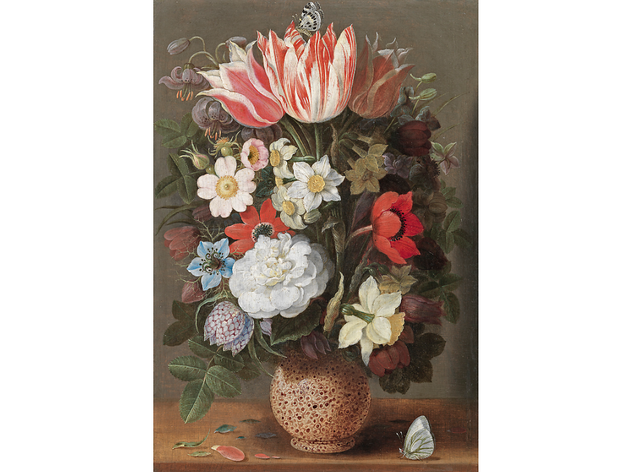 2/7
Osaias Beert the Elder: 'Flowers in a Serpentine Vase', about 1615. © Private Collection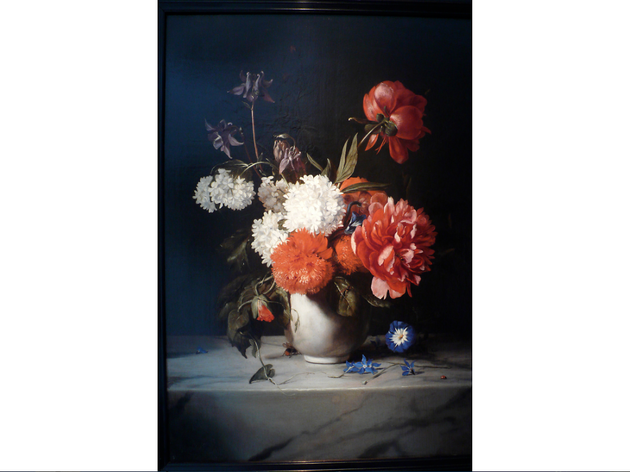 3/7
Dirck de Bray: 'Flowers in a White Stone Vase', 1671. © Private Collection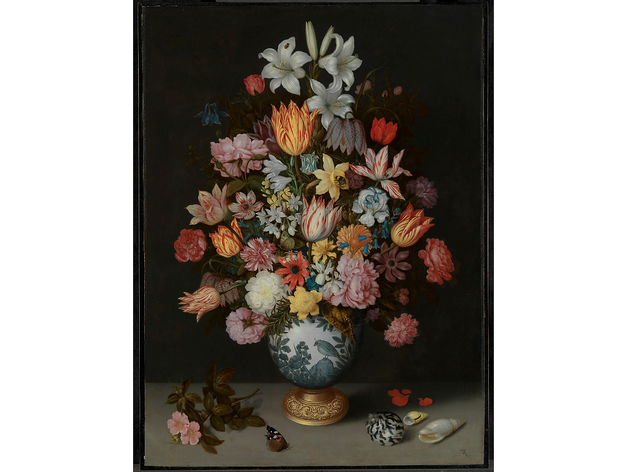 4/7
Ambrosius Bosschaert the Elder: 'A Still Life of Flowers in a Wan-Li Vase on a Ledge with further Flowers, Shells and a Butterfly', 1609-10. © The National Gallery, London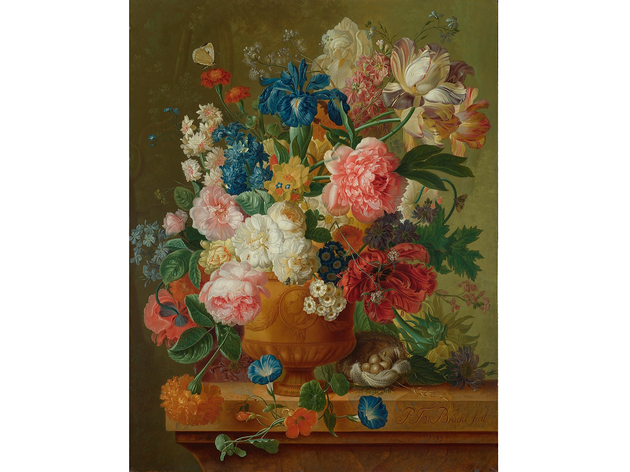 5/7
Paulus Theodorus van Brussel: 'Flowers in a Vase', 1789. © The National Gallery, London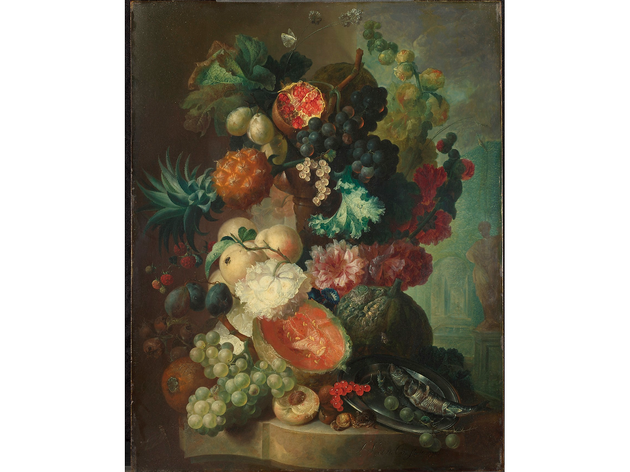 6/7
Jan van Os: 'Fruit, Flowers and a Fish', 1772. © The National Gallery, London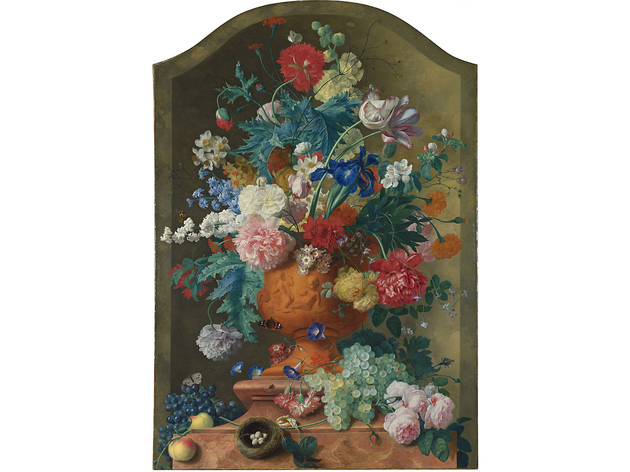 7/7
Jan van Huysum: 'Flowers in a Terracotta Vase', 1736. © The National Gallery, London
Time Out says
Flowers, as anyone who has been on the giving or receiving end of a bunch will agree, are never just flowers. They speak of love, lust, celebration, sympathy, guilt… And so the bouquets of tulips, irises and roses in this scintillating display of Dutch painting from the seventeenth and eighteenth centuries are not just paintings of flowers. They're symbols of passion, wealth, fashion, empire. Vases overflow with life (blooms in bud) and are shadowed by death (a broken stem, a withered leaf). Remember that the next time you're on a petrol station forecourt pondering a £2.99 bunch of carnations.
There are just 22 paintings, many of them tiny, in this free, one-room show. And, in truth, not much happens in the first half dozen works: a caterpillar inches along a leaf; a petal drops. But this is bravura technique on a small scale. Painting on smooth surfaces such as copper, artists were able to make almost microscopically accurate representations of plant life. They included cute details such as caterpillars, ladybirds, bumblebees and lizards for their patrons to discover. Finding a silkworm dangling from a leaf is still a pleasure some four hundred years later.
We have Jan Brueghel the Elder (1568-1625), nicknamed 'Velvet' Brueghel for his sensuous touch, to thank for establishing flower painting as a genre. His paymaster, a Milanese cardinal, liked to have pictures of spring blooms around the place for cardinal-type, mortality-pondering reasons, but also because he just wanted a reminder of summer's beauty even in the depths of a north Italian winter.
But Ambrosius Bosschaert the Elder is the real master here. Working in the lead-up to the Tulip Mania of the 1630s, a bubble that makes today's buy-to-let market look sane, he created preposterous confections for patrons who thought nothing of paying ten times the average annual salary for a single tulip bulb. 'A Still Life of Flowers in a Wan-Li Vase on a Ledge' (1609-10) is basically everything your seventeenth-century Low Countries high-roller coveted, stuffed into a vase or displayed alongside it; on the ledge are shells from the East and West Indies, the furthest reaches of the Dutch empire. These flowers wouldn't all be in bloom at the same time. This is a splendid fiction, designed with bragging rights in mind.
Gradually, the works get bigger and the arrangements less regimented. Instead of being set against dark backgrounds (all the better to see prized specimens), flowers are painted as if in doorways or on window ledges leading to the outside world. Subtlety flies out the window. The show's floral theme gives way to something far fruitier. By the end of the eighteenth century, Paulus Theodorus van Brussel is cramming an entire cycle of growth and decay into 'Fruit and Flowers' (1789). It's eye-poppingly decadent, preposterous, indecent. Look closely beneath the roses, next to the downy peaches and fleshy melon, you'll even see a popped cherry. You can imagine painter and patron having a good laugh at this sexy confection, and you'll do the same. This is high culture, base humour, beauty and drama all wrapped up.
Details