Heads up! We're working hard to be accurate – but these are unusual times, so please always check before heading out.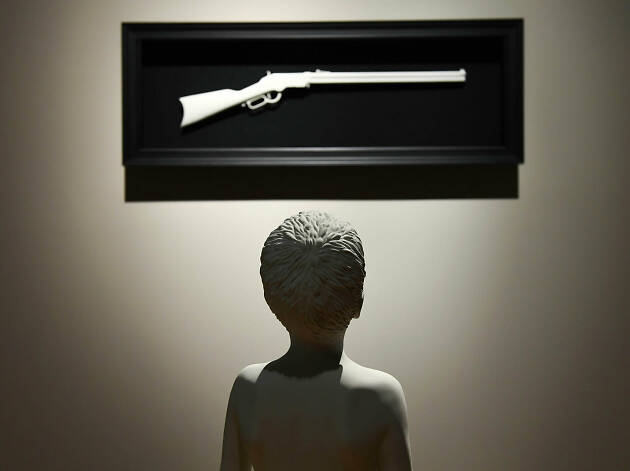 Elmgreen & Dragset: 'It's important to tell the truth by telling a lie'
The Nordic duo talk about gentrification, institutional critiques and whether their latest exhibition, 'This Is How We Bite Our Tongue', is meant to be funny.
The exhibition opens with an enormous abandoned pool, could you say something about how it came about?
Michael Elmgreen: 'We got invited quite a while ago by the Whitechapel to do a survey show of existing works. Then we scratched our heads a bit because we didn't feel comfortable not coming up with something new or site-specific and came back to them and asked if they'd be willing to let us rebuild the gallery. In the beginning of our career we tried in different ways to challenge the format of the white cube. Some people called it "institutional critique".'
Ingar Dragset: 'We got inspired by the architecture of the gallery itself, the features that were already there, and thinking about where the gallery is situated, how it relates to its surroundings and what is happening all around it. As you know, this is a very special place in London. Whitechapel is going through different kinds of gentrification, from the softer gentrification coming down Brick Lane to the glass and steel office buildings coming down from the City. It's an area of huge transformation.'
A whole set of myths has grown up around the origins of the pool – that it's been there decades etc. Is myth-making important in your work?
Michael: 'It's important to tell the truth by telling a lie, in a better way than politicians. We were trying to come up with a history of the work that would frame it in a different way, so people could wonder what is right and what is not. One of the fun things was that one person came up to me and said, "It's very good, but is it true that Hockney swam here as a child?" That's when you know you've reached a certain degree of making things believable.'
You mentioned institutional critique earlier, and this is clearly a critical work. What are your main targets?
Ingar: 'I think as an artist you're critical in a different way than a critic, such as yourself, because we try to deal with the critique on many levels. On a cerebral level, of course, but there's also a lot of emotion there, there's poetry, there's using your own experiences with how the world changes, and that feeds into the criticism. Not to say that your criticism isn't multi-layered, but it's a different approach.'
So do you not have specific targets?
Ingar: 'Not that are set out from the beginning.'
Michael: 'As an artist you are allowed to respond to all the nonsense you are bombarded with on social media, by politicians, and everything around you in a way where you are not forced into a corner and need to take it super-seriously, where you have to come up with an anti-thesis to what has been claimed. As an artist you are free to come up with a reply that's very imprecise, and maybe show how absolutely absurd things are, and that allows other people to respond to things in their way.'
So it's a lot more organic than just saying: 'Right, this work is anti-gentrification, please walk in and hate gentrification'?
Ingar: 'We hope so. Of course, we want certain people who are more responsible for things like the destruction of civic space to feel uncomfortable with what we do. Sometimes those people will just ignore the traditional academic, left critiques, and by not using the same lingo we do have a chance to reach them sometimes.'
What is the actual problem with gentrification?
Michael: 'It makes everything smooth and nice and antiseptic. The problem is it also excludes people from living somewhere. The way cities are run today is not considerate of citizens. It's just about optimising value per square foot. So a small gentrification, like in Berlin where we live, it's more like getting a new coffee shop around the corner. But in London it happens in a more brutal way. I lived in London from 2007 to 2015 and all the places I used to have fun have closed. They don't want me here anymore. If you're living in a city where everything's excluding you, of course you don't feel welcome.'
But artists are often the first wave of gentrification – you are gentrifiers. Isn't there a conflict here?
Ingar: 'It is a conflict, and the art world needs to be very aware of its role in gentrification in general. What's happening in Neukoln where we have our studio – we arrived there about 12 or 13 years ago – is that so far bigger brands and corporations haven't been attracted to the area, so it's sort of an acceptable form of regeneration, that can maybe exist in dialogue with the people around it.'
Michael: 'In the art world it's time for us to think about our own ethical roles, and big institutions need to think about what they create around them in the local community, which is not always good. Art is not per se a business that's socially engaged or creating equality. So it's important for the art world to think about what role they play.'
How do you think that will change? The difference between coming to an exhibition like this or going to an art fair is that you realise that art is for sale, for a lot of money. That feels like it's at odds with having a critical mindset towards something like gentrification
Michael: 'I think it's important that you try to do things within your own means to stand up for what you believe in different ways. I think it will change. A big part of the art world has started rethinking their role. If you go to New York, for instance, when it was a softer climate under Obama, institutions were very scared about making statements about sexual politics or racial issues. Now it's so grotesque in the American political climate that they've found a new responsibility to put on shows that are more edgy.'
Comedians have a harder time being satirical in extreme times because someone like Donald Trump is already so ridiculous. Are you saying that art, in contrast, gets freed up by extreme political situations?
Michael: 'I don't think that is what I meant. I don't mind that as an artist you need to be a bit more considered about who you might offend. I'm not a big fan of this very masculine belief in the artist who can be highly unethical and say the most disgraceful things about other groups in society. I don't miss the idea that you can't do that today because there will be a negative response. I think that's a healthy development.'
Do you get to a point where one of you might want to criticise something and the other one doesn't, and you think: Well, I'd better save this for the solo album?
Michael: 'The good thing about being two is that it's an endless experience of disappointment. We come up with proposals for each other and say: "Don't you think this is a good idea?" and the other one says: "Nope." "What about this?" "Nope." That means when we're criticised afterwards by someone it doesn't mean so much: you're not devastated in the same way.'
When I walk around this show, I really want to interact with the artworks. I want to pee in the urinals, I want to swim in the pool, I want to open the un-openable doors. Is that something you consider?
Ingar: 'Our very first sculpture was a diving board that sticks through a window, but with the glass still in place. And that was a conscious choice, to make a sculpture or installation that seems to invite you to do an action, but you can't. That's been recurrent in our work ever since in different ways.'
Michael: 'It's kind of an exclusion of everyone, and in that way it's quite democratic. [laughs] I think it makes you think more, and there's a lot in our culture that tries to please a lot or tries to "activate" people. Sometimes if you can't do a thing, you think about it more.'
The other thing is that it's an incredibly funny show, and it feels like you're taking the piss but not out of the viewer. Do you want us to come along with you on that journey of taking the piss?
Ingar: 'I think it's funny that you say it's a funny show: it's a sad show. We didn't intend it to be funny [laughs].'
Michael: 'We use humour in an absurd way, to show something that is grotesque. So, more than jokey, it's absurdity. And absurdity is something we have in common, it's not pointing a finger, making a joke about someone, but more speaking about how things can be quite absurd in our reality.'
To find out more about 'This Is How We Bite Our Tongue' at Whitechapel Gallery, click here.
Top ten art exhibitions in London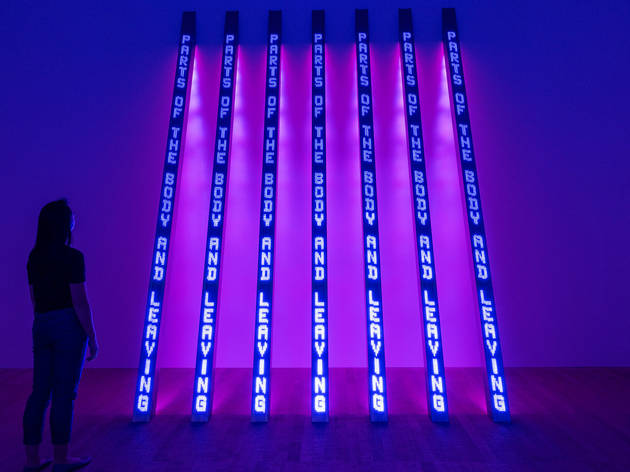 Shortcut it straight to the good stuff by heading to one of the very best art exhibitions taking place in the capital right now. From modern and fancy, to classical and serene, we've got your next art outing sorted. Or, if you're skint until pay day, how about trying one of London's many free exhibitions instead?Love art and design? Check-in at one of the best design hotels in London.