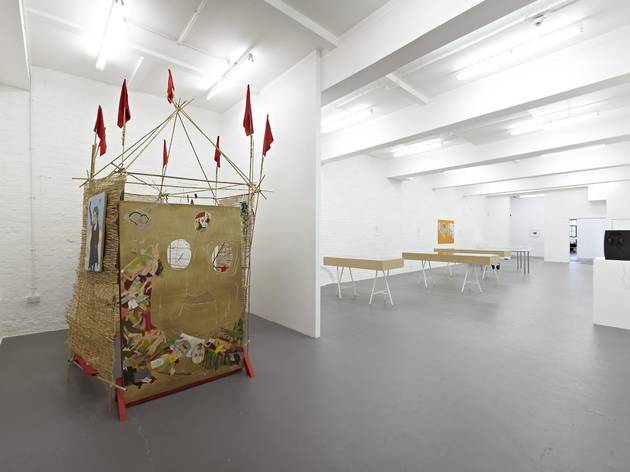 The 1960s and 1970s weren't a good time to be Latin American – what with massacres, coups and dictatorships – and many artists fled to London, where strikes and three-day weeks must have seemed small potatoes in comparison. Given that most of them were escaping restrictions at home, it seems appropriate that they refused to be circumscribed here, too.
Fashion designers Pablo & Delia sneaked art into Vogue; Chile's Cecilia Vicuña built a hut decorated with paintings, plants and tiny sculptures; and Felipe Ehrenberg filmed the reeking piles of fall-out from the 1973 rubbish collectors strike with a subversive voiceover that is as far from a po-faced news commentary as Mexico City is from London. Hélio Oiticica didn't even flee persecution, popping in, rather, from Brazil for a 1969 'experience' involving an indoor beach at the Whitechapel Art Gallery.
There are no sands for this show's visitors to wander barefoot as there were then, but this is still a suitably kinetic show, with headphones to don, Vicuña's refuge to visit and even a snooker table available for a quick game (Oiticica was apparently making reference to Van Gogh's 'Night Café').
Still, if these friends – in an era when London wasn't exactly short of interesting chums – had an effect on the city, there's no clue here as to how. There are nice pieces – in particular, Leopoldo Maler's film 'Crane Ballet', where dancers undulate from machinery – but there is neither the looseness of that 'anything goes' era nor a tightly argued post facto discussion. The free-floatingness may, of course, be an important illustration of the indefinable nature of exile. Perhaps a game of snooker while you figure it out?
Nina Caplan