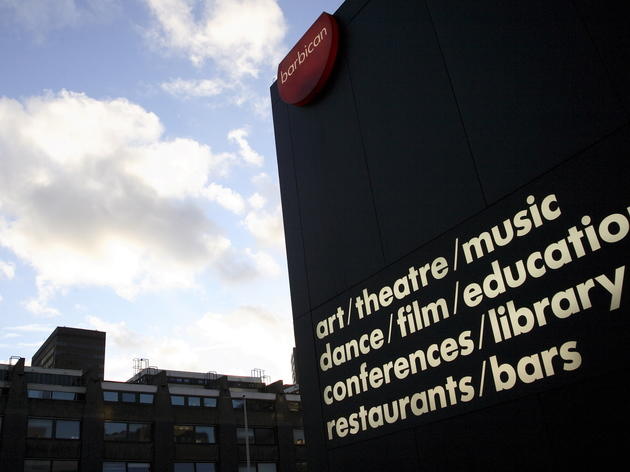 1/7
Tove K Breitstein / Time Out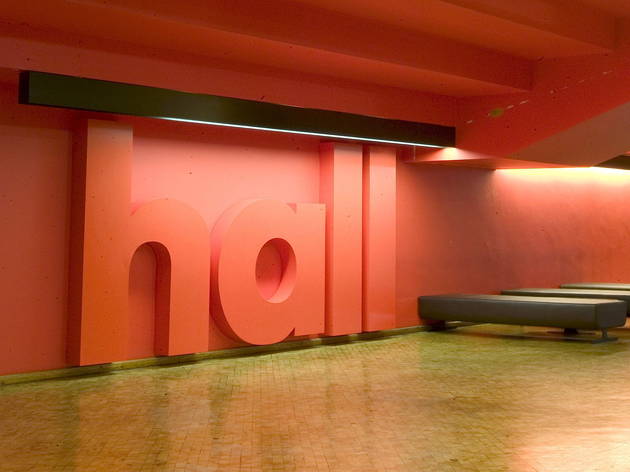 2/7
Rob Greig / Time Out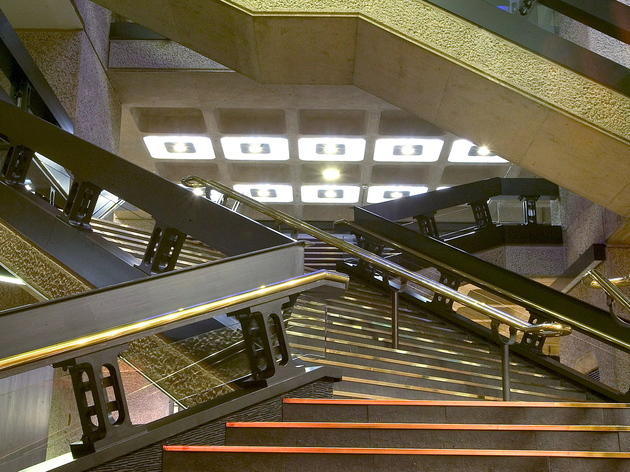 3/7
Rob Greig / Time Out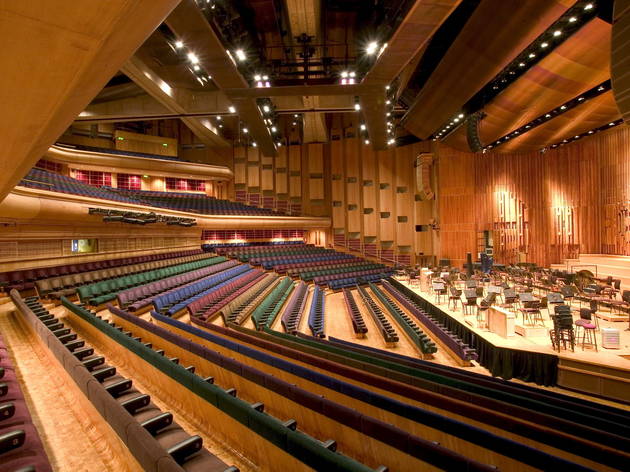 4/7
Rob Greig / Time Out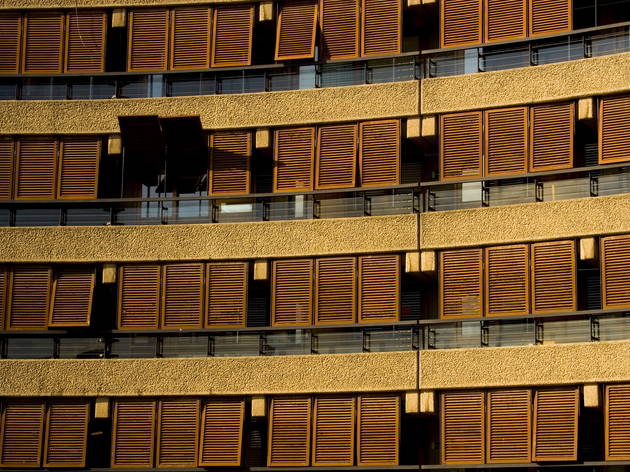 5/7
Nigel Tradewell / Time Out
6/7
Tove K Breitstein / Time Out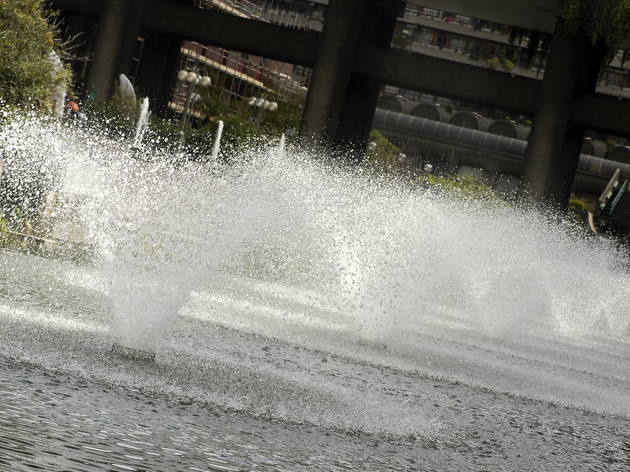 7/7
Andrew Brackenbury / Time Out
The UK's leading international arts centre
The Barbican Centre, a vast concrete estate of 2,000 flats and a leading arts complex, is a prime example of brutalist architecture, softened a little by time and rectangular ponds of friendly resident ducks. The lakeside terrace and adjoining café are good spots to take a rest from visiting the art gallery, cinema, theatre, concert hall or library within the complex. The art gallery on the third floor stages exhibitions on design, architecture and pop culture, while on the ground floor, the Curve is a free exhibition space for specially commissioned works and contemporary art. At the core of the music roster, performing 90 concerts a year, is the London Symphony Orchestra (LSO). The annual BITE season (Barbican International Theatre Events) continues to cherry-pick exciting and eclectic theatre companies from around the globe. The Barbican regularly attracts and nurtures experimental dance, and the Pit Theatre is a perfectly intimate space.
Find out more about the past, present and future of the Barbican with our complete guide to the Barbican Centre.
Venue name:
Barbican Centre
Contact:
Address:
Silk St
London
EC2Y 8DS

Opening hours:
Centre Mon-Sat 9am-11pm; Sun noon-11pm. Art Gallery Mon, Tue, Wed, Sat, Sun 10am-6pm; Thu, Fri 10am–9pm. The Curve Mon, Tue, Wed, Sat, Sun 11am–8pm; Thu, Fri 11am–9pm
Transport:
Tube: Barbican
Do you own this business?
'Well, they asked me about it, and damn it, I didn't know either…' In the words of author Raymond Chandler, this is as close as we'll ever get to figuring out just one of the many mysteries surrounding 'The Big Sleep', Howard Hawks's iconic thrill...

Read more

One suspects this short 3-D IMAX production was a nightmare to create. In order to shoot insects (mostly) in their natural habitat and from their own microscopic perspectives, director Slee and his team had to adapt as they went along. First, ther...

Read more

Ozu's final film is a movingly valedictory affair, its familiar story of Ryu's elderly widower marrying off daughter Iwashita carrying even more poignancy than usual as a poised and wise reminder of passing time and the inevitable approach of mort...

Read more

No, 'Trolls' is not a movie about the haters with terrible spelling who threaten people on the Internet. This musical kids' animation is based on the plastic dolls with frizzy hair that were big in the '90s. And against the odds, it's funny and sn...

Read more

Decadence is both the subject and the style in 'Oldboy' director Park Chan-wook's elegant, intensely romantic adaptation of Sarah Waters's spicy bestseller 'Fingersmith'. Shifting the action from Victorian England to pre-war Korea under Japanese r...

Read more

This delicate and thoughtful film – small in scale but brimming with the quiet passion of the title – imagines the life of the nineteenth-century American poet Emily Dickinson, played with brittle, red-eyed intensity by 'Sex and the City' star Cyn...

Read more

The plot of this soulful French drama sounds like an episode of a dodgy hospital soap. Director Katell Quillévéré ('Love Like Poison') follows a human heart through an organ transplant – beginning with the donor, Simon (Gabin Verdet), a dreamy ble...

Read more

It may have been a bleak period in human history, but the Second World War was a golden age for British cinema, as filmmakers discovered purpose and commitment in stories of resistance, fortitude and togetherness. 'An Education' director Lone Sche...

Read more
Sound Unbound: The Barbican Classical Weekender

The Barbican is pushing the boundaries of how we listen to classical music, with a Classical Weekender packed full of familiar yet forward-thinking sounds. This year's performers include Chilly Gonzales, Alison Balsom, Iestyn Davies, London Symphony Orchestra,...

Concerts

Until Sunday April 30 2017

Sound Unbound 2017: The Barbican Classical Weekender

Something to suit every musical palette. From innovative new commissions with the likes of Chilly Gonzales and Anna Meredith to some of the finest classical scores ever written, and performances from today's leading performers like Iestyn Davies and the...

Latin and world

Until Sunday April 30 2017

The Japanese House

Explore how architecture and family life in Japan changed after 1945 with this new exhibition at the Barbican. The legacy of WW2 and the changing face of Japanese society wrought huge changes in the way the nation lived, and the way Japanese design principles...

Exhibitions

Until Sunday June 25 2017

The Japanese House: Architecture and Life after 1945

Snaking your way through the Barbican's latest exhibition you will probably be met with an almost overwhelming desire to take off your shoes, so accurate is the 1:1 recreation of Ryue Nishizawa's Moriyama House. Brought all the way from Tokyo, it's impressive...

Until Sunday June 25 2017

Obsession

Last time he was on the London stage, Jude Law took the lead in a notably unadventurous West End production of 'Henry V'. So you can understand why he'd head in the opposite direction this time. It's just a shame his desire to work with pioneering director...

Drama

Until Saturday May 20 2017

Show more
Average User Rating
4.3 / 5
Rating Breakdown
5 star:

9

4 star:

13

3 star:

0

2 star:

1

1 star:

0
The Barbican is always worth a visit if you are in the area, regardless of what's on. It's a beautiful complex which has so much to see, both inside and outside. I always wonder who lives around the Barbican as I understand the apartments / flats that surround it are housing designers / artists / locals which adds to its community feel.

This brutalism monster might seem scary on the first visit but the more you see it the more you love it! Ageing has definitely made it more special and in combination with the new activities it hosts, it's one of the most important cultural centres London is offering. Any kind of art exhibition can be found here from time to time, as well as theatre, music and cinema shows. And all of them always carefully selected and with special prices for young and older people. Even if you're not interested in anything that's on, visiting is still an experience itself -as it feels like a journey to the past- and you can always enjoy sitting at the ground floor cafeteria by the ponds or even next to them when it's sunny!
I would love to do a gig here as this is London's answer to Carnegie hall on 7th Avenue. It is however sad to read the comments from the dissatisfied bride below. So anyone getting married in London should have a look at recommended venues: www.youtube.com/watch?v=DIB4nvvLkNk Notwitstanding, the Barbican does other things very well and is worth a visit.
I love going to shows, the art gallery and cinema here. Really cool 60s building.
I had a lovely wedding, the location was spectacular and I had a fantastic day as did all my guests. It ended rather abruptly though with the music being turned off at 11 on the dot. I can hardly complain, but I do have some serious complaints regarding the service. The food at the wedding was a much lower quality than what I was served at my tasting. The appetiser, which had been lovely at the tasting, held no resemblance to what I was served at my wedding and the creme brulée instead of being luscious and creamy as it had been at the tasting, was a stiff gelatine. After the wedding the staff didn't pack up my crockery hire correctly which made me lose my deposit and they were completely unremorseful about it, ignoring my emails and not helpful at all. The cherry on top of the cake, 2 months after the wedding, after we had settle all accounts the wedding planner started bothering us for another 600 pounds. We had spent the budget, the invoices had all been settled and he was haggling us for more money. Quite unprofessional.
So looking forward to Blaze...thanks to the Big B!