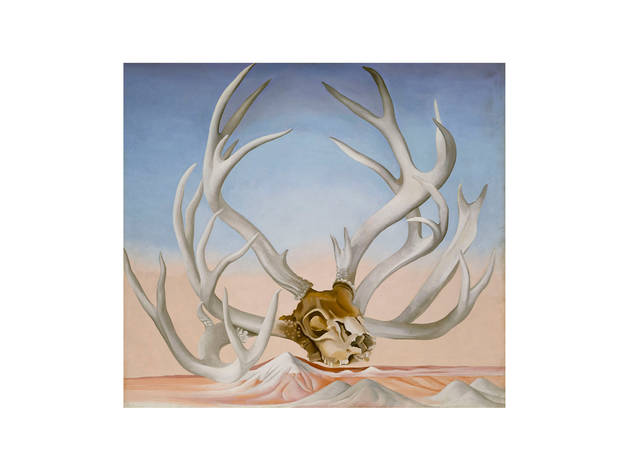 1/7
© 2015. The Metropolitan Museum of Art/ Art Resource/ Scala, Florence
Georgia O'Keeffe, From the Faraway, Nearby 1937 
2/7
© 2016 Georgia O'Keeffe Museum/DACS, London
Georgia O'Keeffe Jimson Weed/White Flower No. 1 1932
3/7
© 2016 Georgia O'Keeffe Museum/DACS, London
Georgia O'Keeffe - White Iris, 1930
4/7
© 2016 Georgia O'Keeffe Museum/DACS, London
Georgia O'Keeffe Pedernal 1945 - Pastel on paper
5/7
Georgia O'Keeffe
6/7
© 2016 Georgia O'Keeffe Museum/ DACS, London.
Georgia O'Keeffe Oriental Poppies, 1927
7/7
© 2016 Georgia O'Keeffe Museum/DACS, London
Georgia O'Keeffe My Front Yard, Summer 1941 
Forty-four million dollars is a lot of money. That's how much someone spent on a painting by the American artist Georgia O'Keeffe (1887-1986) in 2014. It set a record for a work of art by a woman. That last part there is important, because the most ever paid for a work of art by a man is around $300m. O'Keeffe doesn't even make the top 50, not even close.
In the art world, women are simply worth less. And not just financially. Throughout art history women have consistently been ignored. But modernism would be an entirely different beast without O'Keeffe. This retrospective is herfirst show in the UK in 20 years and, with none of her paintings displayed here in public galleries, it is depressingly overdue.
The show takes you from her early abstracts through to her landscapes of New Mexico, and she deserves every inch of space she's been given. The early works, all charcoal swoops and stark lines, ease you into her world. A neat appetiser for the explosion of colour that follows in her early paintings, filled with twisting shapes, hooded curves and plunging lines in bold, contrasting watercolour. Then there are her flower paintings, including that $44.4m masterpiece, before you're shoved head first into the desert of New Mexico, which she painted obsessively.
You're going to look at some of these and think: Hold on, that looks an awful lot like a vagina (see our blog about that here). It's an idea she repeatedly rejected. But if you're looking for vaginas, you'll also find plenty of cocks and bumholes. O'Keeffe was a painter of nature, of elemental things, so of course sexuality is part of that; it's everywhere here and it only
makes her work more brilliant.
There's a constant tension between the figurative and the abstract with her – a handful of figurative paintings is followed by a handful of totally abstract views of the same thing, as if she's slowly tearing everything apart. But her landscape painting isn't the greatest. There's a flatness to it that's a little unappealing, and the skull works look like something you'd find in a Camden incense shop. Her New York cityscapes are a bit joyless too.
It was in nature, abstract nature, that O'Keeffe took flight. It's like she had to paint the landscape literally in order to turn it into something more personal and abstract – a sort of stomping through the real to get to the magical.
Once she hit on that abstract path, she was unstoppable. The 'Black Place'/'White Place' paintings, visions of distant valleys and cliffs, are stunning, undulating, body-like compositions. And her pelvic bone images, blue blobs on white backgrounds, are probably the best thing here. Her later cloud pieces are awesome too.
These are works of quiet, studied, lonely, spiritual concentration. O'Keeffe was a painter of the primal, and she was a giant of modern American art: influential, passionate and often staggeringly good. Her work might be worth less financially than De Kooning's or Picasso's, and she might not get the same coverage in the history books as Rothko or Cézanne, but Georgia O'Keeffe matters.
Average User Rating
4.8 / 5
Rating Breakdown
5 star:

3

4 star:

1

3 star:

0

2 star:

0

1 star:

0
As a member, I really wanted to see this exhibition and planned to see other exhibits afterwards but after seeing this I was too exhausted! I had no idea how fascinating her work would be to me. I wish now that i had done it with an audio guide and in fact I might go back to do so. You see the development of her work from using charcoal only (looks like paint as no smudges) to some watercolour but nothing extravagant to see how it develops as she finds her style through sound and nature. I loved her Synesthesia paintings which picturises what she sees from music. I personally found some of her painting had extremely erotic connotations but they were truly beautiful even if that was not the subject matter. I also have a thing for skulls and bone and those painting seem too perfect to be painted. Her cloud paintings will make you want a window seat next time you fly. Afterwards I bought a summary about her as printed by Tate. It is well worth reading to understand even more about Georgia and how her relationship, then marriage to an art critic influenced her work and her as a business woman. Savvy.