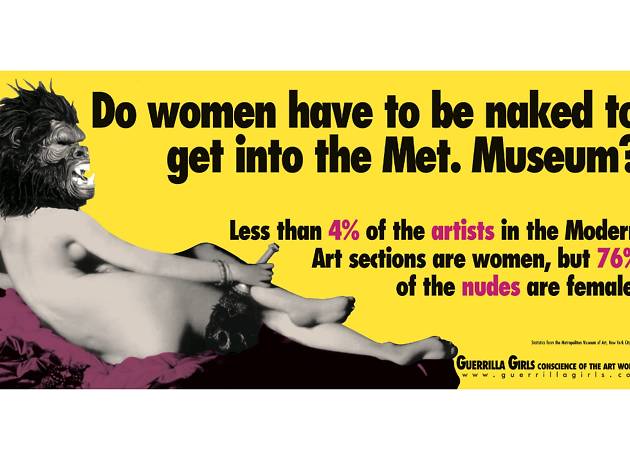 Time Out says
Friendly warning! We're working hard to be accurate. But these are unusual times, so please check that events are still happening.
The Guerrilla Girls are some of the art world's most creative complainers, and for over 30 years now, they have been handing America's galleries their arses on a platter. For their show at the Whitechapel Gallery, they've turned their attentions to Europe.
This entire exhibition is based on a survey they sent out to 400 art institutions across 29 countries on the continent. In it, they demand stats for their representation of female artists, those who are gender non-conforming and artists of colour. Spoiler: it doesn't go well.
As the Guerrilla Girls announce on a banner on the front of the Whitechapel building, 'only one quarter' of those contacted responded (disappointingly, the Serpentine and the Saatchi Gallery were among the no-shows). The completed questionnaires are pasted onto the gallery wall, filled with the urgently scrawled handwriting of gallery directors. Put your contacts in, because there's a whole lot of reading required for this show.
Colourful posters pull out some of the best responses; when asked if it was the first time they'd collected such stats, Manchester Art Gallery replied: 'No, we talk about these issues a lot' – but the Guerrillas point out that their collection is still '80 percent male and 85 percent white'. The average representation of women artists was a pathetic 22 percent. One of the few glimmers of hope was Poland, where that figure was 28 percent and all but one of the responding galleries had a female director.
Informative as all this is, there's not a great deal going on here visually: before entering the show, there's a brief video of old news clips and Guerrilla Girls interview items, but you have to stand awkwardly in a corridor to watch it. These artists are brilliant orators, and a stronger audio-visual element would have hammered the their message home. After 15 minutes of scanning printouts, it starts to feel a little dry.
But the group wanted the numbers to speak for themselves, and it's not hard to see why. These are the galleries that spoon-feed us our art, and shape our definition of what's 'worth' seeing. These are the museums that curate our visual history through their collections, and we can't afford not to question them when our history is rewritten as 80 percent male and 85 percent white. If it weren't for the Guerrilla Girls, they'd get to keep on pretending those arses were squeaky clean.
Details