I Know Something About Love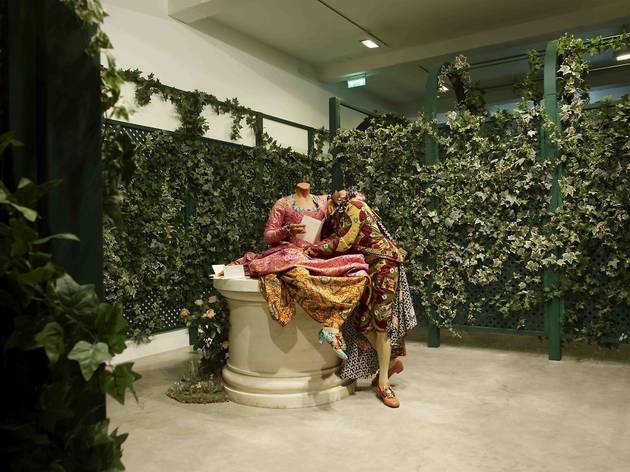 The title of this exhibition about romantic love is taken from a pop-song – which, to be honest, gives a fair indication about the level of insight here. With the four artists all coming from various backgrounds – Chinese, Greek Cypriot, Anglo-Nigerian, and Iranian – it feels like the show wants to be a sort of mini-survey of differing cultural constructions; yet overall it seems rather thin and tokenistic, going for a populist angle rather than saying anything significant.
Pop music itself features prominently in two video-pieces. Yang Fudong's triple-screen projection shows a young Chinese couple moodily posing on a Shanghai rooftop and describing their relationship, sex-life, and future plans together – at one point serenading each other with pop songs – in a manner that's always forthright, yet unfortunately not particularly profound. Elsewhere, segued highlights of Christodoulos Panayiotou's 'Slow Dance Marathon' – a 24-hour relay performance by slow-dancing volunteers – are accompanied by a cheesy power-ballad. It's difficult to turn mundane subject matter into interesting commentary, and neither of these works really manage it, instead offering only predictable, slightly vapid spectacle.
Spectacle is what the two remaining works, on the other hand, explicitly address. Yinka Shonibare's trellised maze, filling the entire ground floor, contains several of his trademark Africanized, Fragonard figures, secreted away – yet its atmosphere of clandestine observation is somewhat spoiled by the constant noise filtering through from the back office and reception. The exhibition's saving grace is Shirin Neshat's moving, monochrome film-piece, 'Fervor' – its dual-screen format embodying Iran's sexual segregation, the necessarily veiled and furtive glances; yet simultaneously seeming to comment on the very attractions of film itself – on the way we, as viewers, fall in love with cinema's sense of mystery and enticement.