In Numbers: Serial Publications by Artists Since 1955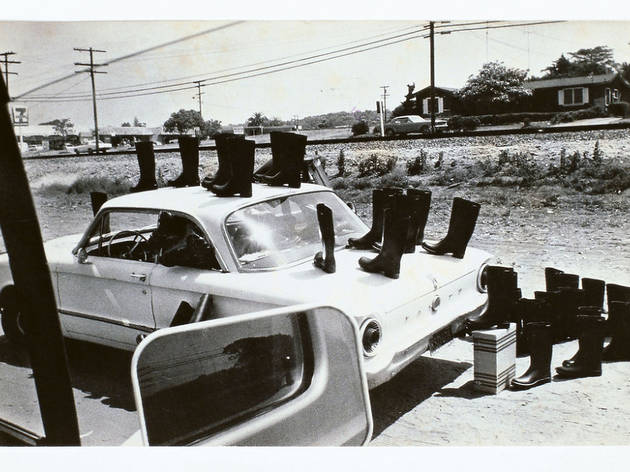 Time Out says
Friendly warning! We're working hard to be accurate. But these are unusual times, so please check that events are still happening.
It is notoriously difficult to exhibit artists' publications well. Handling is usually out of the question as the works need to be preserved, which often makes for astrangely unfulfilling experience. As a survey of the genre,'In Numbers'retains the elusive appeal of its often scrappy subject matter, despite an unapologetically dry and linear exhibition design, comprising a neat grid of white vitrines. Along with an exhaustive timeline and screeds of text, this is an excessive array of matter, arranged with utmost precision. Ingeniously, these furnishings appear to mimic the scrupulous, cataloguing impulse that goes hand-in-hand with ideas of the serial. Pleasingly, their colourful contents work to explode it.
The presentation charts the self-publishing phenomenon from the unbound photomontages of Wallace Berman's 'Semina' (1955-1964, pictured), through the rise of the small press in the '60s, to the DIY zine craze of the '80s and early '90s. Journals such as Maurizio Cattelan and Dominique Gonzalez-Foerster's 'Permanent Food' (1996-present), and Aleksandra Mir's 'Living & Loving' (2002-present), represent contemporary uses of the serial publication.
Restlessly challenging images of nudity, blood and a decapitated goose from Günter Brus's 'Die Schastrommel/Die Drossel' (1969-1977), pinpoint the performers' preference for the disregard of convention. Elsewhere, the bright typography of Anna Banana's 'VILE Magazine' (1974-1983) (the terrorizing twin of LIFE), adds to the sense that within the experimental confines of an ongoing publication, nothing is safe from challenge. As if keyholes to great depths of irreverent practice, each of these vitrines imparts a teasing snapshot of various forms of truly significant artistic interrogation.
Details