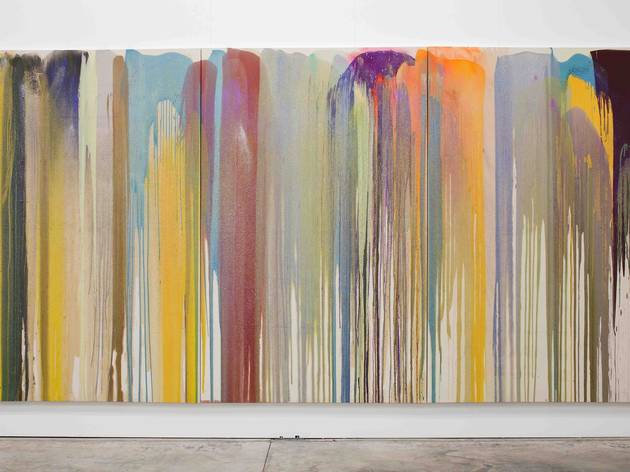 Time Out says
Friendly warning! We're working hard to be accurate. But these are unusual times, so please check that events are still happening.
The mirror balls (12 of them) are spinning, the disco lights are going, the DJ's beats are pulsing – I feel like I'm at a party. Oh wait, I am, and it's the launch night of another post-Saatchi, private collector's not-for-profit exhibition space in London (we now have almost as many of these as there are glitter balls).
The Dairy Art Centre is a showcase for the collections of Frank Cohen and Nicolai Frahm, although they have dubbed it a 'kunsthalle', which is to profoundly misunderstand this German term for an experimental exhibition space that has no permanent holdings of art. No matter, as the site, a converted Express Dairies depot in Bloomsbury, is a splendid, sprawling, hangar-like environment, and the first show is by an artist not well known here: the poker-faced Swiss prankster John Armleder, the man responsible for all the glossy paintings, floral displays and nightclub accoutrements on display.
When the champagne and canapés have gone, the inaugural show is still something of a blast, with music blaring on the dancefloor and an empty cocktail lounge in place of reception. This is more nightspot than museum and perhaps that's the Dairy's point of difference – this place is going to be an energetic, quirky venue, not another stuffy white box, or if you prefer, art + bar = fun (I haven't figured out what happens if you add milk to this equation). As a mission statement, this would be a welcome addition to London's art eco-system, were it not for the feel that Armleder's eye candy is not concealing any message other than its cheeky double function as art and interior décor.
So, the paintings look like tasteful collectables, the printed wallpaper looks like wallpaper and the gallery itself like a chill-out room. It's so empty and shallow that it comes off as empty and shallow. Only the scrubbier paintings, with an aged, patinated quality (milk deposits?) and the looser sculptures of building materials, books and general detritus suggest that Armleder's art is in itself a kind of quicksand (as his title suggests), sucking you in with a sheen of joy only to leave you stranded in disappointment. But mostly, this is just too feel-good and glitzy to be challenging. It's a lively way to get the party started – even the neon lights are swaying left and right – but I'm hoping for a more substantial delivery next time.
Ossian Ward
Details