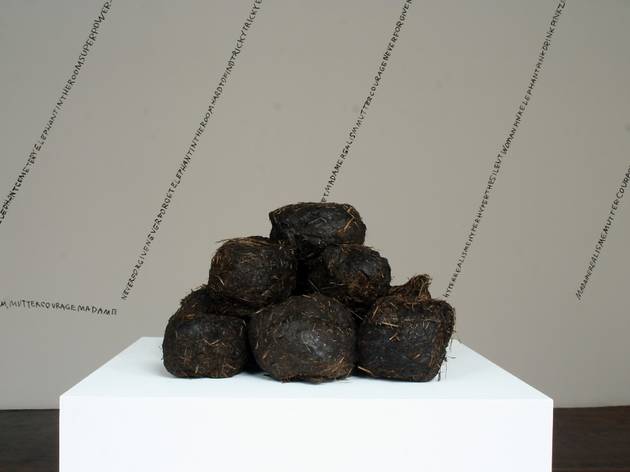 Climbing the walls in a steeply angled, neck-cricking way, are lines of handwritten text that read like free association. 'Illegal landlordisms in Baghdad', they begin, moving on to various phrases involving 'elephant' – 'elephant in the room', 'elephant memory', 'elephant cemetery' – and closing with the army-recruitment slogan: 'Be all that you can be'. This isn't exactly rhetoric regarding western imperialism from the Middle East to India, it just feels that way, cloudily so, as you make the connections in your head.
Karl Holmqvist's art has previously slanted towards the interactive: he's set up microphones in galleries for visitors to recite improvisatory poetry into, for example. This show, too, privileges a balancing of authorship. An advertisement for the reopened Taj Mahal hotel, featuring Liz Hurley and a smiley elephant, sits on a fanning spiral of monochrome photocopies of itself – the arrangement, particularly if one recalls the reference to 'elephant memory', seems obliquely to represent memory.
The ad itself, a study in conflicting tenors, speaks to Anglo-Indian relations past and present while being edged with exoticism and kitsch. A pile of elephant dung nearby, meanwhile, both undoes the image's glamour and nods inevitably to both Chris Ofili's works and David Hammons's notorious selling of snowballs. Holmqvist, you realise, has chosen his words, images and objects for their equilibrium of specificity and slipperiness. The viewer, gamely putting the pieces together and feeling them fall apart, is the art's centre, though the role entails a taste for abyssal incompleteness.