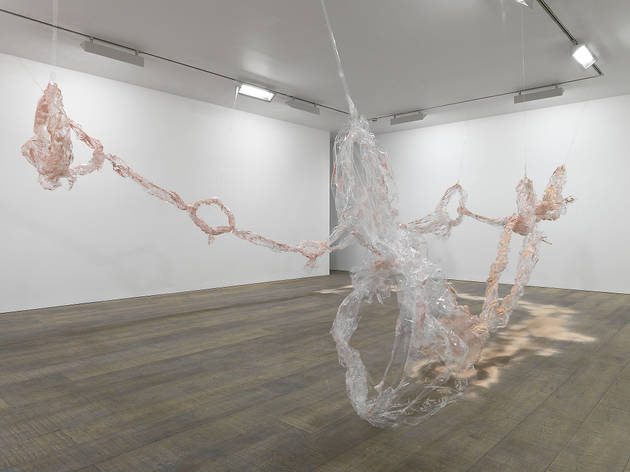 In the last few years, Glaswegian sculptor Karla Black has represented her country at the Venice Biennale and been nominated for the Turner Prize, but this – her first solo exhibition in London with her new gallery – doesn't justify the hype or do her work justice. Her Scottish Pavilion in Venice was a delicious, pastel-hued moonscape of cosmetic bath bombs, earth and soap, as though she'd given macho Arte Povera a perfumed teen makeover, and her Turner Prize offering contained hulking heaps of crumpled sugar paper dusted in loose powder.
Here, Black has chosen to pare back such monumental environments in favour of a barely-there show of sheer minimalism. Crinkled swathes of cellophane and knotted polybags hang nonchalantly from fishing wire, their transparency disturbed by smears of white spray-on deodorant or chalk dust lodged into the creases. Only two fleshy hanging pieces, one bowed, dripping with face powder and swirling in its own space, the other strung up against the wall, give off anything approaching sculptural presence. The rest feel disappointingly like trinkets.
Placing such see-through material in the window bays of the gallery compounds this misfire. Whether or not it was meant to ape a shop-front display, Black's sophisticated objects turn dumpy from the outside (by day or night), the effect not unlike stumbling across an out-of-business cake decorators.
From inside the light is more flattering, but still the temptation is to look beyond to the streetside goings-on, rather than to engage with her delicate gestures. In April, Black opens a solo show at Glasgow's GoMA, so perhaps she too has let her eyes wander off her London debut. But, in keeping with her own practice's evanescent ethos, this is but a temporary blip in an otherwise fascinating career. If not on the current show's strength – or rather the lack thereof – take my word for it (if not that of L'Oreal), she's worth it.