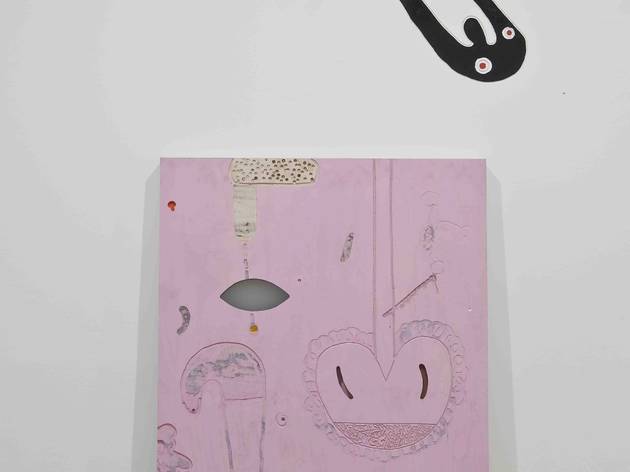 Perhaps it is best to avoid reading too far into the all-encompassing titular thematic of this elegant and quiet group show. Suggestive of both boundaries and horizons, lines are there to be broken, repeated, twisted, walked and disputed. And in relation to art, lines traditionally denote gesture, mark and frame, and even ephemeral performances or sound pieces can be understood in relation to ideas of progression and score.
Demanding attention here is Swiss artist Edit Oderbolz's delicate installation of three gently derailed trails of curtain-like fabric. Similar to three large swipes of pastel – hot pink, grey and white – the forms created by their surrendering folds lifts their mass from the walls, demanding a spatial interaction. Softer still, Georgie Hopton's string and wool reliefs of cyclamen flowers reference both needlework and the youthful sketching technique of taking-a-line-for-a-walk. Opposite, Lewis Betts's routered frieze of bulbous, brightly hued shapes bears strange resemblance to something between prehistoric mark making and the faded graphic remnants of a '90s rave.
Somewhat lost in the group, John Dougill's accomplished oils, seascapes punctured with grid-like perforations, are in need of space, their tone too closely matched elsewhere to allow for true consideration. Similarly, Amy Stephens's linear 'Birch in Space', a bronze-cast branch, seems reductive in light of the abstract works on show.
Although it is essential to avoid a parochial reading of these works, if they must be viewed with collective regard to notions of contour and line, then it is evident that they talk specifically of drawing. Sharing with this practice an exploratory, unfinished approach, these playful yet discreet artworks relate to the medium's attendant desire for simplified expression.