London art exhibitions calendar
Our handy collection of all the big, small and scary art exhibitions coming to town in 2017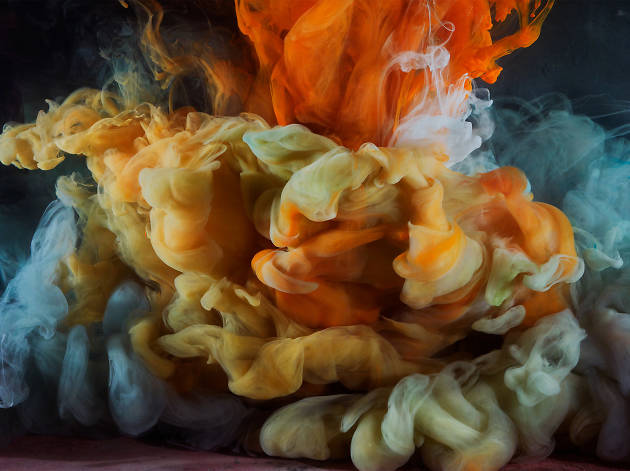 Hello eager art friend, want to do some planning ahead? Well, you've come to the right place with our one-stop shop for all the art exhibitions, big or small, coming to London in 2017 over the next couple of months. From exciting new gallery openings to upcoming London photography shows, keep your eyes peeled and your paintbrush poised for as much art as your diary can handle. Or, if you can't wait that long, here's the best new art in London this week to satisfy those creative cravings sooner.
Art exhibitions in May
A presentation of the American artist's groundbreaking 1958 film 'A Movie', a collage of found footage that includes westerns, war movies and soft-core porn.
Read more
The Danish expressionist will be showing a number of paintings and sculptures influenced by trips to Mayan ruins in South America and geological sites in the Arctic Circle.
Read more
The Turner Prize-nominated Mach will be creating one of his gargantuan newspaper installations, the first of its kind in 15 years. As it will largely be improvised in the gallery itself, we're not too sure what to expect – except that it will weigh a staggering 30 tonnes.
Read more
This exhibition delves into the Heitzing School, which briefly flourished in interwar Vienna as a place of free, uninhibited, non-curricular learning.
Read more
The Italian artist – best known for his performances – will be showing a brand-new marble sculpture of a Middle Eastern child refugee, 'Sleeping Beauty', alongside older photographs that document people sleeping rough on the streets of London.
Read more
The celebrated American artist Alice Neel spent 50 years living in Upper Manhattan. This focuses on the portraits she painted of her fellow residents: fellow artists, academics and members of the neighbourhood's immigrant communities.
Read more
Just as the Swiss artist Giacometti gets the retrospective treatment over at Tate Modern, this show presents a number of his sculptures along with stark, drama-filled, black-and-white images by Polish photographer Lindbergh.
Read more
Pensato's second show at the Lisson will bring out an array of her iconic cartoon works – she's done all kinds of awful to characters like Donald Duck and Mickey Mouse – alongside an installation of collage-based wallpaper.
Read more
German artist Voigt will be showing 'Song of the Earth', a series of light, ethereal drawings arranged in 'chapters' that reference a score of music.
Read more
Show more
Art exhibitions in June
Work by the celebrated Korean artist, one of the leading figures in the dansaekhwa movement, which advocated art of a minimal and harmonious simplicity.
Read more
In 1943, the collector Peggy Guggenheim hosted the seminal '31 Women' exhibition at her New York Gallery. It gave an exclusive, resounding voice to female artists of the time, chiefly from the surrealist and abstract expressionist scenes. This exhibition is something of a long-awaited sequel, bringing contemporary artists into the mix.  
Read more
This show takes a look back to the work of black artists during the turbulent decade that was the 1980s. Against a backdrop of seismic social and political change, these artists each sought to develop unique voices that expressed their – often conflicted – senses of identity.
Read more
The American West Coast sculptor has been creating brilliant, bold, small-scale ceramics as part of the California Clay Movement since the 1950s.
Read more
Part of the Tate's ongoing shift towards showcasing artists from outside the well-trodden West, this is a retrospective of a Turkish artist who lived across 90 years of the twentieth century and travelled extensively across Europe, Asia and America. Zeid's dazzling, jewel-like paintings were influenced by art of the Islamic world and Western avant-garde abstraction. 
Read more
The gallery's first exhibition of works by the twentieth-century artist, whose colourful, flattened, stylised paintings led him to being widely described as 'the American Matisse'.
Read more
A show of photography by the American self-described 'reality artist', whose lurid, hyperreal images force us to ask questions about what's real or not in our permanently switched-on world.
Read more
Rather incredibly, this is the celebrated French artist's first solo show in the UK since 1976. It'll cast a light on first two decades of his career: his early conceptual experiments, in which he tried to remove all traces of personal expression from his art. 
Read more
Wow: based on the title on this exhibition, it sounds like Grayson Perry's feeling mighty full of himself. Or is it meant with a touch of irony? The cross-dressing artist – and one of Britain's most unlikely national treasures – tends to be either denounced as a twee middlebrow populist, or a razor-sharp commentator on the foibles of our society. In any case, this major show of new works promises to look at the idea of the popular: how art can resonate with the average joe, and what it means in these uncertain post-Brexit times. 
Read more
Show more
Art exhibitions further ahead
This exhibition looks set to flip the idea of 'black art' on its head, tracing an underlooked 20-year period of creative innovation among African-American artists, against the seismic backdrop of the Civil Rights movement.
Read more
Get ready to see some serious shapes thrown at the Barbican this summer! American choreographer Trajal Harrell will be showing a series of his genre-bending, age-spanning dance routines, in which everything from vogueing to traditional Japanese butoh is thrown into the mix. Watch out for the restricted opening hours, though – this stuff's kinda exclusive. 
Read more
Not just an extraordinary painter, Henri Matisse was also an avid collector, who picked up all sorts of objects and artefacts during his travels to North Africa, Mali and the Far East. This exhibition will look at the influences these exotic acquisitions had on his art.
Read more
Gorgeous sculptures in gorgeous gardens: is there any better combo? Over 30 artists working across bronze, ceramics, glass and woodwork will be showing their stuff in this open-to-all exhibition. (FYI: access to the show is included in the general admission ticket.)
Read more
Twenty-three years down the line, it's easy to forget how Rachel Whiteread shocked audiences with her Turner Prize entry 'House': the concrete cast of the interior of a Victorian house in Mile End. But it won her the prize – she was the first woman to do so – and since then, Whiteread has risen to become one of the most influential figures of the art establishment. She'll always be chiefly for making casts of negative spaces, but her work stretches beyond that – this long-overdue retrospective should flesh out a highly accomplished career.
Read more
The first question that everyone should be asking about the first UK retrospective of Jean-Michel Basquiat is this: why the hell has it taken so long? The artist's career was short (he died, tragically, from a heroin overdose at 27), but shone all the brighter for it. Basquiat grew up in Brooklyn, and became a graffiti artist in his teenage years. Then, coming of age in the seismic New York art scene of the '80s, he was taken under the wing of Andy Warhol and shot to fame and fortune: a glittering superstar. His paintings are bright, wild, unique and hoovered up everything from anatomical textbooks to African art as influences. To see them assembled en masse is set to be a thrilling experience.
Read more
Thomas Ruff belonged to the Dusseldorf School of Photography: a movement of photographers who emerged in the '70s, and dispensed with any artsy, pseudo-psychological funny business in favour of taking pictures that were unfussy, deadpan and objective. This promises to be a thrilling overview of Ruff's four decade career – look out for his passport-style portraits (seriously, they're way cooler than they sound) as well as his plunderings of archival material and pornography.
Read more
Marking the ten-year anniversary of this Chalk Farm space, Mirza's commission will rework two of his previous pieces into a new installation that will reflect the architecture of what was once a Methodist chapel.
Read more
Indisputable fact: there's no more important painter alive today than Jasper Johns. The 86-year-old artist's influence stretches so far and wide that it's practically immeasurable. He came of age in 1950s New York, in the fertile years between splashy Abstract Expressionism and ice-cool Pop, which was when he created his iconic piece 'Flag', which nodded to both movements. Iconoclastic and experimental, Johns moved the goalposts of painting.
Read more
Show more
Find our favourite art exhibitions on now
Fancy seeing an art show this weekend but no idea where to go? Well look no further. You can't go wrong if you head down to one of our ten favourite art exhibitions taking place in the capital right now.
Read more