Heads up! We're working hard to be accurate – but these are unusual times, so please always check before heading out.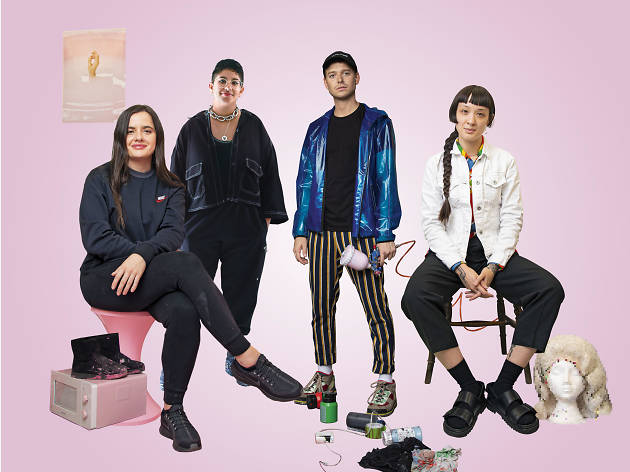 The best young artists in London right now
London's art scene is full of young talent, but it can be hard to separate future Picassos from future Shitassos. We join forces with industry experts to pick the ones to watch
I've got the best job in the world. I get to look at, think about and write about art, every single day. But the thing that makes it really special isn't all the big Picasso and Leonardo shows at giant galleries – it's getting the chance to find out about what young artists in this city are making right now. It's hard to say if what's happening in 2019 is better or more exciting than at any point in the past, but what's clear is that there's a lot of amazing art out there, and this little list of artists (all aged under 35, none of whom have had a solo show at a major institution) is just the tip of the iceberg.
You can't really sum up the art in this city in one easy, pithy, easy-to-digest sentence. But what I can tell you is that artists right now are critically engaged in the big topics of the day – gender, identity, class, race, power and surveillance – but are approaching them with more colour, fun, joy and humour than ever. Maybe it's a product of how hard it is to make a living as an artist these days: maybe it pushes artists to not worry about sales or respect and just enjoy themselves instead, but whatever it is, this is the most fun art's been in a long time. This isn't the art of the future, this is the art of right now, and it's brilliant.
Full of nods to greats like Peter Doig, Gerhard Richter and the post-impressionists, Showering's big canvases are littered with recognisable shapes – faces, people, landscapes. But there's something amazingly alluring about the miasma that swallows her works. They're clearly personal, figurative things, but so mistily, mysteriously washed out that they're actually quite unsettling. Seriously pretty art for seriously weird times.
Find Antonia in 'Society' at Chalton Gallery. Thu Oct 3-26. Free.
Juno Calypso's work feels eerily familiar, like it's been part of the cultural landscape since the '70s. That's a serious compliment. She photographs herself in honeymoon hotels, underground bunkers and football changing rooms – looking at issues such as beauty, ageing and love – and always manages to feel somehow timeless, like she's been doing this for decades, not a few years. That's how good she is.
Eleanor Nairne, Curator at the Barbican Art Gallery says: 'I love the uncanny scenes that Juno Calypso stages. Her photographs exude the mystery and dark sexuality of a classic film noir.'
Find Juno in 'Birth' at TJ Boulting. Fri Oct 4-Nov 9. Free.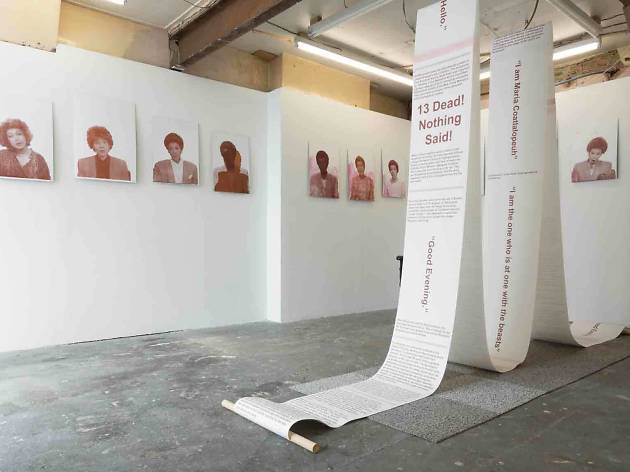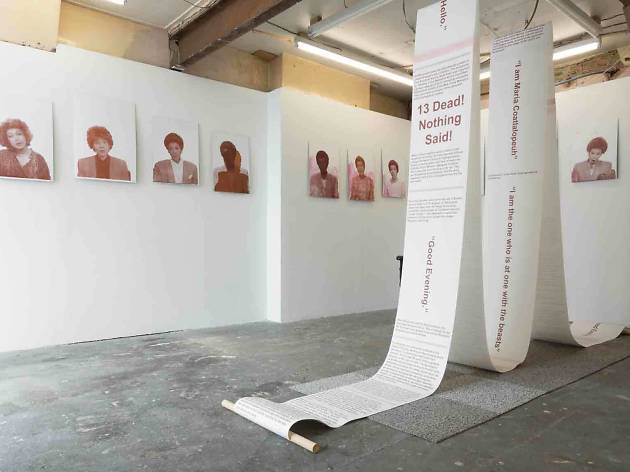 Rosa-Johan Uddoh 'Studies for Impatiality'. Photo: Manuela Barczewiski. Image courtesy of the artist.
Performance, text, research, and a lot of Moira Stewart, Rosa-Johan Uddoh's art flits between mediums but is always crystal clear in its intentions. Whether it's through dance or screen printing, Uddoh looks at ideas of identity, feminism and belonging . She's performed odes to Meghan Markle, imagined a black Poirot investigating a crime on the 'Orientalised-Other Express' and danced about Crystal Palace. It's critical art with a smile – and a clenched fist.
Rosa-Johan is performing at 'Full English: Performance Marathon' at Southwark Platform. Oct 19. Free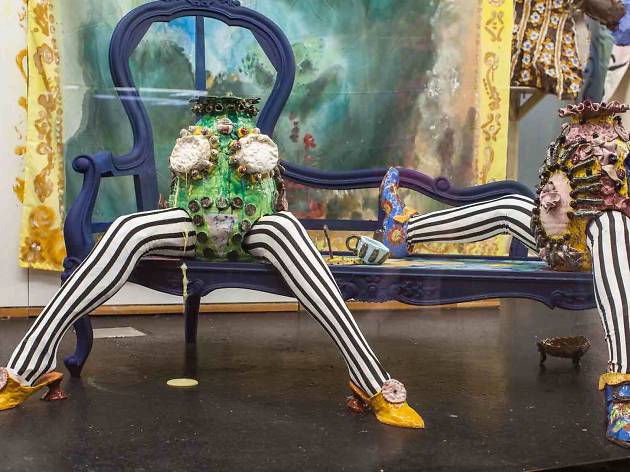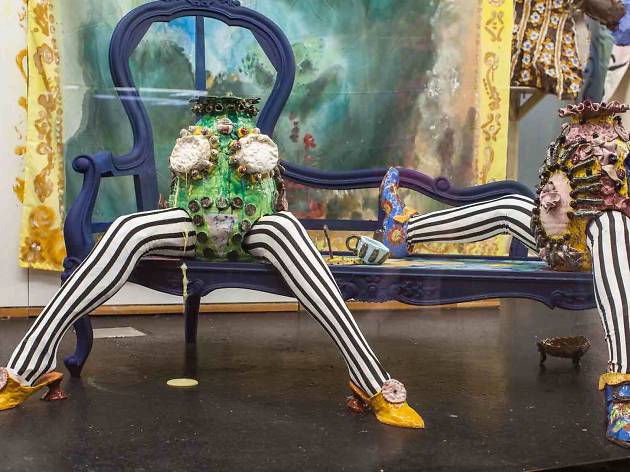 Lindsey Mendick 'The Spectre at the Feast' © the artist
There's a lot of catharsis in Lindsey Mendick's art. For her show at Castor Projects earlier this year, the ceramicist built an entire office filled with effigies to her failed relationships. Big, blobby, mutated figures sat on the seats, and ceramic Post-its scrawled with heartbreaking, funny phrases dotted the walls. Mendick creates personal, emotional art with a lot of heart and a brilliant knack for composition.
Find Lindsey at SPACE Ilford. From Nov 21. Free.
The first thing you saw in the Hayward's excellent 'Kiss My Genders' show earlier this year was Victoria Sin's face wafting on curtains as they sang gentle traditional Chinese opera. Caked in the exaggerated drag make-up that's become their calling card, it was a breathtaking start to the show. And it's only the tip of Sin's art iceberg, which is made up of performances, installation and photography, all questioning ideas of gender and identity with humour, fun and a hell of a lot of panache.
Louise Benson, Deputy Editor at Elephant says: 'Victoria Sin represents a new vanguard of artists who break beyond the confines of the art world, moving easily between London's galleries and its queer nightlife scene.'
Find Victoria in 'Transformer: A Rebirth of Wonder' at 180 Strand. Sat Oct 6-Dec 8. Free.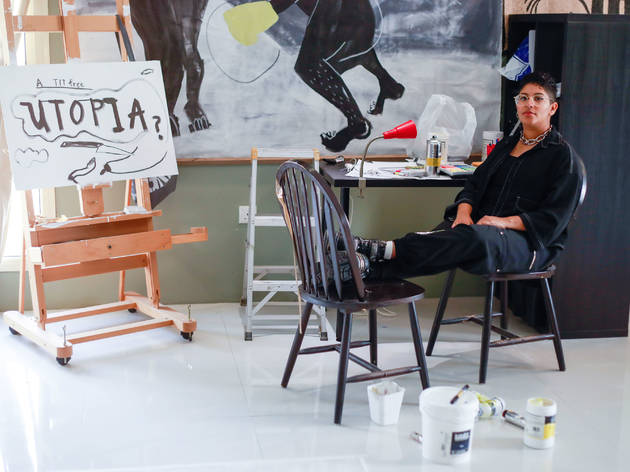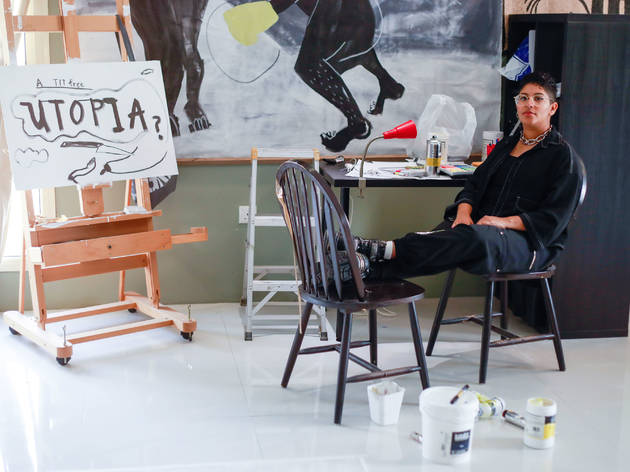 In Shadi Al-Atallah's big, dark, brooding paintings, you can read all the teeming symbolism of their own queer, mixed-race identity. Al-Atallah creates figurative paintings filled with tormented, sensuous figures that romp through bedrooms and hospital corridors, wrestling constantly with their bodies, minds and culture. The canvases are unprimed and hang unframed – slapdash, rough and full of seriously affecting emotion. Oh, and Shadi did the artwork for Kanye's 'XTCY' single too.
Justin Hammond, Director at J Hammond Projects says: 'Shadi does big, bold imagined self-portraits dealing with sex and death. Raw as fuck.'
Find Shadi in 'Full English' at Southwark Platform. Fri Oct 4-20. Free.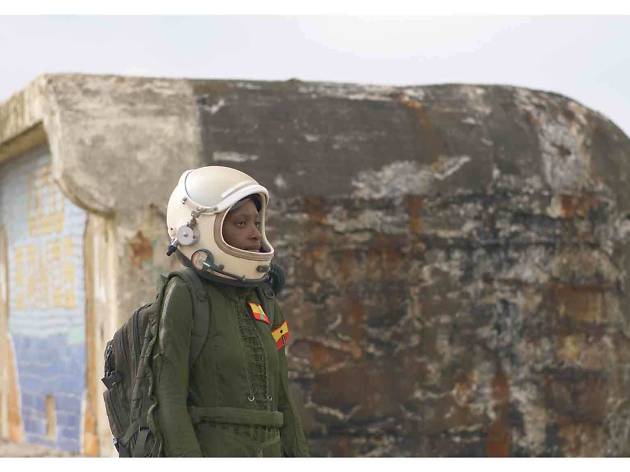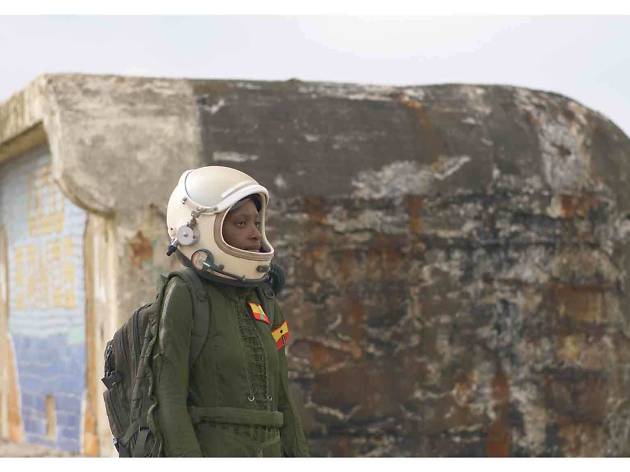 © Larry Achiampong
Achiampong goes deep into history: cultural history, colonial history, contemporary history. With video and performance, he twists all those narratives into new shapes, filters them through the internet, social media and class and racial struggle. The result is this brilliant amalgam of critical theory, hip hop, video games and fancy art – full of emotion, and full of ire.
Find Larry's work on the Cypher Billboard in Bounds Green. Until Oct 20. Free.
Pudvine's art is the visual equivalent of hearing your parents doing it. Each canvas is an obtrusive thought you can't get rid of, and once you've laid eyes on his (often nude) self-portraits, they'll lodge themselves uncomfortably in your head forever. In his paintings he shags dinosaurs, wrestles with himself and rips his own knob off, all in a series of dreamlike visions of hilarious self-abuse, always beautifully painted in a neat, classical style with perfect composition. It's beautiful, stupid and very unsettling.
Martin Coomer, Head of Editorial & Digital Content at Victoria Miro says: 'You're asking me why Glen Pudvine's paintings are so arousing? Isn't the answer staring you in the face? It's the smart deconstruction of contemporary masculinity, the ecstasy but mostly agony of man. This is thorny, issue-driven art with knobs on. Massive knobs.'
Find Glen in 'Young Monsters' at Lychee One. Until Oct 26. Free.
No one else's work looks like Oli Epp's; his art is totally, utterly and uniquely his own. It's a collision of airbrushed perfection and digital imagery, pop culture references and bizarro cartoony opulence. His figures are big, balloon-headed freaks. They blow bubblegum bubbles or suffocate in Sainsbury's bags, dip chips in ketchup or carve kebab meat off the spit. It's sort of like Mr Men for adults, and that's a really good thing.
Aindrea Emelife, curator and writer says: 'With a punchy visual language that is uniquely his, Oli Epp's paintings are as dark and addictive as his primary subjects: modern life and consumer culture. It's a new style of art I can't get enough of: post-digital pop.'
Find Oli's show at Carl Kostyál Gallery. From Dec 12. Free.
Hairy ceramic groin guards, denim spiders and mutilated baseball cards: Gray Wielebinksi's work is a colourful collision of high art, pop culture and sport, a heady maelstrom of twisted Americana and gender-hacked imagery. The result is a brilliantly confrontational, perfectly approachable and totally joyous aesthetic that looks closely at how the body works and what it means. And, hey, who couldn't use a ceramic groin guard every once in a while?
Find Gray in 'Young Monsters' at Lychee One. Until Oct 26. Free.
We got in contact with some of the best London art experts to help pick the artists for this list, just to make sure we didn't miss out anyone special… or include any duffers. A huge thanks to our amazing contributors: Eleanor Nairne, curator at Barbican Art Gallery; Louise Benson, deputy editor at Elephant; Sophie Williamson, programme curator at Camden Arts Centre; Aindrea Emelife, independent curator and art writer; Justin Hammond, director of J Hammond Projects; Katy Hessel, founder of @thegreatwomenartists; and Martin Coomer, head of editorial and digital content at Victoria Miro gallery.
Support Time Out
We see you're using an ad-blocker. Ad revenue is Time Out's main source of income. The content you're reading is made by independent, expert local journalists.
Support Time Out directly today and help us champion the people and places which make the city tick. Cheers!
Donate now